We're in an empty boardroom at the National Cycling Centre in Manchester a week before Jess will take part in the final round of this year's UCI Track World Cup at the Olympic Velodrome – a test event for the Games and the first chance to take on some key rivals in track cycling. Varnish though doesn't feel the pressure and is taking it all firmly in her stride.
"No definitely not (pressured). It's just really exciting to have the home crowd there and it sort of makes it 'our track', so they're coming on to our track now which makes it even more exciting and the crowd is full of our cycling supporters which makes it even better, and I know the British crowd are probably the best crowd in the world to watch track cycling. So it's going to be good."
The World Cup in London is the first time that Jess and Victoria Pendleton have competed together since November when they beat their rivals to take the European title of Team Sprint Champions in Copenhagen, and she says she can't wait to take on the challenge again and this time the Australians are in town. Varnish says the focus remains on their own performance.
"Obviously everyone keeps an eye on each other's times and how well everyone's going in other competitions but it's not just Australia, the Chinese have been going quick recently and France, Germany, Ukraine – they're all rivals and it's anyone's game. We've just got to concentrate on our own job."
Varnish's job is lap one and getting the team off to a good start. In November she went under 19" seconds for the first time, and despite that bringing her huge satisfaction she's under no illusions on the need to keep improving in the run up to the Olympics.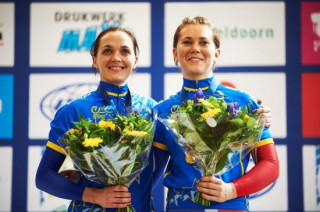 "It was nice to go under 19sec but I've got to step up my game now. 18.9" isn't going to be good enough at all. I've just got to really focus on each training session and keep improving. You can't start worrying yourself with the outcome you've just got to focus on one session at a time. I've made good progress over the last few years but all I can do now is my best. As I say, I'm obviously focused on improvement but I'm really happy with how it's going."
Varnish talks with a confidence. There's a clear determination within to achieve what goal she's set out for, and a quite unambiguous attitude about what she has to do. "It's just about going as fast as you can", she says. "Obviously there is a focus on your lap times to an extent but it's just about one lap and going as hard as you can for that one lap. It's simple. Get out that gate and go for it. You can't think 'oh this feels like a however many seconds' lap time, it's just over so quickly that you just give it everything."
Physical preparation is vital to a sprinter and Varnish says time in the gym training alongside her close friends and teammates Philip Hindes, Jon Paul, Becky James and the other young sprinters, with the music setting the agenda helps to spur her on. Yet she is adamant that without the support of her backroom staff at British Cycling, the performance levels expected would not be manageable.
"The team round me here are great. I couldn't ask for a better support team. My coach Iain Dyer, Phil Burt the physio, our physcholigist Steve Peters and gym coach Mark Simpson. Everyone like that is invaluable. Then I've got another team at home because my family and friends are really important in supporting me. They all make it a lot easier for you and it helps keep you grounded so it's vital really."
Mental preparation is something in particular that Varnish believes can make the difference to performing to the level required. "If your head's not right then you're never going to get the best out of yourself, but at the end of the day it's bike racing. That's all it is. You're not going to die, well hopefully (laughs), so you've just got to enjoy it, and I really believe if you're enjoying it that's when you're at your best."
Varnish definitely enjoys riding her bike, and is clearly living a dream. This weekend when she takes to the Olympic Velodrome for the first time, she will hope to lay down an important marker for the weeks ahead. Weeks that will include a trip to Melbourne for the World Championships in April.
"We'll have a bit of a peak for the Worlds but just not quite as much as you will for the Olympics. So it won't be our best performance there but hopefully it will be the best to date – and we'll go and better it at the Games!"
After the trip to Australia the preparation for the Olympics is over. There'll be one race left, a race that could see her win Gold and put her firmly at the forefront of British sport. But has that crossed her mind?
"I've really not thought about afterwards. I might have a holiday somewhere but other than that I'm not thinking about it. My whole life for the past four or five years has been all about the 2012 Olympic Games."
For the next few months at least, it still is.