23-25 September 2011, Newport Velodrome

Report: Kyleigh Manners
Friday 23rd September saw the return of the inter regional track championships to Newport Velodrome where team Wales would aim to take overall victory in the 3 day team omnium event. Comprising the nation's fastest youngsters this was invariably going to be a miss it miss out kind of weekend with everyone bringing their A game and a whole lot more.
Friday- Points race , scratch and sprints.
Friday started well with the girls sprint qualifying where Ellie Coster showed her impressive turn of speed which belies the age of the young rider. Qualifying second fastest she breezed her heats to take a silver at the end of the day.
Becca and Amy were up in the girls scratch race and took a very impressive 6th and 7th respectively adding nicely to our tally.
The afternoon points race was to be a real test with becca taking another respectable 6th place and amy hill being hospitalised after a nasty crash early on in the race. Seeing a rider leaving the velodrome on a spinal board is every coaches worst nightmare....thankfully a bruised l3 and l4 with some burns and splinters saw her discharged from hospital in the early hours.
In the boys races Robbie and Owen were flying in the sprints taking 5th and 9th place. The scratch race saw Matt and Zac team up to secure a silver medal for zac, a very fast race it was too. The points race saw 7th and 10th place...not quite as impressive but hard days racing was starting to take its toll.
At the end of Friday team wales were in 3rd place overall and with one rider in hospital it took some serious tactical planning overnight to try and keep us in the fight.
Saturday- 500tt, Keirin, pursuit and Madison
Today was do or die- after a slightly churchillian team speech, today we knew if we messed up any tiny part of the racing we were done for. A medal in EVERY event is what was asked for or at least a Personal best. With Amy bed bound it also meant having to ask ellie (a self-confessed one lap wonder) to race the 80 lap girls Madison race with Becca. I swear I saw a tear when I told her!!
500tt- Ellie in the first event of the day got the ball rolling with a gold medal...starting us off nicely, Robbie in the boys event took a silver with a 35.432 with zac only two places behind just 0.2 off him. Medal in each event was actually staring to be on the cards.
Pursuit- Becca took a very credible 6th place in her weakest event (Amy would have ridden this event had she not fallen off her bike, she was also a silver medallist at last month's nationals), a fantastic ride and a slight PB, what more could we ask for? Well done. In the boys Owen took a massive chunk off his PB with a 2.24 for 2k however Zac took a silver with a mesmerising ride of a 2.21 !! It was phenomenal to watch and a real joy to walk his schedule, the self-belief was what got him that ride. Some boy Zac.
Keirin- Ellie of course went on to take gold in this event too, in a close final, Coster was declaired the winner after a review of the photo finish. The surprise for everyone else was
two welsh riders in the final, I never doubted it and as long as it was a Wales 1st 2nd I'd be happy... which, with a Chris Hoy-esque drive for the finish Matt won comfortably with Robbie taking the second place. With a time of 11.8 it was one heck of a ride.
Madison- these races turned out to be wars lf attrition for both girls and boys with becca doing the long drags in the race to sling Ellie in to take points where available.... In Fairness Ellie was battered within the first 20 laps but with an inner strength and a team mate encouraging her at every possible moment she not only finished the race but the girls took a 4th place, just out of the medals but absolutely the race of the day in my eyes and ride of the day awarded to Ellie.
The boys event would become just as enthralling with Owen and Matt teaming up and absolutely motoring, it took a touch of wheels with a Yorkshire rider to send Owen down the track within the first third of the race, conveniently landing in a heap in front of me, a quick check of the bike then the rider (" get me out there I need to sort this out"- were Owens words)meant he was ok to get going however with a BIG burn down his thigh, hip and arm it was going to be a slightly uncomfortable race back in the bunch and a possibly more uncomfortable night sleep. However with some massive turns and smart riding a bronze medal was achieved even with all the kerfuffle.
At the end of the Saturday we were lying joint 1st place overall, the plan had worked and the riders had delivered. Sunday was the day to deliver the killer blow and take the title.
Sunday- Team sprint & Team pursuit
Lying in joint 1st position with Yorkshire we had to make sure in the remaining 4 events we stayed 1 place ahead of Yorkshire to guarantee the win... as they say it was on like donkey Kong.
Team Sprint- the girl's event Amy was back battered and bruised but ready to step up and perform and boy oh boy did she! The girls took a silver medal starting the day off perfectly! The boys went out and rode a 50.3 which would have been awesome had Yorkshire not ridden a 49 (new record) we were right back where we started....
Team Pursuit- As predicted the weekend of racing would be decided on the last event. The girls rode effortlessly leaving no one wiser to the fact they were stuffed and this was the last in a long 3 days of racing, taking a silver medal 1 place ahead of Yorkshire girls.
It was now down to the boys, and with Yorkshire riding 1 heat after us the pressure was on.... To say these riders are drilled to within an inch of their lives is an understatement but what they went on to produce raised the roof of the Velodrome...Every welsh supporter almost smashing the fencing and boards apart banging them with encouragement. After 3 days of racing, 1 hospitalisation, 1 heavy crash it would come down to this..... The boys did a superb ride of 3.26.790 battered and sucking in air like a gulping fish they sat to watch Yorkshire step up to set their time..... The Yorkshire boys went out hard and within the first 1k were over a second ahead, at the 2k mark they were .7 secs up on us then the final time for the 3k came up as a 3.26.......910. WE HAD WON by less than .2 of a second.
Team wales were now unbeatable going into the medal ride offs..... A victory by a margin of 0.2 of a second.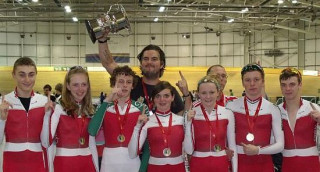 Professional, hardworking, talented and selfless. These are some worlds I could use to describe the team wales youth riders representing wales at the inter regional track championships. The simple truth is I can use all of those words and plenty more, it would still not give you an idea of the passion and commitment, sweat and tears shared over the weekend by each rider with the sole aim and goal of becoming champions whilst wearing their welsh kit.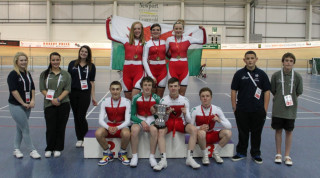 (Back) Amy Hill, Ellie Coster, Rebecca Hunt
(Front) Robbie Westwood, Zach May, Matt Cross, Owen James
They say "there is no I in team" well there is in Winners and that's what Ellie coster, Becca Hunt, Amy Hill, Robbie Westwood, Zac May, Owen James and Mathew Cross are. Absolutely.
Results (all pdf downloads)
Male: Keirin | Pursuit | Team Pursuit | Team Sprint | Madison | Sprint | Points | Scratch | Time Trial
Female: Keirin | Pursuit | Team Pursuit | Team Sprint | Madison | Sprint | Points | Scratch | Time Trial
Inter-Regional Points Table
---
BC Report:
Day 1: After the Sprint, Scratch and Points competitions today, Yorkshire have taken a slight lead in the Championship. They are closely followed by South East, Wales and North West - each of which are only separated by a single point - and then West Midlands, Eastern and Central - who in turn are also each only separated by a single point. With two days to go the competition is still wide open with every team still battling for positions. Tomorrow sees the Keirin, Pursuit, Time Trial and Madison races with the Team Sprint and Team Pursuit concluding the competition on Sunday.
Day 2: Overnight leaders in the competition, Yorkshire, had their lead cut dramatically throughout the day with Wales taking over the top spot by mid-afternoon and North West a single point adrift. A late rally by Yorkshire in two thrilling Madison races however pushed them back into the lead by the close of racing, but with Wales and North West still very close behind. The middle of the table also saw big changes with the teams regularly changing position ending with Eastern and South East tied on points, West Midlands one point further back and Central and Scotland within touching distance as well. All is now set up for a fantastic finish to the event with the Team Sprint and Team Pursuit competitions tomorrow morning.
Day 3: Yorkshire's slender overnight lead was gradually whittled down again, with Wales first taking the lead after the girls Team Sprint, and then Yorkshire taking it back again after winning the boys Team Sprint; breaking the National Record twice in the process. For the third year in a row then, the result was still in the balance with only the Team Pursuits remaining. The drama continued with both teams barely separable in the final event as well, finishing just one place apart in both the girls and boys races, but with the Welsh team ahead in both cases - just enough to take the overall lead back again at the conclusion of racing. Wales therefore were crowned the Inter-Regional Track Champions for 2011.

Behind them, North West consolidated their third place and South East just nudged out West Midlands and Eastern in their mid-table battle. The positions of Central, Scotland and East Midlands also changed place throughout the day, eventually settling in that order with South, North East and South West slipping back to round out the full result.
Results (all pdf downloads)
Male: Keirin | Pursuit | Team Pursuit | Team Sprint | Madison | Sprint | Points | Scratch | Time Trial
Female: Keirin | Pursuit | Team Pursuit | Team Sprint | Madison | Sprint | Points | Scratch | Time Trial
Inter-Regional Points Table
---
Preview:
This weekend sees the return of Britain's most spectacular Youth cycling event with the Inter Regional Team Championships at Wales National Velodrome, Newport.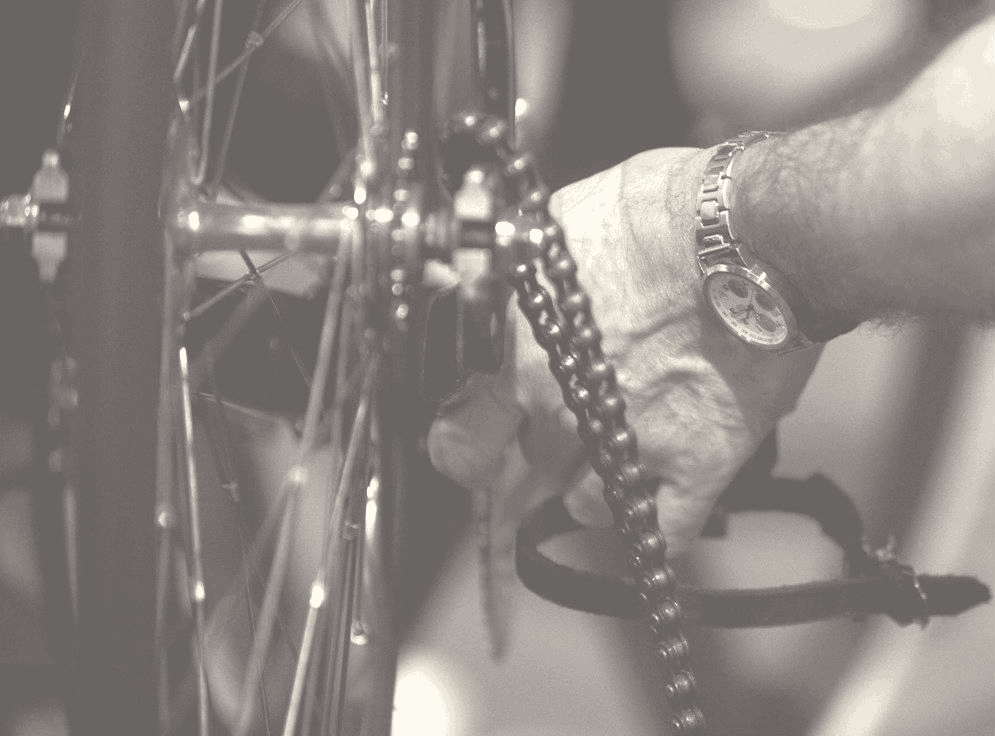 Much of the team from 2010 will form the team for 2011
The event, a legacy of the multisport UK School Games, has been held at the Velodrome twice previously, with phenomenally exciting racing and entertainment across the three days.
Team Wales have enjoyed success in this event, with the 'reds' winning the inaugural UK School Games event in 2009, winning by one point on the last event of the last day! The 2010 Inter Regional Track Champs saw Wales push eventual winners the North West close for silver after a thrilling showdown in the Team Pursuit.
This year representing Wales are Ellie Coster (Bush Healthcare), Amy Hill (Newport Velo), Rebecca Hunt (Cardiff Ajax), Matthew Cross (Towy Racing), Owen James (Towy Racing), Robbie Westwood (Cwmcarn Parragon) and Zak May (Cardiff Jif).
We would encourage anyone to come along and cheer our young athletes over the weekend!
The weekends racing commences on Friday 23rd:
Session 1 (11.00am)
Sprint qualification
Scratch
Session 2 (15.00pm)
Points
Sprint Finals
Saturday 24th
Session 3 (9.00am)
Keirin
Pursuit
Session 4 (15.00am)
Pursuit final
Madison
Sunday 25th
Session 5 (9.00am)
Team Sprint
Session 6 (12.00pm)
Team Pursuit