In the second part of our interview with Ben Swift at CNP's Headquarters in Ashton, Manchester we catch up on his hopes for London 2012 and how British Cycling have helped his development as a rider...
It's the day after the final stage of the 2011 Tour de France and Ben Swift is in good spirits with the memory of his attack on the Champs-Ellysees clear in his mind. "I've got the Tour bug now" he says after being shown round CNP's headquarters." I'd like to make it a regular occurrence and race it every year, but we'll see what happens with the programme. The Olympics is the focus."
Swift started cycling when he was only three after his parents entered him into a bike race. He was clearly a natural. Since he joined the setup at British Cycling in 2004 he's enjoyed a meteoric rise to the top end of professional cycling. His progression as one of Great Britain's leading talents was already apparent as a youngster - proven when at just 19 he claimed the King of the Mountain's jersey in the 2007 Tour of Britain and in the same year won a Gold medal at the European Track Championships in the Team Pursuit.
His cycling preference has always been two fold - Road and Track, since he was young both the Olympic Games and the Tour de France were always a dream. "I remember getting home from school and watching the Tour on the TV and dreaming that I'd do it one day, obviously when the Olympics were on TV I'd be glued to that."
Now at 23 he's just completed the world's most gruelling bike race and it seems to all have happened quite quickly. "It's absolutely flown by since Beijing, I remember trying to sleep and hearing the fireworks at the opening ceremony, it feels like yesterday, it's gone so fast."
Swift has been in and around the Men's Team Pursuit Squad since Beijing but in recent times, has preferred to focus on the road and has already enjoyed wins at this year's Tour Down Under, Tour of California and Tour of Romandie. But over the next 12 months his attention will return to the boards once again and he plans to be back on the track in time to compete at the European Championships in October.
"I'm hoping to ride at the Europeans. It would be nice to get in the Team Pursuit line up at London but we'll look at it after the winter programme and see. I've got the added luxury of having done quite well on the road this year that the road race is an option but we'll see how the track goes first. It's a decision we'll make later."
Swift is full of praise for the support he receives at British Cycling, specifically from his coaches Rod Ellingworth and Dan Hunt. "I've come up through the ranks and without the guidance from Rob and Dan, I don't think I'd be the same bike rider. We've got the best support staff in the world really, that's what helps us to be as successful as we are, and like I say we wouldn't be where we are now without those guys."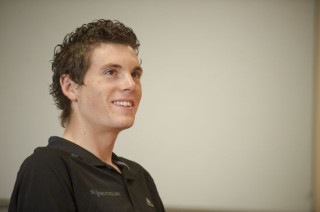 The competition he will face for the Olympics is set to be fierce with up to ten riders vying for four places to be on the start line in London, but it hasn't stopped Ben from thinking about how he'd feel should he be selected. "I don't think you can explain just how exciting it is, it'll be an amazing feeling, you're in a team pursuit where it's deadly silent, then you hear the beep and the crowd goes mental, but to hear that at your home Olympics is something very special."
The development of riders like Swift, Thomas and Wiggins combined with the emergence of Team Sky continues to push Cycling to the forefront of British sport, and one of Swift's old mates is more responsible than anyone for the increase of people being inspired by two wheels. "Cav's (Mark Cavendish) a massive talent, we followed the same programme out in Italy, we train together quite a bit and just seeing what he's done is really impressive and makes you want to do the same."
Swift remains overwhelmed by the number of people riding their bikes in Britain. "The amount of cyclists you see now, you get tired just taking your hand off all the time to wave at them. There's so many more people out there, and I think the attitude of car drivers is beginning to change as well, I've heard a few stories from the guys about when people are driving behind shouting 'Come on Team Sky', and that's really nice to hear.
"I don't think we've seen half of what cycling is capable of, if we have anywhere near the same success in London that we had in Beijing then it'll go through the roof."
That was enough of the talking for one afternoon. Next on the agenda was a trip to Alton Towers with his girlfriend. After that his focus will be on the ride of a lifetime, which will come in a year's time at the London Olympic Games.
Keep up to date with Ben's training and racing through his website and follow him on Twitter.