| | | | | | | | |
| --- | --- | --- | --- | --- | --- | --- | --- |
| | Follow britishcycling.org.uk on | | | | | | |
Follow the results of the Welsh riders as they
battle for medals in the U23 Euro Track Champs

26th July 2011
July 26-31, 2011, Portugal
Day 6 - The final day of competition in Sangalhos saw further medals for the young GB team - with British Cycling's Head Coach Shane Sutton concluding the championships in positive mood.
"The results from the UEC U23 European Track Championships were absolutely fantastic. It shows that the underpinning part of the Olympic Podium Programme is looking healthy and no doubt that the future is looking bright for these youngsters.".
Becky James took fourth in the Under 23 Women's Keirin final, won by Baranova of Russia, while James' teammate Jess Varnish finished 6th. After the event, the ever-positive James was momentarily downhearted, Tweeting "Not the most successful day....4th in the Keirin, gave it everything!! Gutted to miss out on the podium." However, she was soon her usual glass-half-full self, adding "Happy to have a solid week of training and racing though. A gold, silver and two 4ths isn't tooooo bad out of training!!". Russia was also dominant in the Junior Women's Keirin with Anastazia Voyvona taking gold, with GB's Victoria Williamson taking fifth place.
Day 6
Women Under 23 Keirin Final 1-6
1 BARANOVA Victoria RUS
2 MONTAUBAN Olivia FRA
3 GNIDENKO Ekaterina RUS
4 JAMES Rebecca GBR
5 CALVO BARBERO Tania ESP
6 VARNISH Jessica GBR
Day 5 - Day five of competition at the Sangalhos velodrome in Anadia, Portugal saw the conclusion of the Men's U23 and Men's Junior Omnium, the opening three rounds of the Women's Omnium events and the finals of the Women's U23 Team Sprint and 500TT. For the young GB team however, it meant only one thing. More medals.
Owain Doull, who'd battled through the Devil from hell (pun intended) the previous night to end the day in 5th overall, rounded off his Junior Omnium with a convincing win in the Individual Pursuit and a great ride in the Scratch race to haul himself up into Bronze. Prior to the day's final two events, Doull Tweeted: "Last day of the omnium, sitting in 5th but all still to play for! Gb Junior End have medaled in evr race, no pressure cant let the boys down." He needn't have worried...
Moving over to the sprinters and it was more precious metal for GB, with Jess Varnish winning the U23 500TT, closely followed by teammate Becky James. Taking her social media responsibilities as seriously as her racing, Varnish quickly Tweeted: "Great day! Won the 500 with a new pb 34.5 woo :)"
Becky James was equally pleased with her silver medal, also a personal best: "So happy with today!! Silver medal in the 500m TT and a PB :)) Didn't expect that. 1 day to go."
There was more success in the Junior Women's Team Sprint, claiming silver in the ride-off against Russia, following a qualifying ride which saw the two squads separated by a scant six hundredths of a second.
Day 5
Junior Men Omnium Race 6 1km tt
1 RYBIN Ondrej CZE 1:05.493 +0.000
2 ACKERMANN Pascal GER 1:05.797 +0.304
3 LATON Eryk POL 1:05.942 +0.449
4 DE BUYST Jasper BEL 1:06.271 +0.778
5 ZAVGORODNIY Stanislav RUS 1:06.430 +0.937
8 DOULL Owain GBR 1:07.323 +1.830
Men Junior Omnium Race IV Individual Pursuit 3km
1 DOULL Owain GBR 3:22.980 +0.000
2 DE BUYST Jasper BEL 3:24.832 +1.852
3 LATON Eryk POL 3:27.291 +4.311
4 BOUDAT Thomas FRA 3:27.474 +4.494
5 BURG VAN DER Joost NED 3:28.892 +5.912
Day 5 Photos
Above: Owain Doull looking quietly satisfied with his Bronze medal in the Junior Men's Omnium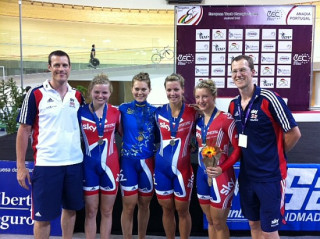 Above: GB coaches celebrate more medal success, this time with the Junior Team sprinters and the gold and silver medallists in the U23 Women's 500TT, Jess Varnish and Becky James.

Day 4: The U23 Men's Scratch saw GB's Luke Rowe take silver behind Italy's Davide Cimolai in an eventful race which saw Mark Christian brought down with one lap to go. Meanwhile Callum Skinner and Jess Varnish both bagged bronze in the U23 sprint competition, with Varnish pipping teammate Becky James to the podium. After his final a delighted Skinner tweeted: "European under 23 sprint bronze medallist, very, very happy!!! :)" Sam Lowe also netted bronze in the Junior Scratch, which saw Chris Latham take a fall in the final half lap.
Crashes were the order of the day, with both Amy Roberts and Harriet Owen taking heavy falls in the Junior scratch - thankfully, both were ok. There was also havoc in the Elimination race of the Junior Omnium, with Owain Doull emerging from the carnage in second after a photo finish.
After the race, coach Matt Winston tweeted "Owain 2nd in the demolition derby! Otherwise known as an elimination! More crashes than i could count!" while Jonathon Dibben saw the events of the Omnium as an ill omen for the Madison: "After hearing all the carnage stories from the devil tonight, I think this Madison on Sunday could be interesting!"
Doull's strong showing in the Elimination followed a tenth place in the flying lap and fifth place in the Points race. There was also omnium action in the U23s with Simon Yates representing GB, placing sixth in the Points and third in the Elimination race.
Day 4
Men Under 23 Scratch Race Final
1 CIMOLAI Davide ITA
2 ROWE Luke GBR
3 SHMALKO Viktor RUS
4 FILIP Jakub CZE
5 VAN DER SANDE Tosh BEL
Men Junior Omnium Elimination Race
1 BONIFAZIO Niccolo ITA
2 DOULL Owain GBR
3 RYBIN Ondrej CZE
Women Junior Team Sprint Qualifying
1 RUSSIAN FEDERATION 35.983 +0.000
2 GREAT BRITAIN 35.989 +0.006
3 POLAND 36.979 +0.996
Day 3: Day three of the European Track Championships saw the GB Team amongst the medals again.
Harriet Owen and Elinor Barker just missed out on a medal in the Junior Women's Points race.
Jon Mould put in a storming finish to claim bronze in the Under-23 Men's points race. Team-mate Luke Rowe tweeted "top ride to get the bronze in the points race. My madison partner for sunday has got some form.........#ClassAct", whilst Joe Kelly called it "a hell of a ride for 3rd"
Jon himself than came back with his own tweet: "Chuffed with the Bronze medal, had to fight REAL hard for that. Thanks for the support! Bring on the Madison on Sunday!"
In the Under-23 sprinting, Callum Skinner, Jess Varnish and Becky James all made it through to Friday's semi-finals, but Pete Mitchell had to content himself with a win in the 5-8 place final.
Becky James was bubbling following a trouble free day, tweeting "Won the quarter finals 2-0 :) through to the semi's tomorrow!!"
Day 3
Men Under 23 Points Race Final
1 VIVIANI Elia ITA 54 points
2 ST?PLER Nick NED 42
3 MOULD Jonathan GBR 38
4 DILLIER Silvan SUI 37
5 VAN DER SANDE Tosh BEL 35
Women Junior Points Race Final
1 CONFALONIERI Maria Giulia ITA 22
2 KASHIRINA Svetlana RUS 17
3 MARKUS Kelly NED 13
4 OWEN Harriet GBR 12
5 BARKER Elinor GBR 8
Day 2: It was another good day for the GB Team in Portugal, with 3 gold medals.

The GB Under-23 Team Pursuit quartet of Sam Harrison, Joe Kelly, Mark Christian and Simon Yates took silver, behind Russia in the final. GB went ahead early, no doubt keen to pressure the Russians who were over 3 seconds faster in qualifying. However, the Russians stuck to their task and won with a time of 4:05.120 to GB's 4:08.445.
John Dibben is the new Junior European Individual Pursuit champion after recording an impressive 3:19.018 to beat Owain Doull's 3:24.223 in the all-GB final.
Becky James and Jess Varnish won the U23 women's team sprint, qualifying fastest and backing up taking the final against Russia with the fastest time of the competition, a world-class 33.912s.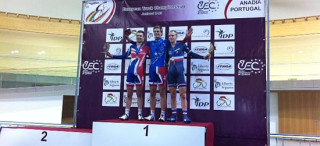 GB's John Dibben tops the junior individual pursuit podium. Owain Doull and France's KevinLesellier flank him.
Becky James & Jess Varnish, European Team Sprint Champions
Day 1: The GB Team celebrated a successful first day at the UEC U23 European Track Championships 2011 which included two gold medals and a silver medal.
The feat was matched by Owain Doull, Jon Dibben, Sam Lowe and Joshua Papworth, who after qualifying in first put in a dominant performance to secure gold in the Junior Men's Team Pursuit.
Elsewhere it was silver for Elinor Barker after a superb effort in the Junior Women's Pursuit.
Latest Results
Men Junior Individual Pursuit Finals
1 DIBBEN John GBR 3:19.018
2 DOULL Owain GBR 3:24.223
3 LESELLIER Kevin FRA 3:22.4090
4 VANDERAERDEN Niels BEL BEL 03:22.4110 +0.048
Women Junior Team Pursuit Finals
1 ITALY ITA 3:32.877
2 RUSSIAN FEDERATION RUS 3:36.998
3 FRANCE FRA 3.33:679
4 GREAT BRITAIN GBR 3:36.021
Men Under 23 Team Pursuit Qualifying
1 RUSSIAN FEDERATION 4:06.865 +0.000
2 GREAT BRITAIN 4:10.071 +3.206
3 SWITZERLAND 4:10.333 +3.468
4 NETHERLANDS 4:11.592 +4.727
Women Under 23 Team Sprint Final
1 GREAT BRITAIN GBR 33.912
2 RUSSIA RUS 34.341
3 POLAND POL 35.252
4 GREECE GRE 35.268
Women Under 23 Team Sprint Qualifying
1 GREAT BRITAIN 33.935 +0.000
2 RUSSIAN FEDERATION 34.306 +0.371
3 POLAND 35.308 +1.373
4 GREECE 35.423 +1.488
Men Junior Individual Pursuit Qualifying
1 DIBBEN John GBR 3:20.386 +0.000
2 DOULL Owain GBR 3:21.252 +0.866
3 VANDERAERDEN Niels BEL 3:23.275 +2.889
4 LESELLIER Kevin FRA 3:23.880 +3.494
5 FOURNIER Marc FRA 3:24.312 +3.926
Women Junior Individual Pursuit Qualifying
1 CHEKINA Alexandra RUS 2:26.545 +0.000
2 BARKER Elinor GBR 2:28.337 +1.792
3 BARTELLONI Beatrice ITA 2:29.747 +3.202
4 USABIAGA BALERDI Irene ESP 2:30.968 +4.423
other
9 GARNER Lucy GBR 2:34.631 +8.086
Men Junior Team Pursuit Qualifying
1 GREAT BRITAIN 4:11.956 +0.000
2 RUSSIAN FEDERATION 4:13.856 +1.900
3 FRANCE 4:14.657 +2.701
4 SWITZERLAND 4:14.777 +2.821
Women Junior Team Pursuit Qualifying
1 RUSSIAN FEDERATION 3:35.337 +0.000
2 ITALY 3:36.126 +0.789
3 GREAT BRITAIN 3:38.192 +2.855
4 FRANCE 3:38.857 +3.520
5 NETHERLANDS 3:41.827 +6.490
British Cycling reports HERE>>>
Cyclingnews reports HERE>>>

---
British Cycling announce team for UEC
U23 European Track Championships
including 7 Welsh riders

13th July 2011
7 Welsh riders named in Greadt Britain squad to travel to the UEC U23 European Track Championships 2011. Wales will represented by some of the best young riders in the sport, most of whom have already won European medals in previous years competitions.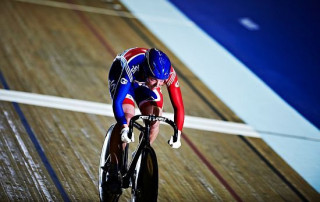 Photo: Becky James is part of the squad for the Under 23 UEC European Track Championships
British Cycling has today announced the team of 29 Junior and Under 23 riders who will represent GB at the forthcoming Under 23 UEC European Track Championships taking place in Portugal from 26th - 31st July 2011.
Current elite World Champions Dani King and Laura Trott have made selection along with Sam Harrison and Jess Varnish, both of whom have won Gold medals at elite-level World Cups in the 2010-2011 season.
Speaking of the selection, Performance Manager Shane Sutton said: "We're sending a large team of riders out to Portugal, all of whom we believe are capable of performing well at European level. The size of the squad, and the fact that some riders haven't made selection this time, is a testament to the success and strength of our Olympic Academy and Olympic Development Programmes and means we're in a good position looking to London 2012 and beyond."
GB squad for UEC European Track Championships - Portugal
U23 Men's Sprint:
Phillip Hindes
Peter Mitchell
Callum Skinner
U23 Women's Sprint:
Becky James
Jess Varnish
U23 Men's Endurance:
Mark Christian
Sam Harrison
Joe Kelly
Jonathan Mould
Luke Rowe
Erick Rowsell
Simon Yates
U23 Women's Endurance:
Katie Colclough
Dani King
Hannah Mayho
Laura Trott
Junior Men's Sprint:
Matthew Rotherham
John Paul
Junior Women's Sprint:
Victoria Williamson
Jessica Crampton
Junior Men's Endurance:
John Dibben
Owain Doull
Christopher Latham
Samuel Lowe
Joshua Papworth
Junior Women's Endurance:
Elinor Barker
Lucy Garner
Amy Roberts
Harriet Owen