Tour de France: The British Contingent
By Richard Moore
He seemed to come from nowhere, but on Wednesday, after a crash-strewn stage that finished with a strength-sapping rise in Cap Fréhel, Mark Cavendish sprinted out of a bedraggled peloton to claim his first win of this year's Tour de France.
This was arguably the best of Cavendish's sixteen stage victories, competing with his fifth win of the 2009 Tour, which included a tough climb just before the finish in Aubenas. On Wednesday the finish looked perfect for Cavendish on paper, but the race was run on rough, twisting Breton roads, rather than paper. In the event, the final kilometres were fast and frantic, and it was anything but a conventional bunch sprint in Cap Fréhel.
The identity of the rider Cavendish overhauled in the final metres provides ample evidence of that: it was Philippe Gilbert, the winner of the opening stage, and a specialist not in bunch sprints, but in tough, uphill finishes.
Cavendish had complained before his maiden stage win that some had written him off. It wasn't clear who he meant. But, if anyone did write him off, they can write him back on. Even without his usual HTC-High Road 'train,' which broke up in the final kilometre, Cavendish proved on the tough Brittany roads that he's as sharp as ever - and perhaps stronger. It bodes well for his bid for more stage wins, and perhaps, finally, a first green jersey.
But, from a British perspective, the Tour, so far, has not been the Cav show.
On the contrary. At the time of writing, three British riders sit in the top seven of the Tour de France, and Cavendish is not among them. I don't have my 'Complete History of British riders in the Tour de France' to hand, but even if such a volume existed, I don't think I'd need it. I feel safe in asserting that such a thing has never happened before.
David Millar sits fourth, Bradley Wiggins, who hit the deck on Wednesday, is sixth, and Geraint Thomas, who was fifth into Cap Fréhel and remains in the white jersey of best young rider, is seventh. But it might have been even better, especially for Millar. For him, there have been echoes in the opening days of the 2008 Tour, when the Scot went agonisingly close to becoming the first British rider to wear the yellow jersey since ... David Millar, in 2000.
In fact, Millar was closer than he realised that year. In Cholet in 2008 - where stage three of this year's race started - he finished third in the time trial to go second-equal with Kim Kirchen. What he didn't know was that Stefan Schumacher, the winner and yellow jersey, was using EPO, and that he'd be stripped of the stage win some weeks later.
Back to this year's race, and on Sunday, in the team time trial, Millar had another near-miss, at least in terms of the yellow jersey. With his Garmin-Cervelo team winning the stage, his teammate Thor Hushovd took yellow on account of his third place on Saturday's opening stage (Millar was 16th). Millar was thus denied yellow on points rather than time.
Sunday's team time trial provides the explanation for the high overall placings of the three leading Brits, which is no surprise. Millar is arguably the best team time trial rider in the world, even if he admitted he "suffered like a pig" on Sunday. It is a source of regret to him, and it may also be a source of regret to Dave Brailsford, that he is not part of Team Sky, owing to his past doping indiscretions.
Who knows, but, with Millar in the line-up, might Team Sky have translated third - four seconds behind Garmin - to first?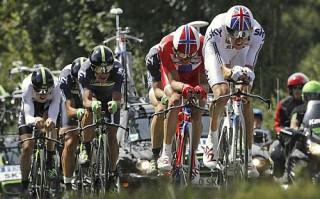 For Brailsford, Wiggins, Thomas and Team Sky, the team time trial was a coming of age. Or - according to one member of staff - "judgement day." It was a stage that Brailsford, the team principal, had been anticipating for a year, discussing it during the final week of last year's Tour, and looking forward to applying the kind of meticulous planning that has served the British team so well on the track, to one of the more controllable events on the road.
The man charged with preparing the team was time trial coach Bobby Julich. The American, who won the Tour's team time trial with Credit Agricole in 2001, and finished second - by one second - with CSC in 2005, explained at the start in Les Essarts that the team had "ridden the course three or four times, driven it, filmed it, studied it."
They were faster than Garmin at the first check, 9km in, but dropped four seconds over the following 9km, as they turned into a headwind and shed two riders, Christian Knees and Xabier Zandio. In the final 4km, Wiggins, with assistance from Thomas, took over, doing huge turns at the front, turning the formation from compact unit into a long, thin line. They went as fast as Garmin over those final 4km - as you'd maybe expect of Wiggins and Thomas, Olympic team pursuit gold medallists over the same distance. But it meant they finished third, with later finishers BMC going fractionally quicker to claim second.
The effort told on Thomas, who slumped over his handlebars at the finish. "It was full gas," he said, when he could speak. "Brad, as ever, was strong. I was trying to do some strong pulls, but when Brad was on the front it was hard getting back in the line. I suffered then. But everyone did their bit. I don't think we could have done a lot differently."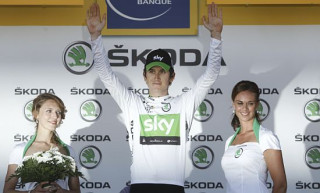 Thomas, who'd finished sixth on day one, had been tipped to take yellow, and Wiggins admitted that was "the only slight tinge of disappointment." But the mood around Team Sky after the stage was buoyant; although they'd missed out on the stage win, there was satisfaction that the team had clicked, and run Garmin so close.
Wiggins added: "Today wasn't about egos, it was just about the performance of the team. When you come away from a race like that knowing there's nothing else you could have done there's no disappointment. I gained some time on some of the [overall contenders]. At the moment it's looking good. It's been a fantastic start to this Tour de France. A complete contrast to last year."

The fifth British rider in the race, Ben Swift, riding his debut Tour, has not been seen, yet, in the finishes, but he earned praise from the team for his performance in the team time trial.
After day one, Swift admitted, "I was a bit in awe actually. The whole experience was amazing. In the race everybody seems to want to be in the same gap. Normally I can float through peloton, but this is so different. I almost came off in the big crash [which held up defending champion Alberto Contador], and in fact me and Cav were the last two riders to make it through, and make it into the front group. I fell in the other crash, with 2km to go, but I stayed on my feet somehow - though my bike ended up two metres away."
Richard Moore is the author of Sky's the Limit: British Cycling's Quest to Conquer the Tour de France, and Slaying the Badger: LeMond, Hinault and the Greatest Ever Tour de France. Follow him on Twitter.

Images: AP Photo/Christophe Ena