"I got married today..."
Yes, I decided it was about time I proposed... Just like the old romantic I like to think I am, I whisked my loved one away to Gretna Green and popped the question. We've been through a lot together, had some ups and down and fought against the elements. But we've always come through stronger. I hope you like the official wedding photo of us, the happy couple!
The first 28 miles today were great. The most beautiful scenery, and although the weather was a bit dull, visibility was good. I only saw 2 other cyclists all day, and they were riding the same bike.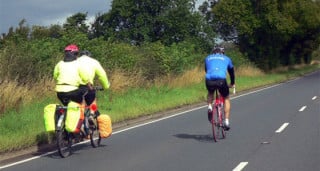 It did make me wonder why there are 7million un-used bikes in the UK. Give it a try and you'll get hooked. The miles flew by as I tried to take it all in. Farm land for most of the ride, which of course means farm land smells - some more potent than others. I thought I'd do the manly thing, take a deep breath and get on with it - not a good idea...
After passing through Carlisle, I reached a place called Longstown. From the route Oli and I had planned last night, this meant we turned left onto the A76 all the way to Dumfries, our final destination for today.
"Dumfries 28" the sign said. Even though I was enjoying myself, there's always a part of you that hopes the 28 means Kilometres and not Miles - always wishful thinking! I was now travelling in a westerly direction. And that's where things got a little tricky. A heavy head wind and a cross wind to match meant that if I stopped pedalling for a couple of seconds, I would come to a complete standstill. It was time to graft. I could've sworn I even saw a touch of sympathy in Oli's face with 10 to go...maybe not!
I'm happy to admit that I was pleased to see the finish, which in this instance, was the Dumfries Travelodge next to the little chef.
Jumped into ice bath no.3 for the week and now we're heading into town, Oli is keen to watch england v holland. "Get on your bike mate, I think it'll be Scotland v Norway, or nothing!".
The Mrs doesn't like football, so she's decided to have a quiet night in. Understandable, we've got a long day tomorrow!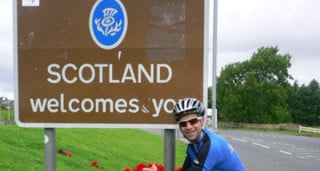 TODAYS STATS
3hrs 42 mins
53.08 miles
2365 calories
14.4 avg speed
1563 ascent