For over a decade Spokes Racing Team have been providing a platform for talented young Scottish road racers, a platform that puts the human being first.
"We just help them to grow up and try and put them on the right path – and that doesn't have to be as a pro cyclist, it could be as a stockbroker, an engineer, or whatever it is – the lessons you learn as a bike rider you can pass on to any area of your life."
Those are the wise words of team owner Craig Grieve, who also owns Spokes Cycles, the bike shop predating the team.
"The team came about in 2012" says Craig, "when my son Lewis was a junior. He and his mates were all in different clubs but were all struggling to get into national races. They'd all met from travelling to different races around Scotland and then one day they asked if we could set something up so they could all race together, and it all started from there.
"A lot of the Scottish kids at that point weren't even racing in England, so it was getting them down there and racing the British National Series races. I remember in that first year, at the start of the season they looked to be out of their depth, and were getting a kicking, but by the end of the season they were in the winning moves with the likes of James Shaw and Matt Gibson. We knew what the guys were capable of, but they had absolutely no experience – from the start to the end of the year they gained so much and it made a massive difference.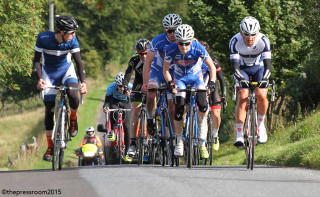 "The following year we tried to get into some European races, and one of them turned out to be one of the biggest on the calendar, the Three Days of Axel, so we got absolutely smashed! But that gave us a taste for it, even though we overreached as that was the wrong UCI race to go to. But we learned from that and the next year we entered a few different ones, and were invited back to the Three Days of Axel again, and we got third overall second time round with guest rider Reece Wood – so it was big difference.
"The boys improved every year, especially in Europe, and they just got more confident. As first years came in, they were mixing with second years who'd already done it, and they were passing on knowledge, so there was no longer a fear of going to these races in Europe."
A development team for junior road riders, Spokes is a name synonymous with the Scottish and British racing scene, the recognisable saltire jerseys easy to pick out at the front of the bunch, whilst their list of alumni needs little introduction.
Just this past weekend former rider turned elite star Finn Crockett, who unfortunately has found himself without a team after the collapse of UCI Continental outfit AT85 Pro Cycling, returned to where his career really started, donning the famous jersey once more at the Ras Mumhan to take the overall victory.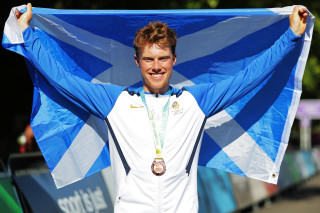 Speaking of the man from Strathpeffer, Grieve noted:
"Finn came in really late from mountain biking. Nobody knew much about him, but he came to a training camp and just smashed it. Once we were able to stop him crashing he was brilliant! He's as strong as an ox and has gone from strength to strength."
That has been underlined, not just by winning UCI races at elite level, but by his stunning bronze medal in the road race at the 2022 Commonwealth Games in Birmingham, the cherry on the cake of a record-breaking Games for the Team Scotland cyclists.
"It does make you feel really proud", adds Grieve.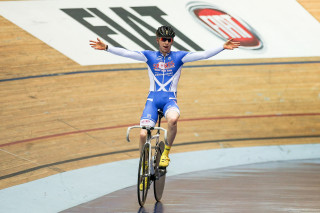 Further alumni include the likes of fellow Commonwealth Games medallist Mark Stewart and World Tour pro Oscar Onley.
"I still regularly speak to Mark and Oscar" says Craig, "in fact I was supposed to be going out to watch Oscar race at Strade Bianche but unfortunately we had to cancel last minute, whilst Mark will always bring us doughnuts when he's home!
"With Oscar, ever since day one we knew he was going to be a superstar – he's one of those very few riders who you see on day one and say he's got everything he needs - and he's just a really good lad as well.
"The thing that probably got him the big move was when Scottish Cycling had a team in the Valromey stage race in the French Alps. It's often regarded as a race that's too hard for Scottish riders, as they can't really ride the Alps unless you're based in Europe and riding them all the time, but Oscar finished seventh on GC and second in the Young Riders competition and that got a lot of attention from the big teams. AG2R phoned us up and asked if we'd mind him guest riding for them for the rest of the season, and then when he got to U23 he ended up going to Team DSM. Oscar always looked at the big picture."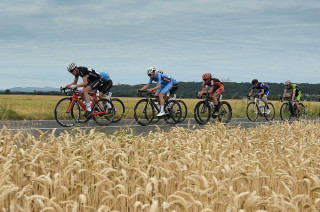 That perhaps is one of the many lessons that Spokes Racing Team try to instil into their young recruits.
"When parents come and have a meeting with us at the start of the year and we get them all together, we always tell them that whether their son becomes a pro rider like Oscar or never rides a bike again, the main thing is we want to teach them life lessons so they can stand on their own two feet and become better human beings, because a lot of kids don't get the opportunity to stand on their own two feet these days.
"Most of them will have been driven around the country, the parents with them every step of the way, so when we get them as juniors we try to help them cut the ties with their parents, which can be quite difficult, but you quickly see the benefits.
"When we get them away to a race as juniors they're completely different, and we just try to prepare them – if they want to be pro cyclists they aren't going to have their mum and dad with them! So whether it's Logan McLean going to AG2R, or Mark Stewart going onto the GB programme, they need to be self-sufficient – cycling is a really tough game and you've got to be tough, stand on your own two feet, bounce off the road when you crash and get back on again. We just help them to grow up and try and put them on the right path."
In recent years the team has also diversified, as thanks to the tireless efforts of Robbie Brown, they put on a number of road and circuit races every year, from Scottish Cycling National Championships, to British Series rounds and mid-week crits at Fife Cycle Park. In fact just last weekend they put on another successful edition of the Spokes 2-Day, a long established round of the British Youth Series.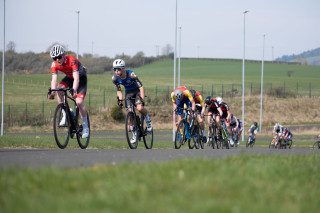 "We want to be a racing team, but we have to be careful we don't just become a race organising team, because it can take over. It's a lot of commitment with the team – we all have families ourselves, so if I'm away two weekends in a row, and then you're organising a race a month as well, it's really difficult", says Grieve.
"But we've went with it, and it's worked out well – it's actually given us a wee bit of an income stream for the team as well, which has been needed as through COVID we lost a lot of sponsors and funding. That was one of the drivers, as well as the fact that races were falling by the wayside and we needed to have our guys racing. There's no point doing no racing in Scotland and then taking them to Europe, or down to the British National Series once a month, and wondering why they fail.
"So the first thing was to get our guys racing more, and if everyone else in Scotland is benefitting from that as well then that's also a win, but secondly to raise a little bit of money to go back into the team. We make no bones about it, and I think people are happy with this, that every penny goes back into the team. I'd like to think that's why we get such good support and we get a lot of good will, which is nice."
So what does 2023 look like? It would appear Crockett's win, and the opportunity for the youngsters to learn from him, is just the start.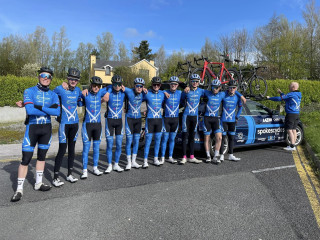 "For 2023 we're happy with the squad we've got – we've got quite a few really talented riders that we have high hopes for in Europe – it's just a case of getting them started. After we'd done back to back European seasons in our early years, the new guys coming in would be mixing it with the guys who were confident racing in Europe, however COVID has killed that and put us back to square one again. The first few races are going to be tough for the lads – it's going to be a learning process, they're going to make mistakes, they're going to crash, they're going to miss time cuts – these things might have been avoided were it not for COVID, but we'll just do what we did before and build from the ground up again. Hopefully by the end of the season we can do well in Europe and do well in some of the British Series races.
"Our first European race is the Tour of Brabant in Holland at the end of the month, which is a 125km long, raced over a 20km circuit with a long cobbled section every lap, so it will be quite the challenge! However the Cicle Classic was good preparation."
So from the original cast that included Lewis Grieve, Stuart Balfour, Ben Forsyth and Fraser Martin, to the names that have made it on the big stage, to those youngsters donning the infamous blue jersey in 2023, the team's raison d'etre remains the same: give youngsters an opportunity and make them better humans.