A British Series in Scotland, as well as a Scottish win in Ireland leads the billing in a busy Easter Weekend of racing.
British Youth Circuit Series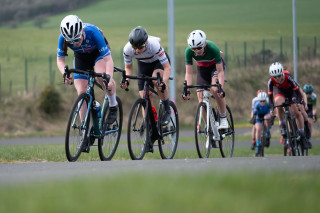 There were two excellent days of racing at Fife Cycle Park as Britain's best young riders travelled to Fife for the Spokes RT 2-day, which formed the latest round of the British Cycling Youth Circuit Series.
Erin Boothman (East Kilbride RC) was in strong form winning the first stage before marking moves on the final stage to finish highly in the Youth A's, whilst there were also strong rides from James Sweeney (Edinburgh RC) who was battling for the podium in the Youth A Boys' race and Melanie Rowe (Deeside Thistle), who led the Scots' charge in the Youth B races.
You can read our full report from Lochgelly here:
Rás Mumham
Sticking with Spokes RT, their Junior and U23 squads were racing at the Kerry Group Rás Mumham in Ireland – a prestigious four-day race over the Easter Weekend.
Guesting for his former team, Finn Crockett scored the overall victory after a victory on Stage 2, and a battling performance on Stage 3 to retain it. Stage 4 was a tough battling performance, but the Crockett rocket did enough to retain the leaders' jersey
Highlights can be watched below:
Crockett, is one of four former Spokes RT riders in the Scotland squad for the upcoming UCI 1.2 Rutland-Melton CiCLE Classic, you can read the full squad here.
Chorley BMX
The latest round of the North Regional Series took place at Chorley in Lancashire, with plenty of riders from both Cumbernauld Centurions and Western Titans heading down south. You can read the Centurions' report here, and the Titans' report here.
On the continent…
Kate Richardson (Lifeplus-Wahoo) became the first Scottish-developed rider to ride the Hell of the North, when she took to the start of Paris-Roubaix Femmes avec Zwift on Saturday. Unfortunately, the Scot's race came to an abrupt after a crash in the early part of the race. We're sure that Kate will be back in 2024.
In the juniors, Calum Moir (Great Britain) suffered a similar fate, however over in Italy, Elliot Rowe (Anexo Group RT) finished an impressive 11th place at the UCI GP di Primavera.
Adam Mitchell (Team U Charente Maratime) had an excellent weekend in France, claiming victory at the National Elite GP de Loches and then followed it up with a victory at the Mémorial Mado et Bernard Paul á Coulounnieix-Chamiers before Monday saw a second place finish at the Prix dy Mont Pujols.
In Belgium, Ciaran Mc Sherry (The Cycling Academy) was racing in the elite kermesse in Wevelgem, finishing in a strong 13th place, partly due to his creative choice of racing line. Please don't try this at home!