Scottish Cycling is welcoming nominations for it's prestigious Badge of Honour accolade, which recognises the contribution and achievement of individuals who have shown exceptional dedication, made a remarkable contribution or given an outstanding performance, through a lifetime dedicated to the sport of cycling in Scotland.
2022 saw the award go to two extremely worthy recipients in the form of Rita Montgomery and the late Rab Wardell.
Rab's story needs no introduction; having passed away in August 2022 he was rightly bestowed the honour at our Awards ceremony in November, the Wardell family collecting the award on behalf of Rab, to a standing ovation. Rab is the epitome of what the Badge of Honour stands for, and we have no doubt his legacy will live on, inspiring people to ride all types of bikes and have fun doing so. Bikes are gid, he would say.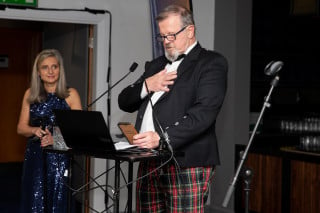 Rita is also a trailblazer in the sport, having championed women's cycling in Scotland long before it was popular or given parity. A champion cyclist, Rita also acts as a mentor and inspiration to many and still rides her bike to this day, aged 91.
The Badge of Honour has been awarded to the great and good of Scottish cycle sport since 1981, and we welcome nominations for the 2023 edition, with criteria set out below:
Examples of someone's long-term dedication and/or involvement within the Scottish Cycling community
Examples of how their contribution has significantly improved cycle sport in Scotland
Examples of where their contribution can be regarded as 'above and beyond' what would normally be expected from someone in a similar position
Examples of an outstanding career as an athlete, with medal winning success at Olympic or Paralympic level (or similar), bringing recognition and national acclaim to the sport and Scotland
Examples where someone has or will leave a lasting impression on cycling in Scotland
Nominations should meet one or more of the above criteria. The deadline for submissions is midnight on Sunday 10th September.
Nominations can be made here:
As was the case last year, the 2023 Scottish Cycling AGM, where the Badge of Honour will be presented, will take place at lunchtime during our conference, to be held at Crieff Hydro on Saturday 25th November.
The AGM is open to anyone, whilst tickets for the full day conference will be available in the next couple of weeks. Tickets for our evening Awards ceremony are already on sale – get yours on the link below. Nominations for our nine awards will open once the Badge of Honour process has concluded, likely week commencing 18th September.