Tickets are now on sale for the Scottish Cycling Conference & Awards, which takes place in the stunning setting of Crieff Hydro in the heart of Perthshire later this year.
After the success of the 2022 edition, which brought the Conference and Awards together for the first time, we're looking to build on that memorable day at Hampden Park, listening to event feedback to give the Scottish Cycling community what they want.
We're delighted to have secured Crieff Hydro as a venue for the 2023 edition, which will serve as a fitting backdrop to a year that has the inaugural UCI Cycling World Championships as it's centrepiece, and we look forward to celebrating the impact it will have.
Last year some 230 guests enjoyed our Awards Dinner, and celebrated as the likes of Fin Graham and Neah Evans scooped the Athlete of the Year prizes, whilst some familiar and extremely worthy figures from our community were also recognised, such as Volunteer of the Year Matthew Ball and Pauline Capaldi collecting the Recreational Cycling Award.
The daytime conference saw just shy of 100 attendees from a range of clubs up and down the country, with learning opportunities, ideas sharing and some robust debate. It's worth a reminder that the conference is open to all club members and volunteers, and is a fantastic opportunity to come together with likeminded individuals – collectively we all have the same ambition – to enhance the sport. The 2023 AGM will once again be wrapped into proceedings.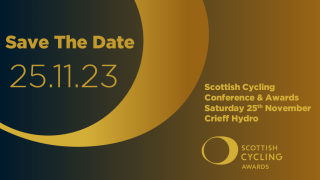 Hollie Davidson, one of the most respected rugby officials in the world, was a particular highlight from the 2022 edition, sharing so many words of wisdom that could be applied across sports into cycling, in a session titled 'Communication and Giving Constructive Feedback'. We were also very grateful to key members of our community for taking part in panel sessions, such as those on 'Growing Women and Girls Participation in our Clubs' and 'Promoting an Event and Driving it to Success'.
The conference programme is also already being worked on, however if you have a particular topic you would like to see covered, please contact clubdevelopment@scottishcycling.org.uk. Registration will open in due course.
Just outside the central belt, the venue is easily accessed from all corners of Scotland, with the spectacular Perthshire countryside offering some fantastic opportunities for all types of riding the following day – stay tuned for more on that!
Tickets
Tickets for the Awards Dinner are now on sale, priced at £52.50 per person. You can purchase your ticket by clicking the link below.
If you wish to book a full table of 10 then please email pete.matthews@scottishcycling.org.uk with the subject line "Awards Table".
Staying at Crieff Hydro
We're also pleased to share that our hosts, Creiff Hydro, are providing discounted hotel rooms for delegates and guests In order to access your discount, please follow these steps:
Head on over to www.crieffhydro.com

At the top right-hand corner – you'll see a button for "Book A Room" – click here.

Enter the dates you'd like to stay for (e.g., 25th November 2023) and the number of nights. Identify how many occupants will be in the room – 1 or 2.

Enter your Promo Code: "SC2023" and check availability. This will then bring you onto the dedicated Scottish Cycling booking page.

From there – you can select the dates you would like to stay below and fully prepay for your accommodation.
See you on Saturday 25th November, as we celebrate what will hopefully have been another fantastic year for cycling in Scotland!