There may have been fewer riders for this year's Scottish National Olympic Time Trial Championships than last year but the sheer quality was evident in each and every performance.
Looking lean, ready and confident, the penultimate rider to leave the starter on the course just outside Hawick caught and passed almost the entire field!
Matthew Downie (TAAP Cervelo) handed out a near five and a half minute beating of his closest rival, Conor McKinnon (Dolan Ellesse Race Team). It was a much closer race for the rest of the podium with Andy Brown (Velocity 44) finishing just 25 seconds off the silver medal position.
In the women's event, it was more of a clear-cut race with Michelle Short of the host club Hawick CC moving up a step from last year to finish with the Gold medal. In second spot was RT23's Anna Fairweather to add another medal to her already impressive career haul and rounding out the podium was Andrea Pogson from Gala CC.
Wind and Hills…and more hills…and then a few more hills!
The big factor of the day was the wind. Sure, at times it was behind the riders and at other times, in their faces. But on the long, exposed drags before the sweeping descent into Bonchester Bridge, the wind was whipping sideways right across the moorland. And then the sting in the tail was a nasty headwind as the riders came off the Dunion and back onto the main road heading back into Hawick and the finish.
The earliest starter to set a time under 90 minutes was Kelso Wheelers' James Bader with a 1:26:29. Other riders came close but it was the big man from Castle Douglas, Gavin Shirley (Studio Velo) who set his consistently blistering pace and scored a finish time of 1:23:32.
Seriously fast times now, especially given the conditions, and it was the next rider in line who hit the 80 minute mark, Andy Brown coming back to the timekeepers in 1:20:47. There would be another 80 minute ride, this time from Conor McKinnon who finished with 1:20:22 and claimed the Silver medal, knocking Andy Brown down to Bronze on this occasion.
No-one, however, could match the pace of Matthew Downie as he scorched home in 1:14:57…a time that drew a collective gasp from the spectators when it was read out at the finish.
Michelle Short (Hawick CC) was fast in this event last year, but this time around she went one better and claimed top spot in a time of 1:34:39. That was a clear 6 minutes and 1 second margin over second placed Anna Fairweather from RT23. It was a case of sixes as third placed woman Andrea Pogson (Gala CC) made it a worthwhile trip by finishing in 1:40:29 and taking home a Bronze medal.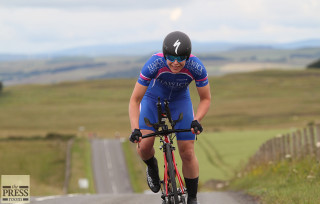 There was a team prize and it was no surprise that it went to Hawick CC as they fielded the greatest number of riders from any one club. Stepping up to collect were women's winner Michelle Short, Calum Murray and David Rudkin.
Men's winner Matthew Downie thanked the host club Hawick CC led by David Killean and his merry band of helpers:
"I was quite apprehensive about racing on open roads but the marshals did a superb job of keeping everyone safe and making sure the event went off without a hitch."
Scottish Cycling President Kathy Gilchrist presented the prizes and congratulated all of the riders for tacking such an up and down course:
"Sandy and I drove the route and I couldn't believe how the hills just kept on coming. Even on the descents, there was no time for recovery as they're either sweeping backwards and forwards, or short with treacherously sharp bends towards the bottom. Well done everyone."
The final word of praise goes to stalwart of the Scottish scene Martin Harris (RT23) who finished in 1:56:25.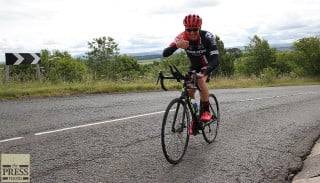 The next #SCNatChamps will take place on the 29th and 30th July with the National Road Race Championships for Men and Women, you can enter that here.