This weekend saw cycling events return in Scotland as dedicated organisers went above and beyond to ensure activity could take place safely.
Spokes RT – Summer Development Race 1
Thursday 20 May 2021
The eagerly anticipated return to circuit racing in Scotland took place on Thursday 20 May at Fife Cycle Park in Lochgelly.
This was the first 'open' event in Scotland, since the easing of restrictions and 154 competitors took advantage of the opportunity to pin a number on and take to the start line again.
Despite terrible weather conditions, 30 Youth riders across Youth A and Youth B, boys and girls lined up in the first race of the evening. There was a strong contingent of female senior and junior racers, with 29 women taking part. It was extremely promising to see so many new women encouraged to take part in their first circuit race – and not be put off by the rain!
The most popular race on the night was the Men's Category 3/4 race – which had almost double the entrants that restricted capacity allowed! With a lot more races planned by Spokes RT at Fife Cycle Park this summer there will be many more chances for those riders to get a start and progress into the E123 race.
Scottish Cycling would like to thank the organisers from Spokes RT and all the volunteers who were involved in the delivery of an exciting return to circuit racing. Spokes RT have further events and series planned at Fife Cycle Park throughout the summer months on Thursday evenings, these can be entered here, with more events being added to that listing shortly.
FJBC Summer Dirt Crits 2021 Event 1
Friday 21 May 2021
Callendar Estate Cycle Trails, near Lionthorn, hosted the first Mountain Bike racing in Scotland in 2021 on Friday 21 June. Organised by Falkirk Junior Bike Club, the event welcomed over 120 cyclists from across Scotland for an evening of exciting and fast paced MTB Dirt Crit racing.
Under Level 2 lockdown restrictions, larger groups have been able to come together which has made it possible for events of this size to return. The club took steps to run the event safely under Covid-19 restrictions, with additional space for sign-on, hand sanitiser readily available, extra space around the venue and disposable race numbers.
Under 8s were the first group off the start line, with Cobey Stewart from Stepping Stanes in Dumfries taking an early lead in the Boys race, with Freya McQueen from Falkirk Junior BC leading the girls race. She led until the finish, joined on the virtual podium by Aila Till from Discovery JCC and Jessica Mitchell. Two FJBC riders rounded off the podium for Under 8 Boys, with Ellis McAusland in 2nd and Chase Langlands in 3rd. Cobey's brother Josh led the Under 10 Boys race from start to finish, and was joined on the podium by Sam Kingan from ERC and Ruaraidh MacPherson from the Johnstone Jets.
Lucy Robb held off a strong contingent of U10 Girl racers from FJBC, with Emmie Main finishing in 2nd, Isla Reekie in 3rd and Thea Baines in 4th. It was an ERC affair on the two top steps of the Under 12 Boys, with Gus Lawson in 1st and Josh Buchan in 2nd. Rhuairidh Fulton from West Lothian Clarion finished in 3rd. FJBC boys showing strong progress in the Under 12s with Arran Drackford in 4th, Lewis McAusland in 6th and Nairn Jardine in 7th. Olivia Poole from the Black Isle MTB Club dominated the U12 Girls race, and she was joined by Lexa Whyte from Discovery JCC on the podium in 2nd and Katie McGurk from Colts in 3rd.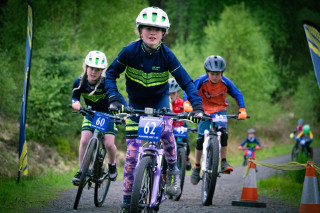 Under 16s and Under 14s raced over an extended course for 30 mins, with the fastest riders covering 6 laps in that time. Reuben Oakley from ERC led the Under 16 Boys from the off, with a lot of movement in the field behind. Finn Mason from West Lothian Clarion clinched 2nd place in the end, with Paddy Barnes from the Glasgow Riderz finishing in 3rd. Emily Carrick-Anderson continued her impressive run of form, finishing top in the U16 Girls, with Daisy Taylor of the Colts in 2nd and Christina McGorum from Una Forza Racing finishing in 3rd. Innes MacDonald exploded off the start line and led the U14 Boys from the start to finish, Finlay Barr from the Colts looked strong in 2nd, with Cole McCann from the Colts finishing in 3rd. Daisy Wilkinson took the win in Under 14 Girls for ERC, with Joscelyn Kennedy from the Colts in 2nd and Freya Gibson from KICC in 3rd.
The event was only made possible thanks to the commitment of club volunteers, the landowners: Callendar Estate, and sponsors: Silent Knights, BeeWell Therapies and Reset Float Centre.
The racing action returns this Friday (28th May) and again on Friday 11th June.
Images: Cameron Wright
Scottish Cycling are grateful to the organising team from Falkirk Junior Bike Club and all the volunteers involved for staging a fantastic return to youth MTB competition. FJBC have two more events on the calendar – Event 2 and Event 3 which have races for U8s up to U16s.
We are continuing to work with organisers across Scotland to support the return of MTB competition for adults and youths, in XC and DH.
Deeside Thistle CC – Dundee Youth Omnium 2021 N.Y.O
Saturday 22 May 2021
The first youth track race in over a year took place at the Mark Stewart Cycle Track in Dundee on Saturday 22 May with the sun shining all day and the rain staying away until after racing had finished. Almost 40 youth riders were present at the Deeside Thistle CC Youth omnium (part of round 4 of the National Youth Omnium), with racing covering an 800m TT, elimination race, scratch race, sprint and points race.
In the youth A boys it was Archie Fletcher from Innovation racing taking the win with 182 points and 4 event wins, followed by Peter Drabble in 2nd and Jamie Thomson in 3rd. The highlights included a sub 1 min 800m TT from Archie Fletcher and a brilliant late attack from Corey Whiteford in the points race managing to stay ahead of the field and sweep up plenty of points at the finish.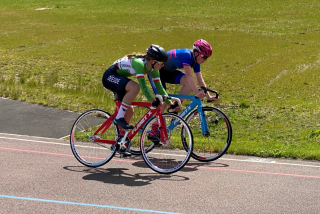 The youth A girls was settled by only 2 points after 5 events in favour of Lucy Glover, who held on after Evie White took a solo lap gain in the points race. Mille Thomson of Deeside Thistle took 3rd overall after a strong final showing in the points race.
The youth B boys was won by James Sweeney of Edinburgh Road Club who won 3 of the 5 events with Adam Murray of East Kilbride Road Club winning the other two finishing 3rd overall. Whilst consistency was key for Struan Shaw of Edinburgh Road club who finished 2nd overall.
In the Youth B girls, Arabella Blackburn and Erin Boothman battled down to the final event splitting the top step in each event which included an aggressive points race where they took 2 laps on the main bunch. Arabella Blackburn took the overall victory by 18 points over Boothman with Anna Birrell of Edinburgh Road Club in 3rd place.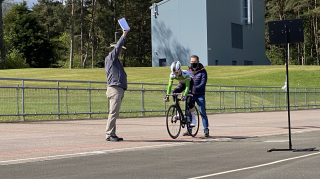 The day was filled with aggressive racing with riders showing the hard work they'd put in during lockdown and a really positive first track race-day back, ahead of the next youth omnium at the Mark Stewart Cycle Track on June 12th.
Scottish Cycling would like to thank Deeside Thistle CC and all the volunteers who made the return to youth track racing in Scotland a huge success. The next round of the National Youth Omnium Series, also at Caird Park and hosted by Discovery Junior CC can be entered here.
We continue to work with track organisers and facility operators to support a return to track competition for other age groups and at other venues.
Pedal the Park 2021
Sunday 23May 2021
Sportives were back on the calendar on Sunday 23 May with Pedal the Park, organised by the team from Ride 63. Based at Castle Semple Visitor Centre in Lochwinnoch, the event is usually a challenging 115km route with 1650m of climbing – with wild weather on Sunday the ride was definitely character building.
As a charity fundraiser, the event supported CLIC Sargent for the third year, with a proportion of all entry fees donated to the charity. In total, £3000 was raised for CLIC Sargent to support local children and families affected by cnacer.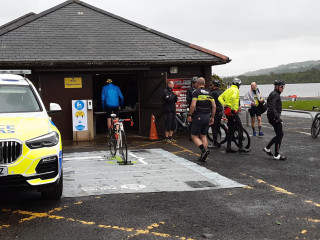 Capped at 150 entrants, riders were set off off in small groups and had a great day out, following all the necessary covid restrictions to keep the event safe and enjoyable.
There was even a Police Scotland close pass car at the finish line to chat to riders.
Images: David Hill
Scottish Cycling thank the organising team from Ride 63 for hosting an excellent return to Sportives, balancing the remaining restrictions with retaining the challenge and fun of sportive riding.
Full details of upcoming Sportives in Scotland can be found here.
Scottish Regional (BMX) Series 2021 – Round 1
Sunday 23 May 2021
Western Titans played host to the first round of the Scottish Regional Series for BMX – and the first BMX event in Scotland since January 2020. Held at Clydebank, the track was a good entry for riders to find their racing legs again.
There were great efforts from the home club to get the track race ready prior to the weekend, with all Scottish clubs working together on the day to deliver a COVID safe race day. The organisers thanked all riders, parents and coaches for observing all covid protocols.
It was fantastic to see a record entries of 98 (more than any race in recent memory), showing the huge passion for BMX racing, despite limited access to facilities throughout the pandemic. There were also over 35 new novice riders enjoying their first race experience.
All riders raced with enthusiasm and were delighted to be back racing for the first time in over a year
Scottish Cycling send thanks to the Western Titans for hosting and all the volunteers from the Scottish BMX clubs for delivering an exciting first BMX race back. The event was the first of four-round Scottish Regional Series, the next race is at the home of the Centurions in Cumbernauld. Entries will be available shortly.