Scottish Cycling is committed to developing a network of progressive, inclusive and safe clubs.
We are introducing Minimum Operating Standards so that we can work with clubs to ensure that you have all the correct policies and procedures in place. Putting members and clubs first will lead to a safe and supported operating environment to protect both your club and your members. Scottish Cycling is here to support you and your club in meeting these standards, please don't hesitate to get in touch with us at ClubDevelopment@scottishcycling.org.uk
We recognise that not all clubs operate in the same way, and cater to different audiences, so we have reflected this in the standards, so that the expectation of what clubs need to do is appropriate to what your club does.
The standards have been developed through the work we have undertaken in creating our Club Development Framework and will be compulsory for all clubs wishing to affiliate to Scottish Cycling.
Whilst many clubs are already operating at or close to these standards, they provide a helpful checklist to ensure that members, clubs and Scottish Cycling have confidence that the minimum standards are being consistently met across the sport in Scotland. For some this will represent a mere formalisation of existing processes and standards. For others that do not yet meet these standards, Scottish Cycling will actively support you in putting the standards in place.
We want to make it as easy as possible for clubs to meet the standards, so we have provided a range of templates and guides for each standard so that clubs have all the resources required.
There are four categories of clubs within the Minimum Operating Standards. There are core elements which apply across all four, and then additional standards depending upon the circumstances of your club.
These categories are as follows:
Club with Under 18s
Club without Under 18s
Race Team with Under 18s
Race Team without Under 18s
Minimum Operating Standards Overview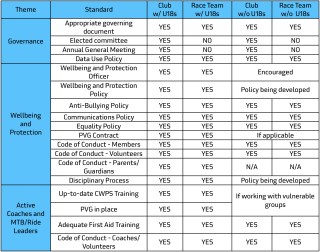 We have outlined below further details about what each of the standards means, and provided templates where necessary to support you in complying with these.
Please ensure you have complied with the standards in advance of submitting your affiliation application. This will ensure that your affiliation for 2022 can be processed as quickly as possible. Your affiliation will not be processed if you do not meet the standards.
While a range of templates and guides have been provided to support clubs with the implementation of these standards, we appreciate that some clubs may require additional support. Please email ClubDevelopment@scottishcycling.org.uk and a member of the team will be able to support you.