On Saturday 7th March, Breeze Champion Lizzie Mitchell was crowned HSBC UK Recreational Cyclist of the Year at the Scottish Cycling Roll of Honour and Awards Ceremony and it was an emotional moment for all.
Held at the Stirling Court Hotel as part of the an action packed conference weekend, the Scottish Cycling Roll of Honour and Awards Ceremony was a wonderful opportunity for the cycling community to come together in an evening of recognition and celebration.
The Scottish Cycling Awards recognise the great achievements made by volunteers and riders throughout 2019. Scottish Cycling are extremely proud of those who coordinate clubs, deliver events, coach riders and all the other contributions which make a significant positive impact on the sport. The HSBC UK Recreational Cyclist Award was new for this year and aimed to celebrate the passion, contribution and commitment of HSBC UK Let's Ride volunteers, recognising those who lead recreational rides; supporting beginners to intermediate cyclists, families, and/or women only cyclists. For example; Ride Social leaders, Breeze ride leaders, Guided ride leaders.

The other shortlisted nominees for this award were also brilliant Breeze Champions. It is clear the ladies are dominating in this category! Debbie Simmons is currently the most northerly Breeze Champion in Britain and Laura Nisbet who has led more than 100 rides with Breeze since becoming a champion.

Lizzie was nominated for her support and encouragement of women attending her rides; from helping newbies build their confidence and number of miles they cycle, to inspiring others to train as Breeze Champions themselves. She was praised for organising social events, bike safety and maintenance sessions, keeping everyone updated through social media, helping women with their bike purchases and organising cycling kit for the group. In 2019 she was one of the main organisers of the Midsummer Breeze Sportive, the first Breeze sportive organised in Scotland, offering the choice of a 25- or 40-mile route and attended by over 100 women, raising funds for the Hawick Community Pump Track initiative. An incredible effort!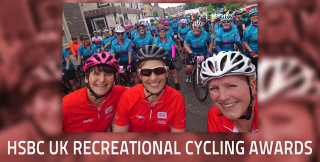 One nomination for Lizzie described her as "an amazing person at motivating so many of us new cyclists within the Hawick Belles Breeze riders!"

After recieving her award from Melanie Toner, Scottish Cycling Participatioin Officer, an emotional Lizzie said, "To win the award is just sesnational. I couldn't do this without my friends Tracy and Lindsey, we became Champions together...I'm taking this award for them!"

Well done Lizzie and all those nominated for the Scottish Cycling Awards.

Find Out More
Check out Hawick Belles online.
Read all about the Roll of Honour and Awards Ceremony.
Find out more about becoming a Breeze Champion here.