With the inaugural Women's Tour of Scotland, exceptional results at the MTB World Cup, and a sweep of medals at the Youth and Junior Track Championships, this weekend was a monumental one for Scottish female cyclists.
Scottish National XC Championships
Lochore Meadows Country Park
Sunday 11th August
Both of the senior titles were defended in style as David Duggan and Kerry MacPhee were first across the line in biblical conditions in the Lochore Meadows Country Park.
Read the full report from 5311 HERE
British National Youth and Junior Track Championships
Newport Veoldrome, Wales
5th - 10th August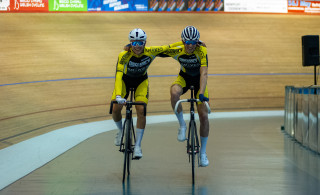 The British National Youth and Junior Track Championships took place in Wales last week and yielded a huge medal haul from Scottish riders. Full Report on Scottish Results HERE
Women's Tour of Scotland
Scotland
9th - 11thAugust
The first ever Women's Tour of Scotland took place with stages departing from Dundee, Glasgow and Edinburgh. Despite mixed weather conditions, the cycling community in Scotland turned out in force to support the elite women as they battled extreme rain, tough terrain and technical finishes. It was a clean sweep for the Bigla Team who took the overall win, Queen of the Mountains and Sprint jerseys.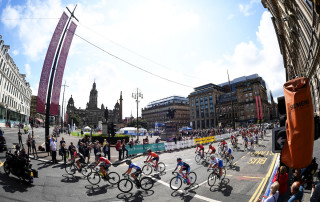 The event was a great success and we hope to work with the organisers to develop it further and inspire future generations of bike riders.
Full Race Reports and Results are available HERE
UCI Para-Cycling Road World Cup
Canada
10th and 11thAugust
This weekend was a huge turning point in the career of young para-cyclist Fin Graham as he claimed Gold in both the Road Race and Time Trial at the UCI Para-Cycling Road World Cup in Canada this weekend. Following the event he said:
'I can't believe it - I wasn't expecting to win two golds at all! During the time trial I had no idea how I was doing as didn't get any time checks during the race, so it was only when I crossed the line and watched the other riders finish that I knew I'd posted a good time. It was made even better by the fact that Ben (Watson) finished second, so it was good day out for us!"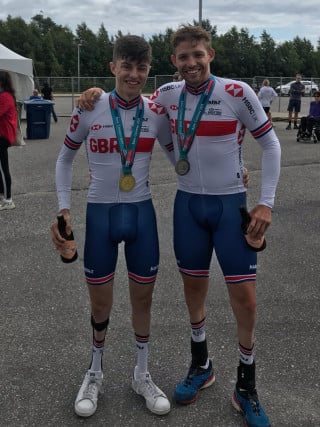 UCI MTB World Cup
Lenzerheide, Switzerland
Sunday 11thAugust
Scottish riders Isla Short, Sean Flynn and Grant Ferguson donned Scotland kit to compete at the MTB World Cup in Lenzerheide. Isla rode the short track course on Thursday and then took on the elite women on Sunday. She went on to deliver her best ever result finishing 14th, just one second behind Commonwealth Games silver medal winner Annie Last.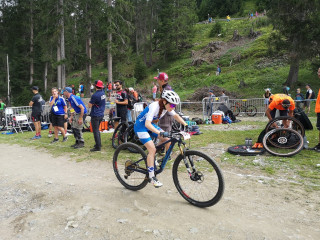 Scottish favourite Grant Ferguson took 59th in the elite men's and Sean Flynn 27th in U23. Reese Wilson was 9th in the Downhill competition.
Read the full British Cycling report HERE
Errigal International Youth Tour
Ireland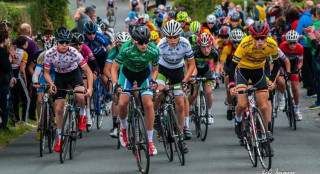 Approximately 40 Scottish riders headed over to Ireland for the 19th International Errigal Youth Tour of Ireland. Stage 1 saw a flurry of top Scottish results with stages wins for Callum Thornley, Morven Yeoman, Erin Boothman and podiums for Murray Lawson and Millie Thomson. Stage 2 saw riders taking on an uphill time trial with wins for Erin Boothman andMorven Yeoman with podiums for Melanie Rowe, Millie Thomson and Callum Thornley. With a crit on stage 3 Erin Boothman and Morven Yeoman continued their winning streaks taking the win in their respective categories with Jamie Thomson taking 3rd in the U14 boys crit race. The final stage was a hilly one with Cameron Brown winning the U16 stage from a solo break and Morven and Erin both continued their domination by winning their final stages. Whilst Millie Thomson added another podium to her collection this race with a second place. The overall results for their respective categories had Morven Yeoman winning overall and every jersey within the race, Erin Boothman won overall securing the pink jersey, Callum Thornley 2nd overall, Millie Thomson 3rd overall and Innes Macdonald winning the polka dot jersey.