Volunteer Week 2018
Every day this week Scottish Cycling is going to bring the focus on one of the key people who make this great sport tick. For Day 2 we've been speaking to Scott Kerr of Walkers Cycling Club
Name:
Scott Kerr
Age:
46
Occupation:
Operations Leader
Cycling Club:
Walkers Cycling Club
Volunteering role(s):
Cyclocross Race Organiser
How long have you been volunteering in your role for?
Four Years as Organiser
How easy is it to get into volunteering?
Really easy... let any event organiser know you are keen and they will be more than happy to include you !!!
What are the benefits of volunteering?
As someone who races or at least rides cross it's very satisfying to know that you are adding something back to the sport. It's also good fun working with a team that are so passionate and we are lucky in Ayrshire as all of the local clubs support each other in event organisation
What has been your most memorable volunteering experience in cycling?
For anyone who knows the Irvine Beach Park cross course, standing on top of the Dragon Hill and turning around 360 degrees to see hundreds of cyclist hopefully enjoying the racing and feeling proud of the efforts of the whole team that make it possible
Where do you want to take your volunteering next?
I would like to emphasise that WE are organising a round of the HSBC National Trophy Cyclocross series and hope to put on a good enough show to secure the future of that level of racing within Scotland
Describe the perfect volunteer (without describing yourself!)
Positive, enthusiastic and with a good sense of humour, (all of the team who worked at our event in February in the snow qualify !!!)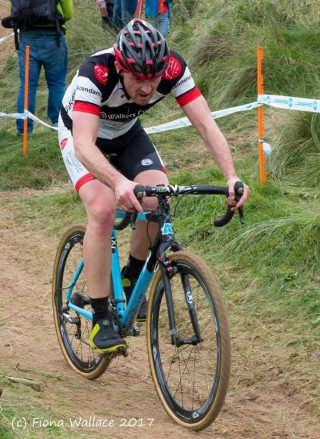 Do you or somone you know Volunteer?
We'd love to hear your volunteering stories and see pics of you in action. Tag us in Tweets using @ScottishCycling and use #VolunteersWeek
Missed Yesterday?
Look back on yesterday's article on Gareth Edwards here
What is Volunteers' Week?
Volunteers' Week is a time to say thank you for the fantastic contribution volunteers make.
During the week, hundreds of events and celebrations take place across the country, saying thank you to volunteers and recognising their invaluable and diverse contribution to the UK.
Volunteering For All
This year, Volunteers' Week is about volunteering for all – celebrating the huge range of people who give their time in so many ways.
It's a chance to think about what volunteering for everyone means to you. How can you celebrate people from every walk of life who are getting involved in volunteering