Posted on: 29 May 2013
Article by: Janette Hazlett, National Events Officer

---
The Scottish Road Race Championships were held in the Grampian village of Alford on Sunday 19th May. The mens race comprised of two laps of a gruelling 34 mile circuit around Deeside with what the organiser described as a 'decisive element' to the race of a 'fearsome two-mile 1280 ft Suie Hill (which ramps to almost 20% at it's midway point') - which was tackled five miles from the finish. The Womens race was equally demanding and also included the Suie climb.
The mens race, won by Gary Hand, Herbalife / Leisure Lakes who was first over the line in a three man sprint with David Lines (2nd) and James McCallum (3rd). Ed Hood of Velo Veritas has kindly allowed us to link into his interview with Gary.
You can read the full interview here: CLICK HERE
With the numbers of Women road racing in Scotland increasing each year and the 2013 racing season already being a very competitive year for the women the Scottish Cycling National Road Race for Women was always going to be a very interesting race.
The Scottish Cycling supported Womens trade team – Breast Cancer Care had four riders in the race – two of which had already taken the championship title; Jane Barr in 2011 and Kayleigh Brogan in 2012 meant the team were looking to produce a winner at Alford on Sunday, 19th May. The team were on the attack throughout the race but unfortunately for them missed the decisive break on the infamous Suie climb which saw two riders, Jenny Taylor, Velo Ecosse and Julie Erskine, Granite City RT jump away and form an alliance which was to take them to the finish line 16 seconds ahead of rest of the riders.
Although Jenny and Julie worked well together to stay away from the pack the two girls were equally determined to be the winner and a very competitive sprint saw Jenny just edge ahead of Julie by quarter of a tyre width to take the title of Scottish Cycling Womens Road Race Champion.
Scottish Cycling caught up with both Jenny and Julie and both agreed to put give us their side of the days racing. We also caught up with Louise Borthwick, winner of the Womens Junior title and being a thoroughly modern miss she sent us over the link to her great blog: http://louiseborthwick.blogspot.co.uk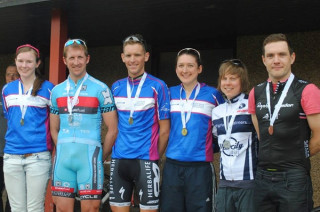 (Photograph courtesy of Denise Raikkonen – from L-R Louse Borthwick, David Lines, Gary Hand, Jenny Taylor, Julie Erskine and James McCallum)
Firstly, Jenny who has had an impressive start to this years season by taking Gold at the Scottish Olympic Time Trial Championship in April and Silver at the 10 mile Time Trial Championship.
'It feels amazing to be Scottish Champion, I feel so proud to have the title! It's still sinking in!! It is quite a shock as I am new to the sport and training hasn't gone quite to plan due to illness and work interruptions, feels fantastic that my perseverance and hard work have paid off! Such a difference to last year, the Champs was my second ever race, I was so close to being lapped and when I crossed the finish line they were already presenting the medals! I looked on at the girls on the podium and knew I wanted to be there, but I never hoped to do it in one year, especially against such a strong and experienced field.
The race panned out how I had hoped; I was at the front of the race for the final climb. I knew Julie Erskine was a strong climber and so would probably attack too, she was ahead of me in the group, I was ready to go but she went first so I went after her. I didn't dare look back until we were over the worst, we had a gap! Panting words of encouragement, we then worked together, we turned on to the finishing straight and I could see the line! I couldn't believe it, now all I had to do was get there first, Julie was just behind me, I saw her start to come round so I went for it and sprinted for the line. It was close, I wasn't sure who had got it, I was chuffed either way, she's a fantastic rider and new to racing like me, I was really happy we had made it to the finish on our own!'
Julie has also had an impressive start to the year and her win at the Womens Race in Rosneath which finishes on a very steep hill would have sent signals out to her competitors that this girl can climb!
'Last weekend I competed in the 2013 Scottish Road Race Championships in Alford, Aberdeenshire. Having only started road racing last year, this was my first Scottish Champs and to say I was nervous was an understatement! I had ridden the parcours a few weeks earlier and so knew how tough the course was, especially with a climb of the infamous Suie!
The Women's and Men's Scottish Champs were run in-conjunction with Cyclefest and our race began with a procession round the Grampian Transport Museum track behind the pipe band and youth racers. It was great to see so many youths, who will hopefully be contesting Scottish Champs of the future, and by all accounts they provided some very fast, competitive racing.
The race consisted of a big loop followed by a shorter loop. For a large part of the first loop we just rolled along until the attacks started with Breast Cancer Care taking turns to jump off the front. Nothing was sticking though until the second loop where Jen Taylor put in a very strong effort up the Brindy climb. A group of around 10 of us opened up a gap on the bunch, but it was relatively short-lived before it all came back together as neared the Suie. I had got into a good position near the front of the bunch and just as we hit the start of the climb I followed the advice from my coach and attacked off the front. The first part of the climb is probably the steepest and as I got to the hairpin corner I had a quick glance behind. I saw Jen Taylor had come with me, with a gap opening up to the next rider. I pushed on to the top with Jen close by to try to gain as much time as possible. It was a very fast descent and then a time trial effort for the last three or four miles to the finish. Jen and I worked together to try to hold off the riders behind and it was then an all-out sprint to the finish! It was such a close call that neither Jen or I knew who had won, but the photo finish showed Jen had taken it by about a quarter of a wheel. I would be lying if I said I wasn't a wee bit gutted, but I knew I had given it absolutely everything and the stronger rider won on the day. I was delighted to finish second and it was a very proud moment standing on the podium to receive my medal. Thanks to Phil Allan of Granite City Racing Team and all involved in putting on the Scottish Champs. A big thank you as well to Peter, my coach, and my family, friends and team mates for their continued support.
My plans for the rest of the year are to ride the remaining National Womens Series races and the next big target for me is the British National Road Race Championship in June. This will be even more exciting as it is on the proposed course for the Glasgow 2014 Commonwealth Games.'
Breast Cancer Care cycling teams, Eileen Roe won the sprint for 3rd place to complete the podium positions. Local girl Mona Petrie took the 4th spot with newly crown Scottish 10mile time trial Champion, Anda-Jay Burgess taking the 5th spot. Louise Borthwick of Edinburgh RC finished in a very impressive 7th place and took the Junior title for the 2nd year in a row.
Scottish Cycling would like to take this opportunity to thank Phil Allan and his supporting team from Granite City RT and Aberdeen ad District CA, Their team sponsor Velocity 44 for supplying service cars and helpers. Thanks also to the Officials and Marshalls without who the race would not be possible.
As Julie mentioned in her report, Ythan CC were also hosting their Cyclefest Youth Races at the Grampian Transport Museum in Alford. The racing saw our stars of the future in action and was a great day out for everybody – with many of the youngsters coming along and watching the finish of the seniors races and hopefully be inspired by what they saw.
Full results can be found here - CLICK HERE
Congratulations to Gary, Jenny and Louise – thanks for making our National RR such an exciting day out!
The Juniors men road race championships will be held this weekend (2nd June) and is hosted by Spokes RT.
Scottish Cycling Women's Road Race Championship 2013

Pos

No

Name

Team

Cat

Time

1

33

Jennifer

Taylor

Equipe Velo Ecosse/Montpeliers

3rd

02:43:32

2

8

Julie

Erskine

Granite City RT

2nd

st

3

26

Eileen

Roe

Breast Cancer Care Cycling Team

1st

16

4

24

Mona

Petrie

Deeside Thistle CC

4th

st

5

5

Anda-Jay

Burgess

Sandy Wallace Cycles

2nd

st

6

7

Fiona

Duncan

Ythan CC

3rd

st

7

3

Louise

Borthwick

Edinburgh RC

2nd

st

8

4

Kayleigh

Brogan

Breast Cancer Care Cycling Team

2nd

st

9

2

Jane

Barr

Breast Cancer Care Cycling Team

3rd

st

10

19

Laura

Murray

Breast Cancer Care Cycling Team

2nd

st

11

22

Gabriella

Nordin

Pedal Power RT

2nd

01:41

12

18

Toni

McIntosh

Ayr Roads Cycling Club

4th

st

13

25

Penelope

Phillips

Moray Firth Cycling Club

3rd

02:08

14

13

Evgenia

Ilyinskaya

Edinburgh RC

3rd

02:09

15

32

Polly

Tandy

Deeside Thistle CC

3rd

02:38

16

31

Sarah

Stephen

Stirling Bike Club

3rd

02:40

17

10

Flora

Gillies

Team ASL360

2nd

03:01

18

30

Jenny

Stanning

Velocity 44 Stirling

3rd

st

19

15

Jacqueline

Laing

Deeside Thistle CC

4th

03:03

20

34

Lynne

Wardrop

Ayr Roads Cycling Club

4th

03:38

21

23

Ashley

Pearson

Deeside Thistle CC

3rd

06:34

22

16

Alexa

Mair

Edinburgh RC

2nd

07:47

23

29

Peggy

Series

Edinburgh RC

3rd

10:39

24

27

Laura

Sarkis

Deeside Thistle CC

4th

11:35
Scottish Cycling Men's Road Race Championship 2013

Pos

No

Name

Team

Cat

Time

1

25

Gary

Hand

Herbalife-Leisure Lakes Bikes.c

Elite

03:26:55

2

29

David

Lines

MG-Maxifuel Pro Cycling

1st

st

3

33

James

McCallum

Rapha Condor JLT

Elite

2

4

41

Peter

Murdoch

Paisley Velo Race Team

1st

01:13

5

60

Callum

Wilkinson

Bicycles works

2nd

st

6

57

Andrew

Whitehall

Equipe Velo Ecosse/Montpeliers

1st

st

7

3

David

Anderson

Granite City RT

2nd

st

8

40

Ewan

Minty

Berwick Wheelers CC

2nd

st

9

2

Edward

Addis

Equipe Velo Ecosse/Montpeliers

2nd

st

10

44

Lewis

Oliphant

Velo Club Edinburgh

3rd

st

11

47

Euan

Pope

Glasgow Road Club

3rd

st

12

37

Richard

McDonald

Equipe Velo Ecosse/Montpeliers

2nd

st

13

15

Craig

Dale

TheBicycleWorks.com

3rd

st

14

49

Veli-Matti

Raikkonen

Granite City RT

2nd

st

15

28

Steven

Lawley

TheBicycleWorks.com

3rd

01:16

16

5

Jack

Barrett

Velocity 44 Stirling

2nd

01:49

17

1

Craig

Adams

GJS Cruise Racing

1st

st

18

38

Graham

McGarrity

www.Dooleys-Cycles.co.uk

2nd

01:53

19

11

William

Crawford

Granite City RT

3rd

st

20

14

Barry

Crumlish

Glasgow Road Club

3rd

01:56

21

59

Robin

Wilkins

Equipe Velo Ecosse/Montpeliers

2nd

st

22

9

Andrew

Cox

TheBicycleWorks.com

2nd

st

23

35

Scott

McCrossan

Rock to Roll Cycles Ltd

Elite

01:58

24

43

Tommy

Murray

www.Dooleys-Cycles.co.uk

3rd

02:29

25

34

Stuart

McCluskey

BESTE ALDE/S.C.DURANGUESA

2nd

st

26

13

Duncan

Ewing

TheBicycleWorks.com

3rd

st

27

10

Barry

Cranstoun

Icarus Racing

3rd

02:31

28

6

Tim

Blathwayt

Velo Club Edinburgh

2nd

02:48

29

42

Gordon

Murdoch

Icarus Racing

2nd

02:55

30

58

Lee

Whitelaw

Edinburgh RC

3rd

02:57

31

50

David

Reed

Deeside Thistle CC

3rd

st

32

51

Keith

Robertson

Granite City RT

2nd

03:02

33

56

Alister

Watt

Granite City RT

2nd

03:06

34

55

Craig

Wallace

ASFRA Racing Team

1st

st

35

26

Michael

Henderson

Moray Firth Cycling Club

2nd

03:08

36

7

Greig

Brown

www.Dooleys-Cycles.co.uk

2nd

03:25

37

39

James

McPake

GJS Cruise Racing

2nd

03:37

38

45

Ayrton

Pellet

Edinburgh RC

2nd

04:39

39

62

Bradley

Stokes

Pedal Power RT

2nd

04:48

40

20

Tom

Fernie

Velo Ecosse

3rd

05:08

41

4

Kevin

Barclay

TheBicycleWorks.com

2nd

05:46

42

54

Christian

Touderache

Granite City RT

3rd

st

43

19

Ryan

Fenwick

Williams Racing Academy

2nd

st

44

23

David

Griffiths

Glasgow Whls

2nd

09:25

45

61

Finlay

Young

Equipe Velo Ecosse/Montpeliers

2nd

st

46

27

Jamie

Kennedy

Paisley Velo Race Team

1st

09:27