Stage eight - Sunday 22 September
The London Stage, presented by TfL 88km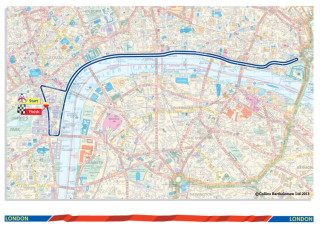 This year's Tour of Britain will reach its conclusion at the heart of London, as Whitehall once again welcomes the final stage of Britain's national Tour.
Westminster and the City of London will provide the iconic circuit for the final stage of The Tour of Britain, made famous by Mark Cavendish's victory in 2011, less than a week before he clinched the world road race championships.
The announcement signals the return of the race and the UK's largest free-to-spectate sporting event, with stage eight taking place on Sunday 22 September to round off the tenth anniversary edition of The Tour of Britain.
In addition to Mark Cavendish's win in 2011, the likes of Tom Boonen and Andre Greipel have also taken the honours in The Tour's most prestigious stage.
Starting and finishing on Whitehall, the world's top cyclists will face ten laps of the London circuit racing along Northumberland Avenue, Victoria Embankment and Upper Thames Street to Tower Hill, before returning via Parliament Square and Parliament Street to Whitehall.