Northern Rock Cyclone Sportive Entries Open
Entries for the 2010 edition England's biggest sportive ride - the Northern Rock Cyclone Challenge - opened on Sunday (1 November).
Above: Action from the Beaumont Trophy
The event takes place on 12 June 2010 as part of the Northern Rock Cyclone weekend of riding and racing. It offers three levels of ride - 33, 63 and 104 miles - with the longer two rides featuring refreshed routes for 2010.
The Northern Rock Cyclone Challenge is part of the prestigious UCI Golden Wheel series. Starting from the Newcastle Falcons Rugby Club at Kingston Park, Newcastle, it makes the most of Northumberland's beautiful countryside and quiet roads.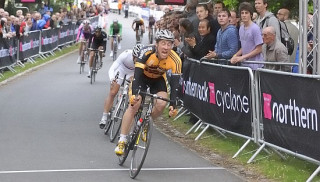 Above: the Leazes Crits
Entry costs just £20 for adults. This includes well-stocked feed stations, electronic timing and free bike checks at Cyclelogical, Newcastle and a personalised certificate for every rider. Photos of every rider are also available within 48 hours of the end of the ride.
An added attraction of the North Rock Cyclone Challenge rides is that they take in part of the route used by the Beaumont Trophy road race the following day on Sunday 13 June. This top-level domestic race is part of the Premier Calendar series and attracts some of the fastest riders in the country. In 2009 it was won by Tour de France and Olympic star Bradley Wiggins.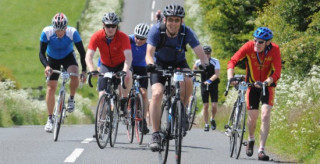 Above: Smiles (and grimaces) from the sportive
The weekend kicks off with the thrilling wheel-to-wheel racing of the Leazes Criterium races in Newcastle's Leazes Park on the evening of Friday 11 June. The highlight of this is the elite race, which in 2009 attracted top British, Irish and Dutch riders. Registration for the Saturday's Northern Rock Cyclone Challenge will be open at Leazes Park on the Friday night.
Packing two great races to watch and a respected sportive into one weekend, the Northern Rock Cyclone weekend is the perfect excuse for a weekend away with the bikes. Full details, including routes and online entry details for the Northern Rock Cyclone Challenge are available at www.northernrockcyclone.co.uk.