Fred Whitton Challenge 10th Anniversary Dinner
Saturday 10th October 2009, Castle Green Hotel, Kendal
Report and photos: courtesy of Andrew Kennedy
The winter social season began in great style this weekend with a special anniversary dinner to celebrate 10 years of the Fred Whitton Challenge Sportive. The 'Fred' is the daddy of all them all and generally accepted as the toughest day in the saddle money can buy.
Above: MC Tony Danson gives Stephen Roche an insight into his troubled cycling life and childhood.
Riders of the 'Fred' will know that Paul and Sally Loftus and their team set the bar extremely high when organising their event, and the 10th anniversary dinner was no different. With Tour de France winner Stephen Roche heading the guest list and Sid Barras and Keith Lambert representing the Dave Rayner Fund it promised to be a great night.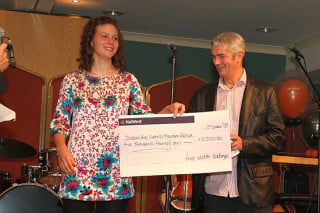 Above: Ella Sadler-Andrews presents Mountain Rescue with a £5,000 cheque from the Fred Whitton Challenge.
The Fred Whitton Challenge raises a huge amount of money for good causes, with the two main beneficiaries being Macmillan Cancer Support and the Rayner Fund. Stephen Roche and North West cycling star Ella Sadler-Andrews presented cheques of £22,500 to Macmillan and the Rayner Fund, with a further £5,000 going to the Air Ambulance and Mountain Rescue organisations.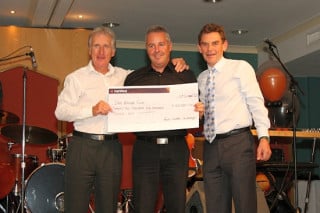 Above: Stephen Roche presents the Rayner Fund cheque to Keith Lambert and Sid Barras.
Lakes Road Club rider Tony Danson was a brilliant master of ceremonies and interviewed the guests of honour in a unique style where he told them about himself. It was pure comedy and worth the ticket price alone. 'Dano' even managed to convince Stephen Roche that his career would benefit from riding the 'Fred' next year with Roche agreeing to consider it.
The one off anniversary dinner gave Paul Loftus the chance to thank the many people who make the Fred Whitton such a special event in the cycling calendar.
Details of next years event can be found on the event website. www.fredwhittonchallenge.org.uk