Location: Storrington, West Sussex
Event: 24 August 2013
Report: Graham Robins/Snowdon Sports
---
Peter Allan, from Woking, took his second win of the season in the 12-lap second and third category Surrey League Kermesse held at Parham Park, in Storrington.
The 32-year-old British Cycling private member won the Surrey League Road Race held back in May and had also placed in the top ten on five occasions in the Pedal Heaven Eelmore Circuit Series.
After a deluge for the morning's third category race, the course had started to dry out by the time the second race got under way on the 3.1-mile circuit, but punctures were rife and as the race rolled through the grounds, the bunch got smaller and smaller.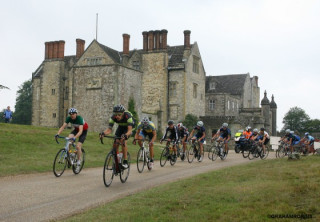 It took five laps before the first attack stuck, Tim Wiggins (Wightlink-LCM Systems CRT) and Paul Flynn (Brighton Mitre CC) easing off the front and soon joined by Stuart Bettis (Southdown Bikes CC).
The three soon opened up a lead of 17 seconds, but by lap eight the field was back together and two laps later Allan made his move, clipping off the front with Mike Hawkins (Norwood Paragon CC).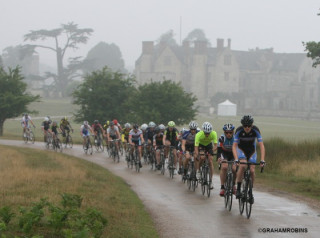 Allan is a strong time trial rider, and with just over 10 miles to go he pushed on through the finish line and, looking back, saw he was alone.
He was 35 seconds clear at the bell and well on his way to victory with Gareth Thomas (Kingaston Wheelers) easing away from the chasing bunch as they turned towards the finish line to claim second spot.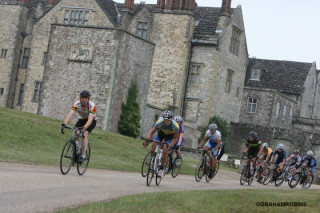 Victory in the supporting third category race, held over ten laps, went to James Champken (Velo Club Venta), from Winchester, in a bunch sprint with punctures reducing the finishers to just 16 riders from the 42 who started in heavy rain.
Champken, aged 22, took his first win as a third category rider from Declan Egan (Kingston Wheelers CC) and Matthew Bubear (Southdown Bikes CC).

Results:
2/3:
1 Peter Allan (BC Private Member)
2 Gareth Thomas (Kingston Wheelers CC)
3 David Webborn (London Dynamo)
4 James Bevan (VC Meudon)
5 Richard Unwin (VC Meudon)
6 James Mickelburgh (London Dynamo)
7 Paul Flynn (Pivot Boompods Racing)
8 Ryan Visser (Redhill CC)
9 Stuart Bettis (Southdown Bikes CC)
10 Andrew Carter (Portsmouth North End CC)

3:
1 James Champken (Velo Club Venta)
2 Decal Egan (Kingston Wheelers CC)
3 Matthew Bubear (Southdown Bikes CC)
4 Matthew Farren (Brighton Mitre CC)
5 Duncan Rimmer (Morden Cycle Racing Club)
6 Adrian Cansfield (Southdown Bikes CC)
7 Cliff Steele (Brixton Cycles)
8 Mark Workman (Festival RC)
9 Robert Quin (Brighton Mitre CC)
10 Connor Innes (Southdown Velo)
Please credit www.britishcycling.org.uk and link back if you use any of our race results.
---
British Cycling would like to thank the organising team, officials and everyone else who helped promote this event. Our sport could not exist without the hundreds of people, many of them unpaid volunteers, who put in many hours of hard work running events, activities and clubs.