Location: Clarebrand, Dumfries
Event: 27 July 2013
Report: Alan Denman/Snowdon Sports
---
Jamie Kennedy (Paisley Velo RT) was the winner of the 40+ age group and Dominic Hines won the 50+ group at the Scottish Veterans RR Champs after a tough 54 miles racing around the Clarebrand countryside.
The Scottish Over-50s Road Race Championship podium.

The race was ran off in beautiful sunshine to compliment the stunning scenery in Dumfries & Galloway, organised by the South West Scotland Cycling Project riders completed two laps of a 26 mile loop featuring two main climbs along the way with the second being a double kick, mile long, climb to the finish.
Fifty one riders took to the start line and once out of the neutralised zone the race got off to a fast start along the A713 Ayr road. Many of the pre-race favourites were active and keen to form an early break.
Gordon Murdoch (Icarus Racings) along with Ali Watt (Granite City) were particularly active in the opening stages.
Most of the big hitters in the 50+ age category were a little more patient, waiting for the courses two main climbs.
After ten miles of racing a group of seven finally put a bit of distance between themselves and the bunch, these were Stephen Russell (East Kilbride RC), John Gartland (GJS Cruise Racing), Malcolm Patterson (Glasgow Nightingale), Keith Robertson (Granite City RT), Franco Porco (Team Leslie), Jamie Kennedy (Paisley Velo RT) and Graham Moore (Velocity 44 Stirling).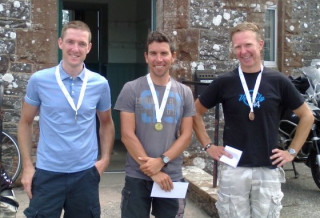 The Scottish Over-40s Road Race Championship podium.

With the group going clear just a couple of miles before the first big climb, their timing was just right to deter the chase for long enough to get a gap.
The gap then stretched out up the climb and over the exposed road to Corsock, despite some concerted efforts to chase from the bunch.
With all the riders in the break being in the 40+ age category, the race had now definitely got two agendas with the 50+ riders all watching each other in the bunch.
With a lap to go the break had 1 minute 37 seconds on a group 50 seconds back including Andrew Bruce (Kinross CC),Ewan Minty (Berwick wheelers), Jason Roberts (Glasgow wheelers) and John Kermode (Spokes RT).
The chasers came back together on the last lap and with the break working well together there was never any chance of it coming back.
Coming onto the last climb, Robertson put in an attack only to be pulled back and countered by Kennedy and Russell.
Kennedy, aged 41, from Glasgow proved the strongest on the slog to the line to finish five seconds clear.
Russell, also from Glasgow finished a clear second ahead of Moore (Velocity 44 Stirling) who narrowly beat Patterson and Robertson into third place.
As the first of the splintered bunches came in at 1 minute 45 seconds down, the only 50+ rider to make into the group was Hines, aged 50, from Edinburgh coming home to take first 50+ and in 11th place overall.
A close battle for the silver and bronze medals in the 50+ category was won by Andrew Matheson (Musselburgh Roads CC) from Graham Barclay (Team Leslie), a further 3 minutes 17 seconds down.

Results:
1st Jamie Kennedy Paisley Velo RT 40+ 1st 40+
2nd Stephen Russell East Kilbride RC 40+ 2nd 40+
3rd Graham Moore Velocity 44 Stirling 40+ 3rd 40+
4th Malcolm Patterson Glasgow Nightingale 40+ 4th 40+
5th Keith Robertson Granite City RT 40+ 5th 40+
6th John Gartland GJS Cruise Racing 40+ 6th 40+
7th Franco Porco Team Leslie Bike Shop 40+ 7th 40+
8th Gary McCrae Team Leslie Bike Shop 40+ 8th 40+
9th Jason Roberts Glasgow Wheelers 40+ 9th 40+
10th John Kermode Spokes RT 40+ 10th 40+
11th Dominic Hines Velo Club Edinburfh 50+ 1st 50+
12th Ewan Minty Berwick Wheelers 40+ 11th 40+
13th Mark Skilling Ayr Roads CC 40+ 12th 40+
14th Andrew Prenelle Icarus Racing 40+ 13th 40+
15th Gordon Murdoch Icarus Racing 40+ 14th 40+
16th Gordon Dickson Rockhard MTB 40+ 15th 40+
17th Tim McDonald Lomond Roads 40+ 16th 40+
18th Andrew Bruce Kinross CC 40+ 17th 40+
19th George Roberts VC Glasgow South 40+ 18th 40+
20th Scot Johnston Icarus Racing 40+ 19th 40+
21st Graham Mercer Icarus Racing 40+ 20th 40+
22nd Andrew Matheson Musselburgh Roads CC 50+ 2nd 50+
23rd Mark Baugh Equipe Velo Ecosse 40+ 21st 40+
24th Graham Barclay Team Leslie Bike Shop 50+ 3rd 50+
25th David Blockley VC Astar Anderside 40+ 22nd 40+
26th Andrew Taylor Dumfries CC 40+ 23rd 40+
27th Alan Lamont Team Leslie Bike Shop 40+ 24th 40+
28th William McMillan Unattached 50+ 4th 50+
29th David Crombie Dunfermline CC 50+ 5th 50+
30th Andrew Brierly Team Leslie Bike Shop 40+ 25th 40+
31st John McCaffery Team Leslie Bike Shop 40+ 26th 40+
32nd Gary McDonald Unattached 40+ 27th 40+
33rd Dennis Anderson Annan 2010 50+ 6th 50+
34th Scott Anderson Pro Am Racing 40+ 28th 40+
35th Stephen Campbell Twickenham CC 40+ 29th 40+
36th Craig Kidd Dunfermline CC 40+ 30th 40+
37th Raymond Reidy Team Right Move Windows 50+ 7th 50+
38th John Anderson Glasgow Road Club 50+ 8th 50+
39th Les Reddon Annan2010 50+ 9th 50+
40th Thomas Ferguson Unattached 50+ 10th 50+
41st Alex McAllister Ayr Roads CC 50+ 11th 50+
42nd David Lang Glasgow Wheelers 50+ 12th 50+
43rd Jack Savage Glasgow Ivy 50+ 13th 50+
44th George Findlater Moray Cycle Racing Team 50+ 14th 50+
45th Ken Thompson Dunfermline CC 40+ 31st 40+
46th Steve Robertson East Kilbride RC 40+ 32nd 40+
47th Cameron Fisher Glasgow Nightingale 50+ 15th 50+
48th Billy McFarlane Unattached 50+ 16th 50+
49th Graham McGarrity Dooleys RT 40+ 33rd 40+

Please credit www.britishcycling.org.uk and link back if you use any of our race results.
---
British Cycling would like to thank the organising team, officials and everyone else who helped promote this event. Our sport could not exist without the hundreds of people, many of them unpaid volunteers, who put in many hours of hard work running events, activities and clubs.