Location: Hatfield Heath, Essex
Event: 28 July 2013
Report: Snowdon Sports
---
Ashley Cox (CC Luton) managed to slip away from a 13-man breakaway to solo to his second win of the season in the CC Hackney Road Race.
The 75-mile race went off like a rocket from the start with the field averaging 25mph for the duration of the race.
On the first lap a group of 13 riders went clear of the bunch which was the winning breakaway and they quickly built up a lead of one minute 30 seconds by the end of the second lap.
The first prime at the end of lap two was won by Oliver Rossi, one of a contingent of Twenty3c riders in the break.
A second group of five riders tried to get across to the breakaway but they didn't quite get across the increasing gap and they were drawn back into the peloton by the second prime which was won by Simas Raguckas (unattached).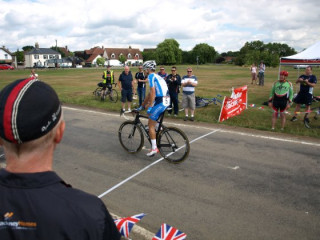 On the final lap Cox, aged 30 and from Biggleswade, broke clear of the breakaway on a twisty section and led up the final climb into Hatfield Heath to take victory by 20 seconds over the breakaway.
Leading the breakaway home to take second place was Michael Smith, from Newport Pagnell and in third place was Simon Alexander (Twenty3c).

Results:
1 Ashley Cox (CC Luton)
2 Michael Smith (Team Corley Cycles)
3 Simon Alexander (Twenty3c)
4 Mark Baines (Spirit Bikes RT)
5 Ben Chapman (Team Corley Cycles)
6 Oliver Rossi (Twenty3c)
7 Mike Wragg (Arbis-Colbert Cycles RT)
8 Simas Raguckas (unattached)
9 Roger Maidment (East London Velo)
10 Ian Knight (Team Corley Cycles)

Please credit www.britishcycling.org.uk and link back if you use any of our race results.
---
British Cycling would like to thank the organising team, officials and everyone else who helped promote this event. Our sport could not exist without the hundreds of people, many of them unpaid volunteers, who put in many hours of hard work running events, activities and clubs.