| |
Location: York Minster, York City Centre
Event: 21 July 2013
Report: Snowdon Sports
Photos: SW Pix
---
Russ Downing (NetApp Endura) won a close sprint finish to the Men's National Circuit Race Championship to take the title by just inches at the end of a fast-paced, thrilling race around the streets of York City Centre on Sunday evening.
The Rotherham rider held off fellow Yorkshireman Graham Briggs (Team Raleigh) to take the win, while Lancashire's Ian Wilkinson (UK Youth) completed the podium in third spot.
The race was close throughout, with any attempts to break away being quickly chased down by the bunch.
Just like the earlier women's race, an early crash gave the riders something to think about, but it did nothing to stop the pace being high on the first cool day for a couple of weeks.
Riders from most of the main teams all had a go at breaking free, with Jon Mould (UK Youth), Pete Williams (IG Sigma Sport), Ian Bibby (Madison Genesis) and Matt Cronshaw (IG Sigma Sport) all trying – and failing – to break away.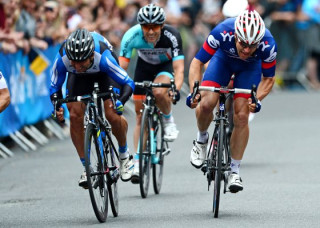 Rapha Condor-JLT were most active in chasing down the would-be escapees, perhaps trying to ensure a sprint finish for their fast man, Ed Clancy.
Clancy himself had a go off the front alongside Briggs and Wilkinson, but they too were soon reeled in.
The first riders to gain any significant daylight between themselves and the bunch were Jon Mould (UK Youth) and Jack Pullar (Madison Genesis) who got around nine seconds, but once Pullar had dropped back Mould soon followed, and the race looked destined for a bunch sprint.
As the sprinters hit the front the race fragmented, and a photo-finish was needed to confirm Downing as the winner.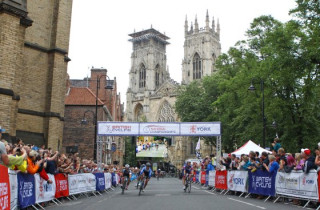 Results:
1. Russell Downing Team Netapp - Endura
2. Graham Briggs Team Raleigh
3. Ian Wilkinson Team UK Youth
4. Dean Downing Madison - Genesis
5. Matt Cronshaw Team IG Sigma Sport
6. Tobyn Horton Team UK Youth
7. George Atkins 100% ME
8. Tom Murray Metaltek - Knights of Old Racin
9. Pete Williams Team IG Sigma Sport
10. Richard Hepworth Node4 - Giordana Racing

Please credit www.britishcycling.org.uk and link back if you use any of our race results.
---
British Cycling would like to thank the organising team, officials and everyone else who helped promote this event. Our sport could not exist without the hundreds of people, many of them unpaid volunteers, who put in many hours of hard work running events, activities and clubs.