| |
Location: York Minster, York City Centre
Event: 21 July 2013
Report: Snowdon Sports
Photos: SW Pix
---
The champion in 2010 and 2011, Hannah Barnes (MG Maxifuel) regained her Women's National Circuit Race Champion title in style in York on Sunday.
The 20-year-old from Towcester sprinted to the win ahead of four breakaway rivals, with whom she had escaped early in the hour-long race around the picturesque and packed streets of the Yorkshire city.
A crash on the first lap involving Hayley Jones had forced a restart, but once back in action it didn't take long for the attacks to start coming, and it was Barnes' MG Maxifuel team-mate Hayley Edwards who launched off the front alongside Edinburgh RC's Louise Borthwick.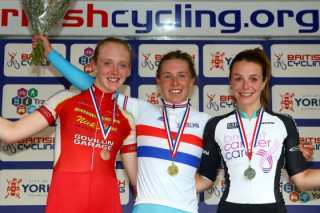 They quickly built a lead of around 15 seconds which crept up, and it continued to grow as more riders joined them. First Amy Hill (Abergavenny RC) got across, and although Edwards dropped back the leading group grew to five riders, with in-form Barnes getting across along with City of Edinburgh RC's Katie Archibald
Their lead steadily grew, until with just a few laps remaining it was more than a minute.
Defending champion Lucy Garner (Argos-Shimano) was trying to muster a counter-attack, but her title was fast slipping away and all eyes were on the front five, with the smart money being on Hannah Barnes for a sprint finish.
And so it proved, as she crossed the line around three bike lengths ahead of Eileen Roe (Breast Cancer Care), with Amy Hill (Abergavenny RC) completing the podium in third.
More soon.

Results:
1. Hannah Barnes MG-Maxifuel Pro Cycling
2. Eileen Roe Breast Cancer Care Cycling Team
3. Amy Hill Abergavenny Road Club
4. Katie Archibald City of Edinburgh RC
5. Louise Borthwick Edinburgh RC
6. Helen Wyman Kona/ FSA Factory Team
7. Lucy Garner Argos - Shimano
8. Charline Joiner MG-Maxifuel Pro Cycling
9. Emily Kay Scott Contessa Epic
10. Corrine Hall Matrix Fitness Racing Academy

Please credit www.britishcycling.org.uk and link back if you use any of our race results.
---
British Cycling would like to thank the organising team, officials and everyone else who helped promote this event. Our sport could not exist without the hundreds of people, many of them unpaid volunteers, who put in many hours of hard work running events, activities and clubs.