|
---
Following his win at the Stockton round last Friday, George Atkins leads the British Cycling Elite Circuit series as the quick-fire criterium competition heads to Abergavenny for round three.
Above: George Atkins (100% ME) on his way to the series lead at the Stockton Velo29-Altura Town Centre Race on 5 July. Can the British Cycling Olympic Academy Programme rider maintain his lead in Abergavenny?

The Wales Open Criterium on Friday 12 July is part of the Abergavenny Festival of Cycling, which also features the British Cycling Premier Calendar Grand Prix of Wales, the Para GP of Wales and the Iron Mountain Sportif.
Atkins, riding for 100%ME, was a solo winner in Stockton on Tees, the 21-year-old rider from Kibworth in Leicestershire part of an early break started by Olympic gold medallist Ed Clancy before eventually breaking free in the latter stages to take the victory.
The win and his third place in Otley gives Atkins an early lead in the competition with 115 points, with Tobyn Horton of Team UK Youth second on 81 points and Ed Clancy (Rapha Condor JLT) in third on 70 points.
Atkins, Horton and Clancy are all on the start list for Abergavenny, as is Clancy's teammate, round one winner Felix English. Also a threat is Node4 Giordana Racing's Dan Barry who has scored in both rounds and will look to move up the table in Wales.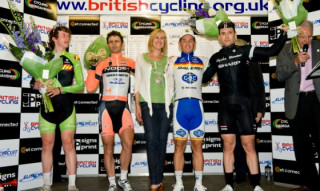 Above: Graham Briggs (Raleigh GAC) wins the 2012 Wales Open Criterium, win number three of the Yorkshireman's remarkable 2012 Elite Circuit Series campaign.
Graham Briggs won in Abergavenny in 2012 on his way to the Elite Circuit Series championship and lies in joint seventh after two rounds. A strong performance in both the Stockton criterium and Premier Calendar events has revealed that the Team Raleigh rider is back on form after injury.
Always a threat is Ian Wilkinson, winner of the weekend's Premier Calendar event in Stockton, the crit style finish suiting the Team UK Youth rider from Barnoldswick. Wilkinson lies in joint seventh in the standings with Briggs and would relish a chance to deploy his superman celebration on the roads of Abergavenny.
The Course
The Abergavenny course starts and finishes outside the Post Office on Nevill Street, heading onto Tudor Street before a righthander into Baker Street. An out-and-back section on Frogmore Street completes the loop, which the riders will race for 60 minutes in pursuit of victory.
Racing begins at 5:30pm with the youth event, followed by the Gwent Cardiac Carnival at 7:15pm, the FR Ball Traders Race at 7:30 before the elite criterium takes centre stage at 8:15pm.
The Riders
1 Graham Briggs Team Raleigh
2 Eric Berthou Team Raleigh
3 Alexandre Blain Team Raleigh
4 Richard Lang Team Raleigh
5 Thomas Moses Team Raleigh
6 Evan Oliphant Team Raleigh
7 Thomas Scully Team Raleigh
8 Samuel Witmitz Team Raleigh
9 George Atkins 100%ME
10 Michael Nicolson Doltcini Flanders
11 Daniel McKimm Dream Cycling
12 Andrew Whitehall Equipe Velo Ecosse/Montpeliers
13 Finlay Young Equipe Velo Ecosse/Montpeliers
14 Andrew Hargroves Felt-Colbornes-Hargroves RT
15 Martin Ford Herbalife-Leisure Lakes Bikes.com
16 Andrew Hawdon Herbalife-Leisure Lakes Bikes.com
17 William Haynes Herbalife-Leisure Lakes Bikes.com
18 Harry Tanfield Herbalife-Leisure Lakes Bikes.com
19 Hugo Robinson Ipswich BC
20 James Stewart Kuota - Spinergy - GSG
21 Scott Davies Liverpool Mercury (Dolan) CC
22 Sebastian Baylis Madison Genesis
23 Dean Downing Madison Genesis
24 Dominic Jelfs Madison Genesis
25 Chris Snook Madison Genesis
26 Andrew Tennant Madison Genesis
27 Dale Appleby Metaltek - Knights of Old Racing Team
28 Will Fox Metaltek - Knights of Old Racing Team
29 Gruffudd Lewis Metaltek - Knights of Old Racing Team
30 Rhys Lloyd Metaltek - Knights of Old Racing Team
31 David McGowan Metaltek - Knights of Old Racing Team
32 Tom Murray Metaltek - Knights of Old Racing Team
33 Joe Fox MG-Maxifuel Pro Cycling
34 Dan Barry Node4 - Giordana Racing
35 Steve Lampier Node4 - Giordana Racing
36 Mike Northey Node4 - Giordana Racing
37 Roman Van Uden Node4 - Giordana Racing
38 Edward Clancy MBE Rapha Condor JLT
39 Felix English Rapha Condor JLT
40 Luke Grivell-Mellor Rapha Condor JLT
41 Richard Handley Rapha Condor JLT
42 Kristian House Rapha Condor JLT
43 Edward Laverack Rapha Condor JLT
44 James McCallum Rapha Condor JLT
45 Will Stephenson Rapha Condor JLT
46 Danny Fox RST Racing Team
47 Daniel Booth Team Hope Factory Racing
48 David Collins Team Hope Factory Racing
49 Christopher Gatt Team Hope Factory Racing
50 Ben Greenwood Team Hope Factory Racing
51 James Gullen Team Hope Factory Racing
52 Benjamin Kellett Team Hope Factory Racing
53 Paul Oldham Team Hope Factory Racing
54 Matthew Williams Team Hope Factory Racing
55 Niklas Gustavsson Team UK Youth
56 Chris Opie Team UK Youth
57 Yanto Barker Team UK Youth (UCI Team)
58 Marcin Bialoblocki Team UK Youth (UCI Team)
59 Joshua Hunt Team UK Youth (UCI Team)
60 Greg Mansell Team UK Youth (UCI Team)
61 Robert Partridge Team UK Youth (UCI Team)
62 Ian Wilkinson Team UK Youth (UCI Team)
63 Ben Simmons Team Wiggle
64 Daniel Davies Teamwallis CHH Racing Team
65 Chad Burdzilauskas Texas Roadhouse Cycling Team
66 Liam Glen The Kinesis Morvelo Project
67 Tom Barras Wheelbase Altura MGD
68 Andrew Coupe Wheelbase Altura MGD
69 Adam Duggleby Wheelbase Altura MGD
70 Steven Clarke WHEELBASE.co.uk/MGD
71 Stuart Reid