|
Location: Lincoln, Lincolnshire
Event: 12 May 2013
/

|
---
A jubilant Peter Kennaugh took a deserved and popular victory in the 58th university of Lincoln Grand Prix on Sunday, crossing the line alone at the end of the 105-mile race, which was round two of the British Cycling Premier Calendar Road Race Series.
The Team Sky professional – who was riding in the colours of Team Isle of Man – was given admirable support by his temporary team-mates who helped him remain at the front and got him into a great position to launch the decisive attack.
He hurled himself up the one in six cobbled climb of Michaelgate with five of the 13 laps remaining and took off like a rocket. He took time to look behind him and see who was strong enough to go with him, and as he crested the top into Castle Square and crossed the finish line he was joined by UK Youth's Marcin Bialoblocki and Team Raleigh's Tom Scully.
They quickly pulled away and gained 20 seconds, and over the next two laps they worked well to extend their advantage. Team Raleigh's Eric Berthou and UK Youth's Yanto Barker and Rob Partridge were among the main drivers in the chase, and actually broke off the front at one point as the pace proved difficult for many.
But they never looked likely to catch the leading trio, who had extended their lead to a minute and a half as they started lap two. The pace was taking its toll on many, and with rain making the course slippery, many were black flagged.
Mid-way round the penultimate lap the pace proved too much for Scully who dropped back to the bunch, leaving Kennaugh and Bialoblocki to power on, but it wasn't long before the Isle of Man rider had dropped his rival, and went on to rocket up Michaelgate once more to cross the line 15 seconds ahead, while Bialoblocki took second and the bunch was led in by Team Raleigh's Lachlan Norris, 2-15 behind in third.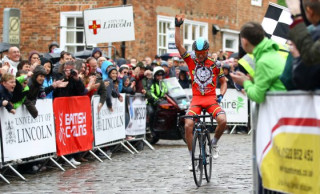 What They Said

Lincoln GP Peter Kennaugh Winner from British Cycling on Vimeo.
"I couldn't believe the crowds here today they are awesome, every time I went up the climb I got a massive buzz, which helped take some of the pain away," said a euphoric Peter Kennaugh after the race.
"I've know I've had good preparation having ridden the Tour of Romandie but I didn't target this race, my life as a pro bike rider is pretty hectic and as a result I've probably done more stage races than a lot of the guys here today. But it was still a shock to the system to race here, this peloton is a lot more jumpy and a lot less controlled than what I'm used to.
"I was surprised by the quality of the domestic riders in the race, I didn't take anything for granted and knew I would have to ride hard to win this. It was every man for himself out there, no one gives you an inch of room, everyone knocking into you and taking your handlebars out, it was brilliant and I really enjoyed it."


Marcin Bialoblocki - 2nd - 2013 Lincoln GP from British Cycling on Vimeo.
At the finish Marcin Bialoblocki was talking about his new found climbing ability as the only rider able to match Kennaugh on the Michaelgate climb. "I've lost some weight and I'm climbing well now, I'm on good form and I came here well prepared.
"Peter Kennaugh is a great rider and he's done lots of big races this year. He is a better rider than me. He's a good climber, very light. I'm about 80kgs and he's probably about 55kgs, that a big difference.
"Also the rain made a difference for me, when it came down towards the end of the race my legs felt heavy, that was the difference between me and Peter, but he did a good race and I congratulate him."


Lincoln GP Lachlan Norris from British Cycling on Vimeo.
Team Raleigh had young Tom Scully in the race winning break with Kennaugh and Biablocki but his elastic snapped on the penultimate lap. Raleigh managed to recover the situation when 26-year-old Australian rider Lachlan Norris took the sprint for third place. He told British Cycling after the race:
"That was a really hard race, it was one of those days when you have to be on your toes all the time. The climb was very hard and it split the race up. I tried to keep in the top ten on the cobbles, but then over the top the attacks started.
"As a team we rode really well. Tom Scully got in the break but his legs gave way. We tried to have all the bases covered and we are very happy that we got third and a place on the podium. It would have been nice to get on that top step, but that will have to wait for another day."

Provisional Results:
1 Peter Kennaugh (Team Isle of Man) 3:51:14
2 Marcin Bialoblocki (Team UK Youth) @ 15sec
3 Lachlan Norris (Team Raleigh) @ 2:15
4 Richard Lang (Team Raleigh) @ 2:19
5 Tobyn Horton (Team UK Youth) @ same time
6 Liam Holohan (Madison Genesis) @ 2:24
7 Eric Berthou (Team Raleigh) @ 2:38
8 Yanto Barker (Team UK Youth) @ 2:57
9 Richard Handley (Rapha Condor JLT) @ 3:02
10 Peter Hawkins (IG-Sigma Sport) @ 3:04
11 Tom Stewart (Team Sportscover) @ same time
12 Steve Lampier (Node 4-Giordana) @ 3:06
13 Will Bjergfelt (MG Maxifuel) @ 3:07
14 Peter Williams (IG-Sigma Sport)
15 Evan Oliphant (Team Raleigh)
16 Connor McConvey (Synergy Baku)
17 Martin Ford (Herbalife-Leisure Lakes)
18 Ben Greenwood (Hope Factory Racing) all @ same time
19 David McGowan (Metaltek-Knights of Old) @ 3:11
20 Tom Barras (Wheelbase-Altura MGD) @ same time
Premier Calendar overall (provisional, after two rounds):
1 Evan Oliphant (Team Raleigh) 146 pts
2 Chris Opie (UK Youth) 140
3 Peter Hawkins (IG-Sigma Sport) 139
4 Tom Stewart (Sportscover) 122
5 Marcin Bialoblocki (UK Youth) 114
6 Peter Kennaugh (Isle of Man) 100

Please credit www.britishcycling.org.uk and link back if you use any of our race results.
---
British Cycling would like to thank the organising team, officials and everyone else who helped promote this event. Our sport could not exist without the hundreds of people, many of them unpaid volunteers, who put in many hours of hard work running events, activities and clubs.