---
Ian Wilkinson (Team UK Youth) won a five-man sprint into Melton Mowbray from Ian Bibby, Eric Berthou, Yanto Barker and Will Bjerfelt to take victory in the 114 mile Rutland-Melton CiCLE Classic on Sunday.
The 9th edition of this classic race was held in perfect racing conditions. The spectators and club cyclists were out in force enjoying the spring sunshine, especially in the picturesque village of Owston, where the barriers were four deep. All in complete contrast to last year when the riders had to endure torrential downpours and flooding and the army of dedicated spectators were to be found huddled under umbrellas.
The CiCLE Classic announces the start of the main British road racing season, and with the dominant Endura Racing squad moving to Europe the other teams were out to try and take control of the domestic racing scene.
Many people were predicting that Team Raleigh would be the squad to take the Endura mantle, especially as they had signed 2012 CiCLE winner and former Endura rider Alex Blain in the close season.
As the race rolled out of Oakham it was a Raleigh rider Tom Scully who gained a small advantage together with Yanto Barker (UK Youth) and Mike Northey (Node4 Giordana). This small group completed two laps of Rutland Water before they were joined by eight other riders. Ian Wilkinson (UK Youth), Eric Berthou (Raleigh), Ian Bibby (Madison Genesis), Will Bjergfelt (MG Maxifuel), Kit Gilham (Metaltech), Peter Williams (IG Sigma), Stephen Adams (Twenty3C) and Manuel Calixto (Start Trigon).
The CiCLE Classic is a tough uncompromising race with eleven off-road sectors that test man and machine to their limits. As the leaders hit the first of the off-road sections their pace increased. The dry dusty conditions were perfect for this group of eleven riders to work at establishing a race winning break. The large and unwieldy peloton was having difficulty in pinning them back in the narrow lanes of Rutland. As the race entered its final phase on the run-in to Melton Mowbray the leaders had over four minutes advantage.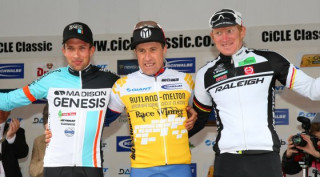 Team Raleigh and UK Youth both had two riders in the lead group and in the final 20km they began to use their numerical advantage to attack their companions. Wilkinson and then Barker tried to solo away for the win, but on both occasions they were brought back by Bjergfelt, Berthou and Bibby. New Zealand rider Tom Scully suffered with the increased pace and was soon out of contention, along with Gilham and Williams.
Into the final 1km into Melton town centre UK Youth rider Ian Wilkinson who won the 2009 edition was first into the final corner. Madison Genesis rider Ian Bibby was on his heels, but Wilko made it look easy as he raced to the line having time to take a well deserved victory salute in front of the large crowd.

What they said
Video: Ian Bibby Interview
Video: Ian Wilkinson Interview
After the podium presentations British Cycling asked Barnoldswick rider Ian Wilkinson rider if he was concerned by any of the other riders in the breakaway group.
"What a helluva group I got into today, there was some quality in that group and off course I was concerned by Ian Bibby. My team mate Yanto started the break and when I got up to him we didn't have to speak, we both knew what had to be done.
I had two punctures today, but if you are going well enough to win then you can get back from problems like that, but it sure as hell takes the sting out of your legs.
I liked the new introduction of the finishing circuit, it gives the crowd something to cheer rather than just seeing the last 20 seconds of the race. Bibs (Ian Bibby) was my main concern and I attacked him into the last 5km. But when I got brought back I took a few seconds to have a breather and was then ready for the final kick. Into the final corner I got the inside line and cleared it well in front, from then on it was a relatively easy sprint to the line, although I'm sure they've moved the line from 2009.
I feel bad about beating Bibs because he's one of my best mates, but I'll make amends this week by treating him to a coffee".

Results:
1 Ian Wilkinson (Team UK Youth) 4:46:48
2 Ian Bibby (Madison-Genesis)
3 Eric Berthou (Team Raleigh)
4 Yanto Barker (UK Youth)
5 Will Bjergfelt (MG Maxifuel) all @ same time
6 Mike Northey (Node 4-Giordana) @ 42sec
7 Tom Scully (Team Raleigh) @ 2:26
8 Peter Williams (IG Sigma Sport)
9 Kit Gilham (Metaltek-Knights of Old) all @ same time
10 Manuel Bello Calixto (Start Trigon) @ 3:28

Please credit www.britishcycling.org.uk and link back if you use any of our race results.
---
British Cycling would like to thank the organising team, officials and everyone else who helped promote this event. Our sport could not exist without the hundreds of people, many of them unpaid volunteers, who put in many hours of hard work running events, activities and clubs.