Olympic Track medallist Ross Edgar makes switch to the road
IG Sigma Sport has announced that Ross Edgar will join the team for the forthcoming road season. Ross won a silver medal at the Beijing Olympics in the Keirin final in 2008 and has been a part of the Great Britain Cycling Team to date.
Speaking about the move Ross said "I've been a member of the GB Cycling Team track sprint squad for the past 12 years and I've loved the success and opportunities that have come along with it, the highlight being winning an Olympic silver medal in Beijing. Road riding was one element of my training, which I particularly enjoyed and I've always thought I could make the transition into road, racing. I'd like to thank the GB coaches for their support in particular Shane Sutton who continues to be a source of good advice and support.
I am very excited about signing with IG Sigma Sport. I enjoyed meeting the team and look forward to racing with them in 2013. My goals are the Tour Series in the summer followed by the Tour of Britain. I look forward to the new challenge, more opportunities to get a race number on my back and also making a right hand turn at race speeds.
Theo Bos from the Netherlands made the switch from track sprinting to road racing recently and he has given me some helpful advice. His belief in my ability to make the transition, and seeing his successful transfer has given me great confidence and I'm looking forward starting to my new career on the road".
British Cycling's Head Coach Shane Sutton said: "Ross will continue to train on the track with the GB squad. The opportunity to ride with IG Sigma Sport next year marks an exciting new stage in his career and I wish him good luck with it''.
Team IG Sigma Sport will be officially launched at the London Bike show at the Excel Centre on Friday 18th January. Riders and staff will available for interview and photographs throughout the show at the Sigma Sport and IG Sigma Sport stand.
Ross will also make his first appearance for the team at the next round of the Revolution in January and will feature in the IG London Nocturne on Saturday 20 January.
Latest Team Line-Up:
Ross Edgar
Peter Hawkins
Matt Cronshaw
Wouter Sybrandy
Andrew Griffiths
Jake Hales
Pete Williams
James Moss
Ryan Mullen
Joe Perrett
Matt Jones
Chris Whorrall
---
Team IG Sigma Sport has named its 2013 squad with sights on a Premier Calendar and Tour Series win.

Published: 04 December 2012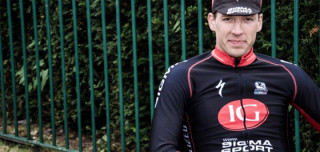 A group of riders with a mixture of youth and experience will join forces with Peter Hawkins, Wouter Sybrandy, Andrew Griffiths and Jake Hales who are retained by the team for 2013.
Former Node4 riders Pete Williams, Matt Cronshaw and James Moss will strengthen the team's experience going into the new season.
"The team is a well considered selection of youth & experience."

Team IG Sigma Sport Sports Director Simon Howes
With the addition of Pete Williams, winner of the sprints jersey in September's Tour of Britain and Matt Cronshaw, one of the leading criterium and road rider's, the team is setting its sights on a Premier Calendar and Tour Series win. James Moss will also be a valuable addition to the team providing strength and depth to the squad throughout the year.
Peter Hawkins who had a successful first year with the team in 2012 is fully focused on the new season. "I'm just really looking forward to getting going now.
"I had quite a few top fives and podiums this year and hope that with some more races in Europe I can come back to the UK and get some good results. There are some really strong guys joining the team and I'm putting in the hard work now to ensure I'm ready."
After a serious crash on the last stage of the Tour of Britain Dutchman Wouter Sybrandy is already back on the bike despite hours of surgery on his back and to fix a number of facial injuries. He is as committed as ever and will no doubt be a vital part of the team in 2013.
Sports Director, Simon Howes commented on the new squad: "The team is a well considered selection of youth & experience. A great deal of time went into selecting the right mix. We have a group of riders who share the same passion & determination for success and above all realise the importance of working together as a team. We just can't wait to get racing"
Team line-up
Peter Hawkins
Matt Cronshaw
Wouter Sybrandy
Andrew Griffiths
Jake Hales
Pete Williams
James Moss
Ryan Mullen
Joe Perrett
Matt Jones
Chris Whorrall