| |
---
On perhaps the greatest stage in world cycling, the Champs-Élysées, Bradley Wiggins immortalised himself in British cycling history - the first Briton to ever win cycling's most illustrious race, a 109-year wait ended.
Already a three-time Olympic gold medallist, Wiggins' three-week battle for the maillot jaune - described as 'one of the greatest achievements by a British sportsman ever' by no-less than Sir Chris Hoy - confirmed lifelong British Cycling member Wiggins as one of the nation's greatest ever cyclists.
For the 32-year-old Team Sky rider, the 3,497km journey through France was the denouement of a much longer narrative that began at Herne Hill Velodrome and has taken in Olympic track glory with British Cycling whilst continually progressing on the road – none of it without its challenges.
Born in Ghent, Belgium in 1980, Wiggins moved to London in 1982 and would begin his cycling adventure at the recently regenerated Herne Hill velodrome, even appearing at the London Youth Games.
Track cycling was his forte and as a 17-years-old, Wiggins announced himself at the 1997 UCI Junior Track Cycling World Championships, winning the individual pursuit event, a discipline that he would later dominate. His success came on the eve of the launch of the lottery funded Great Britain Cycling Team and with ability that pushed him into senior competition, he was immediately fast-tracked onto the programme, becoming a full-time lottery funded athlete at the age of 19.
After adding a Commonwealth Games medal to his burgeoning collection - competing for England in the team pursuit in 1998 - Wiggins then made his Olympic debut, only 20 years of age, at Sydney in 2000. Bronze in the team pursuit with Paul Manning, Chris Newton and Bryan Steel acted as a trailer for Athens.
It was there where he would became at the time the most successful British Olympian at a single Games since 1964. Gold in the individual pursuit, silver in the team pursuit and bronze in the Madison and Wiggins was no longer an unknown entity.
"I'm finding it a bit hard to take in," Wiggins said after his medal haul. "I've said it before this week and it's becoming a bit of a cliché, but this sort of thing happens to other people."
It was a scenario Wiggins would become used to. His hero and mentor in Athens, 1992 Olympic gold medalist Chris Boardman, had already foreseen his Tour potential. "He's got to use this ability on the road and think about the Tour de France, I'd like to see him do the Tour de France - he can win stages, so he could switch to that," said Boardman.
After the Games, Crédit Agricole provided Wiggins with his first Grand Tour ride, the 2005 Giro d'Italia, before he made his Tour debut in 2006 for Cofidis. On the track he remained strong with three gold medals in the pursuit, team pursuit and Madison at 2008 UCI Track Cycling World Championships in Manchester. He then became the first rider to successfully defend a pursuit title at the Olympics in the individual event whilst setting a world record in the team discipline to win gold with Ed Clancy, Paul Manning and future Team Sky colleague Geraint Thomas.
"I never imagined that 10 years ago when I started out this thing, that it would be quite as successful as that," he said after racking up a sixth Olympic medal to add to seven track world titles.
Post-Beijing saw Wiggins shift his focus firmly to the road. Fourth place in the 2009 Tour de France with Garmin-Transitions, including second-place in the time-trial, equaled Robert Millar's highest British Tour finish at the time and demonstrated that Wiggins could adapt from track to road. Above all else, it whetted an already healthy appetite for La Grande Boucle.
"I thought I could get in the top 20. But to finish fourth changes everything for the future now, whether I even go back to the track," Wiggins said.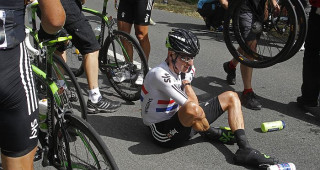 "Getting fourth place and equaling the great Robert Millar, and surpassing the even greater Tom Simpson, is pretty special. I do realise what I've achieved. Everyone watches the Tour, I grew up watching it. It's the biggest race in the world. To be part of it is fantastic, to do something like this is beyond words."
With Great Britain's Beijing masterclass raising the profile of cycling, the formation of Team Sky was announced in 2009 and Wiggins, fresh from his success in the Tour, signed onto the squad which had set an aim of 'creating the first British winner of the Tour de France, within five years'.
"We are in this to win the Tour de France. It's never been done by a Briton and it's time to put the record straight," Team Sky team manager and British Cycling performance director Dave Brailsford said in 2009. "We want to make heroes, persuade a generation to pull on Team Sky colours and inspire people to ride. This will be an epic story; building a British team to take on the best in professional cycling, and win."
Wiggins added: "It has been an amazing year for me and my ride at the Tour has given me the drive to aim even higher. I know I can continue to develop and Team Sky is the perfect place to make that happen."
Entering the 2010 Tour amongst the favourites, Wiggins suffered. A 77th place in the opening prologue began a frustrating Tour which ended in 24th place, 39 minutes 7 seconds behind winner Andy Schleck.
"The Tour hasn't lived up to expectation," he admitted. "Expectation has been so high, obviously I'm coming away disappointed. A lot of that expectation comes from inside, looking to improve on last year. It was a physical difference, I feel like I'm on a plateau. I haven't had any bad days, but I haven't had any good days either. Last year I had great days. This is mediocre."
In 2011, Wiggins returned to the Tour in promising form after winning the Criterium du Dauphine and finishing third in Paris-Nice. On the track he made an appearance at the UCI Track Cycling World Cup in Manchester, another gold in the team pursuit. A crash, however, on stage seven of the Tour left him with a broken collarbone, "It was just one of those things, I couldn't get up off the floor for love nor money. That's bike racing, these stages are part of the Tour de France. That's the risk you take as bike riders - it's unfortunate but life goes on."

The year would end of a more positive note, third in the Vuelta a Espana was backed up with time-trial silver UCI Road World Championships and a selfless ride to help deliver Mark Cavendish the coveted rainbow jersey.
A new year-round grueling training regime from Team Sky's Head of Performance Support Tim Kerrison saw Wiggins in imperious form in 2012, winning the Tour of Romandie, Paris-Nice and defending his Critérium du Dauphiné. "It's just trying to be 95, 97 per cent all year and constantly working. The only downside is that it's mentally difficult, but up to now I've found it pretty good," was Wiggins' take.
Now, 15 years on from his first world title, with a collection of Olympic medals attained in the pride of riding for Great Britain, he can savour a victory which he himself confessed had 'been a dream of mine since I was a kid.'