Event: 6 July 2012
Location: Stockton-on-Tees Town Centre, Cleveland
| |
---
The Elite Circuit Race Series rolls into Stockton-on-Tees on Friday evening as part of the Stockton Festival of Cycling and Raleigh GAC's Graham Briggs heads north east as the hot favourite.
2011 national circuit race champion Briggs (pictured above) has won both rounds of the series so far, beginning his domination in Brighouse in June and following it up with a second win in Stafford on Wednesday evening, following a race-long breakaway with Node 4 Giordana's Rico Rogers.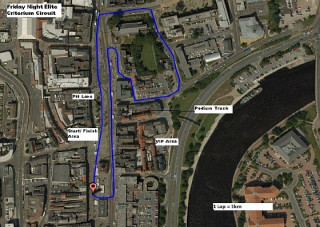 Above: The 1km Stockon-on-Tees lap that Briggs and his rivals face.
Following his victory in Stafford, Briggs tops the overall standings with 133 points, ahead of a brace of Node4 Giordana Racing riders; Matt Cronshaw and Rico Rogers on 96 and 83 points respectively. Rogers is clearly one to watch, leaping from 8th to 3rd in the standings and the only rider willing or able to go with Briggs in Stafford.
The Elite Circuit Series is part of a full weekend of racing in the Cleveland town. Action begins at 6:45pm with the OTR-VELO29-Stockton Town Centre Support Race, followed by the Elite Circuit Race Series event an hour later.
Saturday is the turn of sportive riders, with the Endeavour Sportive taking participants on all-day, recreational/challenge rides from Stockton Riverside to the North Yorkshire Moors.
Racing resumes on Sunday with the OTR-VELO29-Stockton Town Centre Youth Races at 10am followed by the centrepiece of the weekend, Velo29 Stockton Cycling Festival Road Race Premier Calendar event, which begins at 1pm from the Durham University Campus in Stockon-on-Tees.