|
---
SLIDESHOW
REPORT

Series leader Sarah Storey OBE (Escentual For Viored RT) extended her lead in the Women's National Road Race Series when she secured a confident victory in the Curlew Cup at Stamfordham, Northumberland, on Sunday morning.
Paralympian Storey, 34 and from Manchester, was part of the decisive break of five, and attacked in the closing stages to cross the line a few bike lengths ahead of her nearest rival.
Already 45 points ahead at the top of the National Series standings, Storey has stamped her authority on the series with another display of her form just weeks ahead of the 2012 Paralympics.
The race covered four undulating laps of the Ingoe circuit near Stamfordham, in total 55 miles. But with storms earlier in the week parts of the course were still littered in debris and the riders had to navigate some flooded sections as well as coping with strong winds.
Storey was aiming to build on the strong performance she put in at the previous week's National Road Race Championships where she was on a lone break for 60 miles.
After a couple of laps a break of five riders formed with Storey going clear with Catherine Williams (Bizhub SCF), Eileen Roe (Team Ibis Cycles), Helen Wyman (Kona Factory Racing) and Rebecca Heath (VC St Raphael).
They established a gap of around two minutes on a chasing group of nine riders, which were being driven on by Sarah Byrne (unattached) and Iona Sewell (GB Cycles).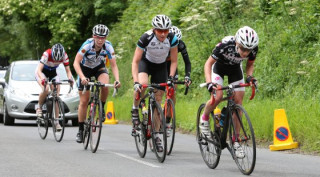 But on the final lap Storey and Williamson were looking strong and hit the front, and in the final corner Storey unleashed her sprint from the group to take the win by five bike lengths from Williamson, while Wyman took the final podium spot.

What they said

Curlew Cup winner Sarah Storey OBE said: "Today was about trying to do something new. I've won races from breaks, but I needed to test my track speed from a larger group.
"Earlier in the race I got a bit of confidence from winning the first prime, I was working on driving the break by keeping up to my racing wattage, and took the five of us clear.
"Last week at the National Championships I spent 60 miles on my own, and definitely needed to be in the lead group today.
"Today I've ticked another box in preparing for the Paralympics because winning a race in a group has given me a real confidence boost ahead of my main objective for the year."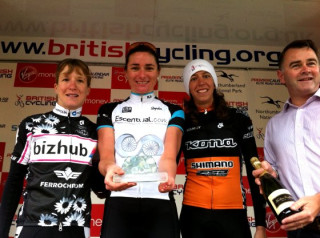 Results:
1 Sarah Storey OBE (Escentual For Viored) 55 miles in 2:28:31
2 Catherine Williams (Bizhub SCF)
3 Helen Wyman (Kona Factory Racing)
4 Eileen Roe (Team Ibis Cycles) all @ same time
5 Rebecca Heath (VC St Raphael) @ 4sec
6 Annie Simpson (Matrix Fitness Prendas) @ 2:47
7 Corinne Hall (Node 4-Giordana)
8 Siobhyn McNamara (Inverse)
9 Tracy Best (Shutt Squadra Donne)
10 Iona Sewell (GB Cycles) all @ same time
---
British Cycling would like to thank the organising team, officials and everyone else who helped promote this event. Our sport could not exist without the hundreds of people, many of them unpaid volunteers, who put in many hours of hard work running events, activities and clubs.