---
Felt-Colbornes RT's Andy Betts was the comfortable winner of the London Dynamo Summer Road Race in Ockley on Sunday.
The London Dynamo Road Race, supported by Sigma Sport, attracted a very strong field who would do battle over six laps and 80 miles of the rolling Ewhurst circuit in Surrey, finishing with the tough climb to top of Leith Hill, the highest point in Southern England. With a prize fund of £1,000 the racing was guaranteed to be hard and competitive.
The first lap was extremely fast, with constant attacks including a sustained break by Chris Morrison of host club London Dynamo. Although it came back together on the second lap, the pressure was showing as the field was lined out and small splits started to appear. This sustained pressure resulted in strong break forming, containing Alex Higham and Andy Betts from Felt-Colbornes, Darren Barclay from Arctic-SRAM, Jamie Pine from London Dynamo, Martin Ford from Ingear Quickvit Trainsharp, Simon Thomas from KTM-Murcia and Stephen Adams from Cycle Premier Kovert.
Above: The break gets established.
With the remaining Felt-Colbornes team controlling the front of the bunch, the break quickly established a decisive gap which built over the next couple of laps. The conditions then worsened with short but heavy rain storm soaking the circuit.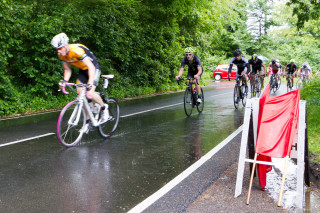 Above: The weather turns.
As it dried out, and with around 16 miles to go, the two Felt-Colbornes riders could be seen discussing options, before Andy Betts launched a fierce attack, which his breakaway companions could not respond to, and quickly built a decisive lead. In an impressive show of strength, Betts stretched his lead ride throughout the final lap, hitting the bottom of Leith Hill with a comfortable gap and winning by around two minutes.
Above: Andy Betts winning.
The remnants of the break, now five riders as Darren Barclay had dropped back, fought all the way to the top of Leith Hill with Martin Ford taking second, Simon Thomas third, Betts' teammate Alex Higham fourth, Jamie Pine fifth and Stephen Adams sixth. There was then a considerable gap before Conal Yates (Ingear Quickvit Trainsharp) lead the bunch over the line to take seventh.
Stephen Adams won the award for most aggressive rider, whilst Conal Yates won the award for highest 2nd Cat (Although Conal moved to First cat with his 7th place, he was a 2nd Cat at the start so was still eligible).
Results:
1 Andy Betts (Felt-Colbornes RT)
2 Martin Ford (In Gear Quickvit Trainsharp RT)
3 Simon Thomas (KTM Bikes Industries Murcia Team)
4 Alex Higham (Felt-Colbornes RT)
5 Jamie Pine (London Dynamo)
6 Stephen Adams (Cyclepremier Kovert)
7 Conall Yates (In Gear Quickvit Trainsharp RT)
8 Francis Cade (VO2 Development Team)
9 Elliot Porter (Team Corridori)
10 James Wilson (supernovacycles.co.uk)
---
British Cycling would like to thank the organising team, officials and everyone else who helped promote this event. Our sport could not exist without the hundreds of people, many of them unpaid volunteers, who put in many hours of hard work running events, activities and clubs.