---
Annie Simpson crowned Johnson Health Tech Grand Prix Series 2012 Champion, but Helen Wyman the winner on the day in Stoke-on-Trent.
Above: Annie Simpson celebrates her series win on the Stoke podium.

Defending Champion Helen Wyman went out with a bang, taking a dominant victory in the final round of the 2012 Johnson Health Tech Grand Prix Series in Stoke-on-Trent. Wyman however couldn't do enough to unseat Series leader Annie Simpson, whose 12th place on the night was enough to seal the title by five points.
The Matrix Fitness – Prendas rider also took the Sprints competition, by just a solitary point from VC St Raphael's Jo Tindley who put in a great final round performance to almost take the jersey. Simpson's fifth place in the evening's first sprint being just enough though to keep hold of the black and green jersey that she has held since Round One in Oxford.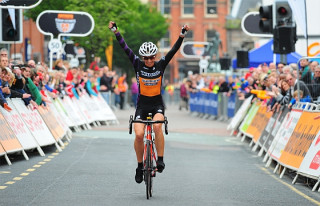 Above: Wyman was the lone victor on the day in Stoke-on-Trent.
Wyman attack early on in the 35 minute race, with no other rider able to respond to her acceleration allowing to quickly build an insurmountable lead. While Wyman's move didn't affect the team standings battle between local squads Matrix Fitness – Prendas and Node4 – Giordana Racing, the defending champion still stood an outside chance of keeping her title.
With Simpson unable or unwilling to respond, Wyman's lead stretched to over a minute and a half around Stoke-on-Trent City Centre, allowing her to take an impressive solo victory. Behind the main field was steadily whittled down until just over dozen riders remained.
Wyman was home and safe by the time Lauren Massey of Vivelo Bikes / Inverse / Cyclaim jumped off the front of the pack on the drag to the line, sprinting clear for second, with junior rider Jessie Walker showing an impressive turn of speed for third spot.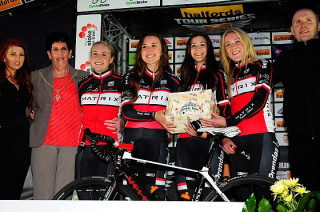 Above: The Matrix Fitness - Prendas team scooped the overall team prize.
Hannah Walker and Penny Rowson also took top eight spots for Matrix Fitness – Prendas, sealing the team honours, but there was an agonising wait while Simpson's 12th spot was confirmed to ensure she kept the white jersey by five points over Wyman, with her only other rival, Node4 – Giordana's Corrine Hall finishing 15th.
Behind the top three there was a close battle for fourth overall, with Rowson just edging Massey by one point, despite the latter's impressive sprint to second in Stoke-on-Trent, while Peterborough race winner Harriet Owen took sixth.
VC St Raphael took best of the rest honours in the team competition behind the dominant top two, with their lead rider Jo Tindley taking second in the Sprints plus seventh overall.
The consistent points scoring of Mule Bar Girls' Louise Mahe helped them to fourth, just ahead of Look Mum No Hands!, with distinctively clad WyndyMilla UK Youth the final team in the standings.
Highlights of Round Five from Stoke-on-Trent will be shown ITV4 at 10pm on Friday 15th June as a part of The Halfords Tour Series coverage.
Top-class cycling returns to Stoke-on-Trent this September with Stage Five of The Tour of Britain on Thursday 13th September. Amateur cyclists can take on the challenge of the route themselves in The Tour Ride Stoke-on-Trent on Sunday 23rd September, to find our more and to register for your challenge head to www.tourride.co.uk
Johnson Health Tech Grand Prix Series , Round Five, Stoke-on-Trent, Results
Round Five Individual Result
1) Helen Wyman, Kona Factory Racing
2) Laura Massey, Vivelo Bikes / Inverse / Cyclaim
3) Jessie Walker, Matrix Fitness - Prendas
4) Harriet Owen, Node4 - Giordana Racing
5) Hannah Walker, Matrix Fitness - Prendas
6) Lucy Garner, Node4 - Giordana Racing
7) Jo Tindley, VC St Raphael
8) Penny Rowson, Matrix Fitness - Prendas
9) Ruth Winder, Team VanderKitten
10) Alice Barnes, Twenty3c.co.uk - Orbea
11) Adel Tyson-Bloor, VC St Raphael
12) Annie Simpson, Matrix Fitness - Prendas
13) Grace Garner, RST Racing Team Trigon
14) Louise Mahe, Mule Bar Girls
15) Corrine Hall, Node4 - Giordana Racing
16) Rebecca Heath, VC St Raphael
17) Miriam Freemantle, Team Hope Factory Racing
18) Hayley Edwards, Champion System / Maxgear / Kyklos
19) Sarah Brook, Mule Bar Girls
20) Nicole Walters, Team Hope Factory Racing
Round Five Team Winners: Matrix Fitness - Prendas
Final Overall Individual Standings, post Round Five (top ten)
1) Annie Simpson, Matrix Fitness - Prendas, 77pts
2) Helen Wyman, Kona Factory Racing, 72pts
3) Corrine Hall, Node4 - Giordana Racing, 62pts
4) Penny Rowson, Matrix Fitness - Prendas, 58pts
5) Laura Massey, Vivelo Bikes / Inverse / Cyclaim, 57pts
6) Harriet Owen, Node4 - Giordana Racing, 54pts
7) Jo Tindley, VC St Raphael, 50pts
8) Hannah Walker, Matrix Fitness - Prendas, 45pts
9) Louise Mahe, Mule Bar Girls, 45pts
10) Alice Barnes, Twenty3c.co.uk - Orbea, 31pts
Final Overall Team Standings, post-Round Five
1) Matrix Fitness - Prendas, 202pts
2) Node4 - Giordana Racing, 175pts
3) VC St Raphael, 105pts
4) Mule Bar Girls, 82pts
5) Look Mum No Hands!, 45pts
6) WyndyMilla UK Youth, 7pts
Sprints winner Stoke-on-Trent: Helen Wyman (Kona Factory Racing)
Final Sprints standings, post Round Five (top three)
1) Annie Simpson, Matrix Fitness - Prendas, 25pts
2) Jo Tindley, VC St Raphael, 24pts
3) Hannah Walker, Matrix Fitness - Prendas, 19pts