Location: Inkberrow, Worcestershire
Event: 18 March 2012
Report: Snowdon Sports
---
Cycle Premier's talented 18-year-old Declan Byrne secured his first ever senior road race victory in style, driving a break along for much of the 100-kilometre Evesham Vale Road Race at Inkberrow in Worcestershire.
Stoke-based Byrne was one of about ten riders who were clear for much of the race, and with three team-mates up there too, Cycle Premier were holding all the aces.
Byrne missed the initial three-man break, but he was one of several to jump across and form the decisive move, although with a team of four up there, the other riders were understandably reluctant to help them drive the break on.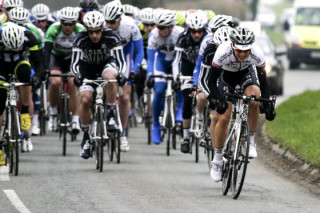 With the miles disappearing the break was destined to stay clear, and thoughts turned to the finish. Simon Holt (Team Raleigh) and Dale Appleby (Metaltek-Scott) began to up the pace and look for a way to lose the Cycle Premier riders, but they struggled to drop them – and Appleby crashed out on the penultimate lap as he dug deep.
On the final circuit the leading three escaped, including two Cycle Premier riders, which left the remains of the break reluctant to chase.
Stockdale led out the sprint, but his two rivals both came round him with Byrne taking the win.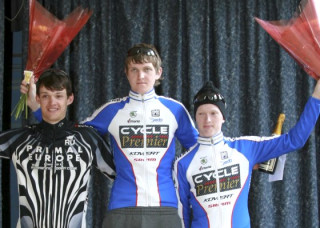 What they said

"The break went on the first lap after about 15 kilometres," said winner Declan Byrne. "At first it was a group of three, then I got across, and another four followed after me to swell the group, and we stayed together until the end.
"There were four of our guys from Cycle Premier in the break, so we were forced to do most of the work with the others missing a lot of their turns. The lead grew to around a minute quite quickly, and we made it stick.
"Dale Appleby was strong and was saving himself for the end, but he crashed with about a lap and a half to go – he either jumped a gear or snapped his chain. He and Simon Holt were the main guys we were watching, so it played into our hands a bit.
"On the last lap we did enough to make sure we stayed away but wanted to leave something for the finish. With half a lap to go it was Tom Stockdale who attacked and George [Moore] went with him and I hung on to their wheel. The other guys sat on, and that let us get away.
"In the finish, I managed to get round Tom and held them off by around ten seconds, while it's great that George managed to come round him too so we were pretty happy to get the one-two.
"It's my first road race win so I'm really pleased. The while team is going really well at the moment. I'm doing Darley Moor next week, then it's the Dengie Tour and the first Premier Calendar race, so we're really looking forward to that."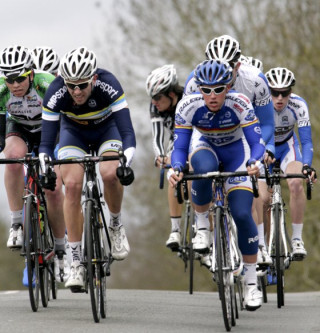 Results:
1 Declan Byrne (Cycle Premier Racing Team)
2 George Moore (Cycle Premier Racing Team)
3 Tom Stockdale (Primal Europe)
4 Jamie Shirlaw (Herbalife Leisure Lakes bikes)
5 Jon Mozley (Cycle Premier Racing Team)
6 Jamie Caldwell (Cycle Premier Racing Team)
7 Robert Orr (Cycle Premier Racing Team)
8 Simon Holt (Raleigh GAC)
9 Russel Falder (Cycle Premier Racing Team)
10 Peter Wager (Felt Colbornes RT)
11 Carl Dyson (Clay Cross RT)
12 Richard Bott (Herbalife Leisure Lakes bikes)
13 Glyndwr Griffiths (Urban Cyclery)
14 Jack Catsforth (Herbalife Leisure Lakes bikes)
15 Ash Martin (Cadence Cannondale)
---
British Cycling would like to thank the organising team, officials and everyone else who helped promote this event. Our sport could not exist without the hundreds of people, many of them unpaid volunteers, who put in many hours of hard work running events, activities and clubs.