Location: Croft Motor Racing Circuit, North Yorkshire
Event: 25 February 2012
Report: Snowdon Sports
---
Black Hawk Bikes' Craig Anderson won the Velo 29 North East Trophy at the Croft Motor Racing Circuit in North Yorkshire on Saturday.
The 23-year-old from Spennymoor held off the promoting club's Matt Kipling to win the Trophy, which was the final event at the circuit following a four-race series staged by Velo 29 over the last few weeks.
Anderson and Kipling had been away for the last 16 laps with Herbalife-Leisure Lakes' Kit Gilham, the 32-year-old York-based rider who was crowned King of the Mountains in the 2008 FBD Insurance Ras in Ireland, as well as his team-mate Tommy Bustard.
After a tough few laps where Anderson thought he was about to drop off the back, he got it together and held off his rivals for the win, while Kipling was second and Gilham just held off Bustard from Stockton on Tees, but his lack of a podium place was made up for by being named Most Aggressive Rider in the race.
Doncaster 16-year-old Connor Swift won the first intermediate sprint, while Tommy McCullough (Ashbourne Wealth) won the second and 40-year-old Infinity Cycles rider Elliot Gowland from Houghton won the final intermediate gallop.
After Gilham had taken the first prime, the promoting club's youngster Tommy Arnstein won the second.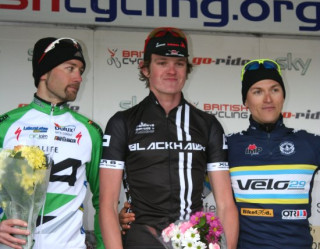 What they said

"It was a really difficult day," said winner Craig Anderson, a second cat rider who chose to start with the elite men in the scratch group. "It was fairly mild, but very windy and the course is exposed. From the start we kept it quite together and we caught the first group after about five laps and with 18 miles to go it all came together.
"Not long after it came together, Kipling attacked up the start/finish line with Kit Gilham on his wheel. I managed to get across, and then Tommy Bustard came across too and we got away from there with 16 laps to go.
"I was in trouble almost straight away, I was in a lot of pain and trying to recover but Kit was putting in some decent turns so I was struggling to stay with them. I was doing turns, but was the weakest one. But with six or seven laps to go, I got it together a bit.
"On the last lap Kit attacked at the start/finish line again, and Matt took his wheel. I bridged across, and Tommy too, and Kit and Matt were looking at each other.
"Tommy attacked at the last chicane but sat up again so I was on the front, then at the last bend Tommy went again but didn't get away. Kit went from the bottom corner which seemed a bit long, and Matt was straight on his wheel and I sat on the back. But I managed to come round them both and held it to the line.
"To be honest I would've settled for fourth, as Gilham and Kipling were doing smooth turns and looking really good."
Results:
1 Craig Anderson (Black Hawk Bikes)
2 Matt Kipling (Velo 29)
3 Kit Gilham (Herbalife-Leisure Lakes)
4 Tommy Bustard (Herbalife-Leisure Lakes)
5 Jamie Caldwell (Cycle Premier)
6 Will Haines (Black Hawk Bikes)
7 Anthony Moyes (Velo 29)
8 James Gullen (Metaltek)
9 Alex Bottomley (Velo 29)
10 Duncan Moralee (BBM Bikes)
Sprint 1: Connor Swift (Bike Box).
Sprint 2: Tommy McCullough (Ashbourne Wealth).
Sprint 3: Elliot Gowland (Infinity Cycles).
Prime 1: Kit Gilham (Herbalife-Leisure Lakes).
Prime 2: Tommy Arnstein (Velo 29).
Most Aggressive Rider: Tommy Bustard (Herbalife Leisure Lakes).
---
British Cycling would like to thank the organising team, officials and everyone else who helped promote this event. Our sport could not exist without the hundreds of people, many of them unpaid volunteers, who put in many hours of hard work running events, activities and clubs.