Location: Croft Motor Racing Circuit, North Yorkshire
Event: 18 February 2012
Report: Snowdon Sports
---
VC Bradford's Vicky Annis secured victory in the Clifton CC Women's Season Starter race at the Croft Motor Racing Circuit in North Yorkshire on Saturday.
The 26-year-old from Whitby crossed the line around 40 seconds clear of her nearest rival to win the handicap event which attracted a good field of 18 riders.
The day began with valuable skills sessions from organiser Andrew Johnston for the largely novice group, and the riders soon got the chance to put their newly-garnered abilities into practice.
The riders were set off in three groups, and only came together on the final lap. But mid-way through the race Annis broke away from the middle of the groups and stayed clear for the remainder of the race.
Sheffield-based Adela Carter, the 29-year-old Hope Factory Racing rider, took second spot after crossing the line 40 seconds behind of Annis, while third spot went to Northampton's Katharine Broadbent, the 21-year-old Durham University CC rider.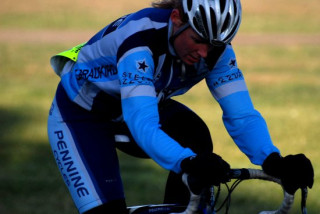 What they said

"I went really well, It's one of the first races I've done and I found doing practice runs before really helped in the race," said winner, Vicky Annis, pictured above. "The weather took a turn for the worse during the actual race with hail and wind which made it a bit hairy, but I managed to go quite well."
Her fifth road race so far, Annis added: "I'm really starting to enjoy my racing and sessions like this really help. I've been doing triathlon skills so far with the Triathlon Coaching.com website, but I'm focusing on the road for the time being. And I'm hoping that I can approach a few teams and perhaps get a ride in the National Team Series.
"I really like the feeling on the adrenaline rush when you race and especially when you win!"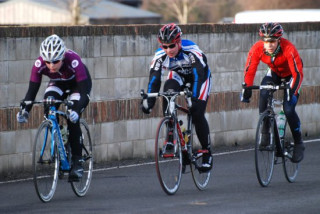 The chasing group, from left, Katharine Broadbent (Durham University CC), Karen Poole (Squadra Donne) and Adela Carter (Hope Factory Racing).

Results:
1 Vicky Annis (VC Bradford)
2 Adela Carter (Hope Factory Racing) @ 40sec
3 Katharine Broadbent (Durham Univ CC)
4 Karen Poole (Squadra Donna)
5 Lindy Edwards (Gosforth RC)
6 Vanessa Butler (Ryton Tri Club)
---
British Cycling would like to thank the organising team, officials and everyone else who helped promote this event. Our sport could not exist without the hundreds of people, many of them unpaid volunteers, who put in many hours of hard work running events, activities and clubs.