│
Location: Hillingdon Circuit, London
Event: 4 February 2012
Report: Snowdon Sports

---
London Dynamo's Jamie Pine secured overall victory in the Imperial Winter Series when he won round 11 staged at the Hillingdon Circuit in London on Saturday.


With just one round remaining Pine has an unassailable lead in the series, having won seven of the 11 rounds so far. Heading into the final race next Saturday – which Pine says he intends to ride – he has a massive lead of 390 points over second-placed Steve Golla (High Wycombe CC).
The pair have tussled throughout the series and turned it into a fascinating battle, with Golla having won two rounds and challenged Pine in the early stages of the series.
The decisive move came after around 15 kilometres with a break finally getting clear after a few earlier attempts had failed. Pine and Golla were in the front group, along with other strong men like Jerone Walters (VC St Raphael) and Conall Yates (In Gear-Quickvit).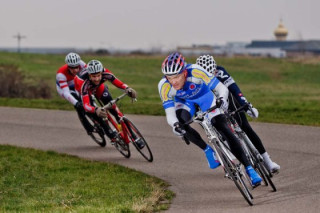 The pace was ferocious as they worked hard to stay clear, and a couple of riders were shelled out of the back as a result.
A chase was mounted by the bunch – primarily by Felt Colbornes RT rider who had no rider in the leading group – but it was not enough to catch the leaders.
As they headed into the final few circuits the pace slowed as the riders steeled themselves for the finish, and Golla attacked in a desperate bid to stave off Pine's series victory.
However, he was caught just before the line, 34-year-old Pine taking the win while Weybridge 38-year-old Jerone Walters was second and 16-year-old Rory Townsend, the Prestive VC rider from Addlestone, took third, just ahead of Golla.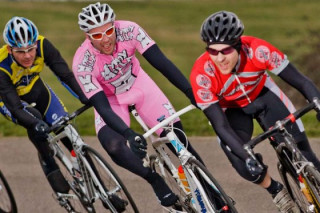 What They Said

"I'm pleased it's in the bag now," said Pine, 34 and from Twickenham. "I knew today I had to stay in the top five and ahead of Steve Golla and just get to the finish line in one piece really."
"I was a bit apprehensive in the run up to the race, I thought the weather would've been against us, but although it was bitterly cold the surface was immaculate.
"When we broke away the pace was really high because we were all so determined to get clear. We put some really hard laps in which was too much for one or two riders who dropped back. We got into a nice rhythm and pulled away from the pack.
"It would've taken something really special to reel us back in, we were flying. The Felt boys tried to jump across, but they didn't make it.
"On the last lap there was a bit of cat and mouse, and Steve Golla legged it, but I caught his wheel with 300 metres to go and I jumped him.
"It's been a really good series, I'm going to ride the final round next week as preparation for the Perfs Pedal Race on Sunday."
In other categories, Waterlooville's Matthew Bone won the third cat race, the I Team CC rider holding off Oli Pepper (Kinesis Morvelo Project) for the win, while Brighton Mitre rider Luke Farren, 38 and from Brighton, was top in the fourth at race.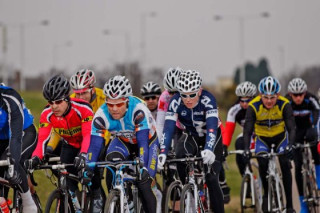 Results:
E/1/2/3:
1 Jamie Pine (London Dynamo)
2 Jerone Walters (VC St Raphael)
3 Rory Townsend (Prestige VC)
4 Steve Golla (High Wycombe CC)
5 Conall Yates (In Gear Quickvit)
6 Phil Holloway (Southend Wheelers)
Third cat:
1 Matthew Bone (I Team CC)
2 Oli Pepper (Kinesis Morvelo Project)
3 Tim Benham (WyndyMilla)
4 Peter Hudson (Durham Univ CC)
5 Angelo Christides (unattached)
6 Luke Souter (Banbury Star CC)
Fourth cat:
1 Luke Farren (Brighton Mitre CC)
2 Graeme York (Twickenham CC)
3 Jonathan Rogers (Kingston Wheelers)
4 Chris King (Catford CC)
5 Kevin Argent (La Fuga Sigma Sport)
6 Gordon McCulloch (Welwyn Wheelers)
---
British Cycling would like to thank the organising team, officials and everyone else who helped promote this event. Our sport could not exist without the hundreds of people, many of them unpaid volunteers, who put in many hours of hard work running events, activities and clubs.