│
Location: Richmond, North Yorkshire
Event: 4 September 2011
│││
---
The British Cycling Premier Calendar Series will be decided this weekend as riders gear up for the Richmond Grand Prix with Motorpoint Pro Cycling currently occupying the top three spots in the overall standings.
Leader Ian Bibby failed to pick up any points in last weekend's Twinings Pro-Am Classic but with teammate Jonathan McEvoy finishing fourth and Marcin Bialoblocki tenth, there is just 41 points separating the top three with McEvoy just eight points shy of Bibby. Matt Cronshaw (Team Raleigh) and Zak Dempster (Rapha Condor Sharp) make up the top five although it would need an exceptional result for either rider to take the overall crown.
The Richmond GP itself will see the riders tackling an 82 mile course, starting and finishing in Richmond Market Place. The route of the 2011 event follows a 50 mile loop up Swaledale, featuring the 300m, two mile climb of the Butter Tubs pass, returning down Wensleydale to complete three 10 mile laps of the gruelling Waithwith circuit before the final run back to the Market Place.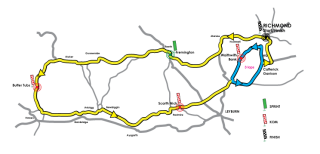 The route for the Richmond GP
Previous winners of the GP include Yorkshire-man Russ Downing (2007 and 2008), now riding for Team Sky, Alex Dowsett (2009), also with Team Sky and Kristian House (2010), returning this year with Rapha Condor Sharp.
| | | | |
| --- | --- | --- | --- |
| No | Forename | Surname | Team |
| 1. | Samuel | Harrison | 100% ME |
| 2. | Joseph | Kelly | 100% ME |
| 3. | James | Cartridge | Adeo Cadence Race Team |
| 4. | James | Dobbin | Adeo Cadence Race Team |
| 5. | Karl | Hine | Adeo Cadence Race Team |
| 6. | Chris | Snook | Banjo Cycles.com |
| 7. | James | Jones | Beeline Bicycles RT |
| 8. | James | Alder | Blackhawkbikes.com |
| 9. | Anthony | Moye | CC Luton |
| 10. | Dale | Appleby | Cyclepremier.com - Metaltek |
| 11. | Tom | Barras | Cyclepremier.com - Metaltek |
| 12. | Ross | Creber | Cyclepremier.com - Metaltek |
| 13. | Ashley | Finn | Cyclepremier.com - Metaltek |
| 14. | Stephen | Gallagher | Cyclepremier.com - Metaltek |
| 15. | Clem | Berrill | Cycling Club Hackney |
| 16. | Rhys | Howells | Cycling Club Hackney |
| 17. | Colm | Cassidy | Cycling Leinster |
| 18. | Mark | Dowling | Cycling Leinster |
| 19. | Anthony | Doyle | Cycling Leinster |
| 20. | Tighernach | Murphy | Cycling Leinster |
| 21. | Fiacra | O'Muire | Cycling Leinster |
| 22. | Anthony | Walsh | Cycling Leinster |
| 23. | David | Clarke | Endura Racing |
| 24. | Maarten | De Jonge | Endura Racing |
| 25. | Robert | Hayles | Endura Racing |
| 26. | James | Moss | Endura Racing |
| 27. | Evan | Oliphant | Endura Racing |
| 28. | Scott | Thwaites | Endura Racing |
| 29. | Callum | Wilkinson | Endura Racing |
| 30. | Ian | Wilkinson | Endura Racing |
| 31. | Gary | Hand | Endura/Pedalpower Development Team |
| 32. | David | Lines | Endura/Pedalpower Development Team |
| 33. | Scott | McCrossan | Endura/Pedalpower Development Team |
| 34. | Douglas | Young | Endura/Pedalpower Development Team |
| 35. | Robert | Hassan | Endura/Pedalpower Development Team |
| 36. | Liam | Cowie | Endura/Pedalpower Development Team |
| 37. | Jordan | Stokes | Endura/Pedalpower Development Team |
| 38. | Jack | Adams | Forme Impsport Sanlamere |
| 39. | Will | Fox | Forme Impsport Sanlamere |
| 40. | Robert | Orr | Forme Impsport Sanlamere |
| 41. | Simon | Baxter | Herbalife/Wheelbase.co.uk |
| 42. | Jack | Cutsforth | Herbalife/Wheelbase.co.uk |
| 43. | Alastair | Kay | Herbalife/Wheelbase.co.uk |
| 44. | Ian | Taylor | Herbalife/Wheelbase.co.uk |
| 45. | Andrew | Coupe | Herbalife/Wheelbase.co.uk |
| 46. | Andrew | Hawdon | Herbalife/Wheelbase.co.uk |
| 47. | Chris | Bartlett | Marco Polo |
| 48. | Peter | Vincent | Mid Devon CC |
| 49. | Will | Berjgfelt | Motorpoint Pro Cycling |
| 50. | Marcin | Bialoblocki | Motorpoint Pro Cycling |
| 51. | Ian | Bibby | Motorpoint Pro Cycling |
| 52. | Malcolm | Elliott | Motorpoint Pro Cycling |
| 53. | Tobyn | Horton | Motorpoint Pro Cycling |
| 54. | Johnny | McEvoy | Motorpoint Pro Cycling |
| 55. | James | Sampson | Motorpoint Pro Cycling |
| 56. | Pete | Williams | Motorpoint Pro Cycling |
| 57. | Rowan | Dever | Pasta Montegrappa - Zheroquadro |
| 58. | Wojciech | Szlachta | Pasta Montegrappa - Zheroquadro |
| 59. | Mark | Holt | Pasta Montegrappa - Zheroquadro |
| 60. | Yanto | Barker | Pendragon - Le Col - Colnago |
| 61. | Junior | Heffernan | Pendragon - Le Col - Colnago |
| 62. | Rhys | Lloyd | Port Talbot Wheelers/CJ Construction Group |
| 63. | Hefin | Price | Port Talbot Wheelers/CJ Construction Group |
| 64. | Dan | Craven | Rapha Condor Sharp |
| 65. | Zak | Dempster | Rapha Condor Sharp |
| 66. | Ben | Greenwood | Rapha Condor Sharp |
| 67. | Kristian | House | Rapha Condor Sharp |
| 68. | Andrew | Tennant | Rapha Condor Sharp |
| 69. | Jonathan | Tiernan-Locke | Rapha Condor Sharp |
| 70. | Dean | Windsor | Rapha Condor Sharp |
| 71. | Edward | Clancy MBE | Rapha Condor Sharp |
| 72. | Stephen | Adams | Sigma Sport Specialized |
| 73. | Thomas | Copeland | Sigma Sport Specialized |
| 74. | Kit | Gilham | Sigma Sport Specialized |
| 75. | Steve | Lampier | Sigma Sport Specialized |
| 76. | Tom | Last | Sigma Sport Specialized |
| 77. | Tom | Murray | Sigma Sport Specialized |
| 78. | Simon | Richardson | Sigma Sport Specialized |
| 79. | Wouter | Sybrandy | Sigma Sport Specialized |
| 80. | Russell | Downing | Sky Pro Cycling |
| 81. | Ashley | Brown | Sportscover Strategic |
| 82. | Tom | Bustard | Sportscover Strategic |
| 83. | Collin | Humphrey | Sportscover Strategic |
| 84. | Duncan | Moralee | Sportscover Strategic |
| 85. | John | Tanner | Sportscover Strategic |
| 86. | Jamie | Caldwell | St Ives CC |
| 87. | Richard | Cartland | Team Corley Cycles |
| 88. | Ashley | Cox | Team Corley Cycles |
| 89. | Simon | Gaywood | Team Corley Cycles |
| 90. | Matthew | Higgins | Team Corley Cycles |
| 91. | Chris | McNamara | Team Corley Cycles |
| 92. | Mark | Wordsworth | Team Corley Cycles |
| 93. | Michael | Smith | Team Corley Cycles |
| 94. | Scott | Law | Team Qoroz |
| 95. | Ben | Stockdale | Team Qoroz |
| 96. | Tom | Stockdale | Team Qoroz |
| 97. | Mike | Thelwell | Team Qoroz |
| 98. | Matt | Ullmer | Team Qoroz |
| 99. | Luke | Dunbar | Team Qoroz |
| 100. | Matt | Cronshaw | Team Raleigh |
| 101. | Dan | Fleeman | Team Raleigh |
| 102. | Richard | Handley | Team Raleigh |
| 103. | Liam | Holohan | Team Raleigh |
| 104. | Jeroen | Janssen | Team Raleigh |
| 105. | Gael | Le Bellec | Team Raleigh |
| 106. | Ryan | Parnes | Team Raleigh |
| 107. | Jamie | Sparling | Team Raleigh |
| 108. | Magnus | Backstedt | Team UK Youth |
| 109. | Steven | Burke | Team UK Youth |
| 110. | Niklas | Gustavsson | Team UK Youth |
| 111. | Freddy | Johansson | Team UK Youth |
| 112. | Gruffudd | Lewis | Team UK Youth |
| 113. | James | Lowsley-Williams | Team UK Youth |
| 114. | David | McGowan | Team UK Youth |
| 115. | James | Stewart | Team UK Youth |
| 116. | Michael | Cuming | Twenty3c-Orbea |
| 117. | Rafael | Segarra Rodriguez | Private |
| 118. | Jack | Pullar | Vanillabikes.com |
| 119. | Liam | Armstrong | VC Briganti - Cycleways RT |
| 120. | Conor | Ryan | Velo Club Montpellier |
| 121. | Rob | Carter | Velo29 Cycling Team |
| 122. | Michael | Dales | Velo29 Cycling Team |
| 123. | Christopher | Mark | Velo29 Cycling Team |
| 124. | Joe | Norledge | Velo29 Cycling Team |
| 125. | Jack | Rees | Velo29 Cycling Team |
| 126. | Daniel | Smith | Velo29 Cycling Team |
| 127. | Thomas | Timothy | Velo29 Cycling Team |
| 128. | Sam | Ward | Wills Bros Racing |
| 129. | Jack | Cousins | Wills Wheels Cycling Club |
| 130. | David | Shackleton | Wilsons Wheels Race Team |
| 131. | Henry | Furniss | WindyMilla Maxifuel |
| 132. | Adam | Cotterell | WyndyMilla Maxifuel |
| 133. | Alex | Higham | WyndyMilla Maxifuel |
| 134. | Danny | Lowthorpe | Rutland CC |
| 135. | Russell | Falder | Mammoth Lifestyle RT |
| 136. | Jack | Kirk | Multipôle Etang de Berre |