| | | | | | | | |
| --- | --- | --- | --- | --- | --- | --- | --- |
| | Follow britishcycling.org.uk on | | | | | | |
Heavy rain fails to deter Riverside racers
Velo29 Stockton Riverside Races
Event. 17th July 2011
Event Details
Report and photos: Velo29

Photo: Andrew Hawdon takes the victory in the Elite race after James Moss (far right) celebrated a lap too early
Torrential rain and thunder and lightening didn't manage to put a dampener on the atmosphere or the rider's enthusiasm at the first Velo29 Stockton Riverside Races on Sunday.
Go Race/4th Cat Event
Comeback man Graham Topp won the sprint in this event from a field of about 20 riders. A Cleveland Wheeler in his youth, Graham has now resumed racing and joined his local club the Stockton Wheelers. Richie Burnicle (BlackHawkBikes) deserves a special mention for his attacking throughout the race; he was pulled back every time but still managed to get fourth in the sprint.
The best Go Race riders in the classification were Ian Cowen, Alec Ledner and Greg Fletcher (eighth, ninth and tenth) all of whom have recently started training with the Velo29 Cycling Team.
Results
1. Graham Topp (Stockton Wheelers)
2. Stuart Grey (Sunderland Clarion)
3. Simon Donoghue (Team CF)
4. Richie Burnicle (BlackHawkBikes)
5. Chris Barnard (Sunderland Clarion)
6. Chris Ranson (Infinity Cycles)
7. Dave Ranson (Infiniity Cycles)
8. Ian Cowen
9. Alec Ledner
10. Greg Fletcher
Youth Racing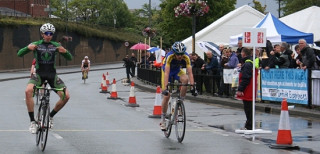 Photo: Jack Sadler wins in the Cat A Boys
In what was undoubtedly the worst weather of the day, there were two races for the courageous youth riders. The C, D & E cat event lasted for about 20 minutes and the A & B lasted for about 40 minutes. Hats off to competitors in both events for starting and finishing their races. You can be sure that a lot of people were put off by the weather from all age groups, but these hardy souls put their hearts into their events.
Results
Cat A Boys
1. Jack Sadler (Herbalife Wheelbase)
2. Alex Hopper (Velo29)
3. Levi Moody (PedalSport CC)
Cat A Girls.
1. Laura Kotch (Cleveland Wheelers)
Cat B Boys.
1. Scott Auld
2. Joe Howard (Cleveland Wheelers)
Cat C Boys.
1. Angus Brown (Infinity Cycles)
2. Tom Piddock (Aire Valley RT)
3. Aaron Preston
Cat C Girls.
1. Helen Kotch (Cleveland Wheelers)
Cat D Boys.
1. Connor Eyeington
2. Joe Piddock (Aire Valley RT)
3. Lawrence Squire
Cat E Boys.
1. Patrick Kilkullen
2. Arram Brown
The House Designer Wear 1 Lap TT
The House of Yarm sponsored this event, with the winner being Tom Barras of Cycle Premier -Metaltek taking the spoils. He was closely followed by Chris Smart of the might Glasgow Coureurs and Chris Mark of the Velo29 Cycling Team. Given the weather, you can be pretty sure that the most technically gifted rider took the spoils.
The OTR (Handbuilt Carbon Wheels) 2,3,4 Cat Race
This exciting race was won by Pendragon Colnago rider Richard Meadows in emphatic style. Ridding himself of his breakaway companions Michael Dales (Velo29) and Liam Armstrong (VC Briganti), Richard powered to a solo victory with a gap of about a minute. T
he bunch sprint was won by Velo29's own Taylor Cardus, who also won the first junior prize, showing his potential to be a top class sprinter in years to come. The first lady whose performance was outstanding was Brit Tate of the Dirtwheels Cycles Team, who distanced her rivals (Rachael Bamford and Karen Poole early on in the race).
Results
1. Richard Meadows (Pendragon)
2. Taylor Cardus (Velo29)
3. Will Brown (Fietsen Tempo)
4. David Johnson (Adept)
5. Jack Rees (Velo29)
6. Nick Amitstead (Dirtwheels Cycles)
7. Mike Bell (Fietsen Tempo)
8. Liam Armstrong (VC Briganti)
9. SImon Davison (Blackhawkbikes)
10. Jack Sadler (Herbalife Wheelbase)
The Velo29 Elite Riverside Race
Some of the best riders in the country from some of the best teams in the country turned up to fight for the spoils at the Velo29 Elite Riverside Race. Riders from Endura, Raleigh, Velo29, Cycle Premier Metaltek, Sigma Sport Specialized, Pendragon and a full squad from Herbalife Wheelbase ensured this race was worth staying out in the rain for.
Attacking riding from the off saw an early break of five that was to last the full length of the race. The strong man in the break appeared to be Endura rider James Moss who took the Velo29 Online Bike Shop Prime early in the race and also the Vankru Performance Bikes prime at three laps to go. Also in the break were Rob Partridge (Endura), Kit Gilham (Sigma Sport), Andrew Hawdon (Herbalife) and Andrew Coupe (also Herbalife).
Back in the bunch the action was hot, with Tom Barras (Cycle Premier) taking the bunch 'Skinnergate Cycles of Stockton' prime and constant attacking from Chris Mark (Velo29) and Richard Meadows (Pendragon) keeping the time gap low to start off with. Their attacking was however effectively neutralised by Herbalife and Endura.
The final few laps in the break saw a non-stop attacking, with James Moss looking like the most likely winner. Unfortunately, James raised his arms a lap early (it's easier done than you might imagine), and the sprint was taken a lap later by Andrew Hawdon from Endura riders Moss and Partridge.
Results
1. Andrew Hawdon (Herbalife Wheelbase)
2. James Moss (Endura)
3. Rob Partridge (Endura)
4. Kit Gilham (Sigma Sport Specialized)
5. Andrew Coupe (Herbalife Wheelbase)