| | | | | | | | |
| --- | --- | --- | --- | --- | --- | --- | --- |
| | Follow britishcycling.org.uk on | | | | | | |
Thwaites Wins Otley Town Centre Races
British Cycling Elite Circuit Series - Round 1 - Otley, West Yorkshire
Event: 22nd June 2011
Report and images Andrew Kennedy - www.kennedyimages.co.uk
Scott Thwaites (Endura Racing) was a hugely popular winner of the opening round of the Elite Circuit Series when he sprinted to victory in the Otley Town Races on Wednesday evening.
The 21 year old rider from Burley-in-Wharfedale, (just up the road from Otley) was part of a seven man group that broke away from the fast moving peloton after four laps. Dean Windsor (Rapha Condor Sharp) and Steven Burke (Team UK Youth) had started the move and they were joined by fellow Rapha rider Dean Downing, Matt Cronshaw (Raleigh), Tobyn Horton (Motorpoint). With Jack Bauer and Scott Thwaites (Endura Racing) joining the leading group on the next lap. This small group established a lead of nearly 40 seconds and was setting new lap records for the Otley circuit.
Scott Thwaites (Endura Racing) takes victory in the 2011 Otley TOwn Centre Criterium. (Images: Andrew Kennedy).
Most of the major teams were represented in the leading group, but individual riders like Adam Blythe (Lotto Pharma), Tony Gibb (Cycle Premier) and the whole of Sigma Sport team who had missed the break were driving the main group in an effort to catch the leaders.

Former national circuit champion Dean Downing (Rapha Condor Sharp) was the danger man amongst the leaders and with Dean Windsor watching his back it looked as though he would be the man to beat in the final sprint up Bondgate. Thwaites had team mate Jack Bauer as his support and with the majority of the crowd screaming "Scott, Scott, Scott" and banging the advertising hoardings it was clear who they wanted to win. The Otley circuit is very demanding, the riders will tell you the pace never slackens, they race just as fast along Birdcage Walk at the top of the course as they do along the heavily spectated areas of Bondgate and Burras Lane.

With the light beginning to fade the leading seven riders started to lose their comfortable gap to the chasers. Rapha Condor Sharp were policing the front of the peloton and had been successful in pulling back any riders trying to bridge to the leaders. The gap had been 40 seconds and increasing, but with 4 laps remaining it was closing. Tom Murray and then Tom Last both riding for Sigma Sport were driving the main peloton and at the bell lap the gap to the leaders was only 8 seconds.
Dean Downing was at the rear of the leading seven riders and glancing backwards, probably weighing up whether to make a lone final lap attack, or take his chance in the sprint. Thwaites and Bauer were still confident they could keep some distance between the lead group and the peloton. Cronshaw, Horton and Burke had to continue to work or all their efforts would be lost. Into the final corner and it Thwaites who emerged into Bondgate first, with terrier Downing snapping at his back wheel but unable to get past the Lincoln Grand Prix winner. Thwaites scored a superb win in front of his home crowd. Olympic track medallist Steven Burke claimed the final podium position.
Speaking after the race, Thwaites said: "Apart from winning at Lincoln earlier this season this is my biggest victory, with it being so close to home it's brilliant to win in front of so many of my family and friends. I've ridden the Otley Races since I was a small kid so to come here and win the top race tonight is very special for me.
"Being the local boy I was riding with a lot of expectations from people, so the pressure was on to do something. My form is very good at the moment, and Otley is second only to the National Criterium Champs, this is a massive deal for me to win.
"I know that people thought the break was going to get caught but at this level we know what we have to do to stay away and we were confident that we would do it. Jack Bauer and Dean Windsor were riding really hard on the final couple of laps, Jack was working for me and Dean was working for Dean Downing. Matt Cronshaw was pushing because although he didn't have any team mates in the break he wanted something out of it.
"I thought there might have been some attacks on the last lap but everyone fancied their chances in the sprint. I wanted to get a gap out of the final corner, and managed to do that without any problems. I'm delighted with tonight, and at 21 years of age I still have plenty of opportunity to come back and win again."
The ever popular Otley races were held in perfect conditions, dry and bright sunshine without any wind, all played out in front of the biggest race night crowds ever seen in the Yorkshire market town. The coffee shops, pubs, and fish and chip emporiums love bike race night in Otley. The thousands of local spectators and cycling aficionados flood the streets to cheer on their local heroine Lizzie Armitstead. The event attracts huge publicity from local newspapers, radio and TV. On Wednesday evening the Otley race goers witnessed Scott Thwaites ascendency as a star rider, this young man has a very bright future in cycling, he's already a big star in Otley, and as previous Otley winner Mark Cavendish might tell you, 'if you can do it at Otley, you can do it anywhere'.
Results:
1 Scott Thwaites (Endura Racing) 1:14:00
2 Dean Downing (Rapha Condor-Sharp)
3 Steven Burke (UK Youth) all @ same time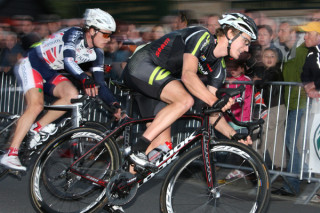 Eventual winner Scott Thwaites (Endura Racing) leads Steven Burke (UK Youth) into a corner. Photos: Andrew Kennedy.