| | | | | | | | |
| --- | --- | --- | --- | --- | --- | --- | --- |
| | Follow britishcycling.org.uk on | | | | | | |

Interview: Lucy Garner
Posted: 16 June 2011 | Words & pics: Andy Whitehouse
Lucy claims the Cheshire Classic Road Race in fine style earlier this season
Motorpoint's Lucy Garner is proving to be quite a star in Woman's cycle sport this season, her first in the senior ranks. The sixteen year old, who hails from Leicestershire, is taking more than her fair share of podium places this year including a well deserved second place overall in the Johnsons Health Tech Women's series, in which she just three points behind Winner Helen Wyman. Andy Whitehouse met up with Lucy just after the final round in Woking and had a chat.

AW: Congratulations with your second place overall on the Johnsons Health tech series. You must be happy with that result?
LG: Thank you. Yes I was really pleased,I didn't really know what to expect and I don't think anyone else did because it's been the first tour series for women but it's been great racing in the crits.
AW: Womens cyclesport has become more popular over the last few years and the quality of racing has improved across the field. Where do you see the sport going over the next few years?
LG; With Johnsons promoting us, it has given the chance to show how experienced and talented woman bike riders are and hopefully it will encourage more woman to take part in the sport.
AW: This is your first season with Motorpoint, how are you finding things riding for a big team?
LG: It's great. I've really enjoyed it so far and I get on with everyone on the team. We are all great friends so when the racing starts we can be truthful with each other about how to ride the race and who potentially we should ride for. We've got a really strong team and it was good to work as a team in the Tour series and be competitive.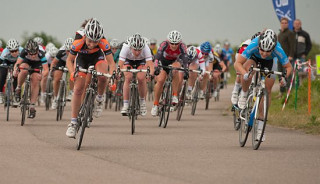 Too close to call - Lucy, left, dead heats with Hannah Rich at the Hillingdon GP
AW: Motorpoint must be happy with the way things are going with the woman's team?
LG: Yes they are really pleased with us, Phil and Jacquie take good care of us at the races and I know I can go to them if I have any problems.
AW: How are things going for you on the Olympic Development Programme. What plans are in place for you?
LG; The ODP is going really well. I am doing a lot of work with the pursuit track team. I'm hoping to get selected for the Junior Worlds and the Europeans but there are a lot of quick girls going for a place so I've got a lot of hard work to do. It's good to have Hannah (Barnes) and Harriet (Owen) on the ODP with me because they both ride for Motorpoint.
AW: What does rest of the 2011 season still hold for you?
LG: I've got the rest of the woman's series races and the woman's team series. I've got the crit Championships which I hope to do well in. I should hear shortly if I've been selected for the Junior Worlds and the Europeans. I'll be doing the track Nationals and hopefully doing a few more races with both the ODP and Motorpoint which I do enjoy.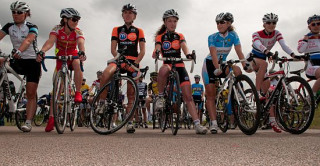 Lucy (centre) lines up for another race in a busy season
AW: When did racing start for you and what was your first competitive event?
LG; I started racing when I was 8 or 9 years old. I remember turning up at one of the Mallory Park races thinking I could stick with the likes of Dan McLay. I lasted one lap, got off my bike and refused to get back on it. I did a bit of cyclo-cross and mountain bike and seemed to race better at those disciplines so I carried on and that's where it started really.
AW: Talking of cross you rode a lot in 2010/11 season, will you be out in the mud again next season?
LG: I doubt I will do as much as I did last season, if any. It's a shame because I do love 'cross and it keeps me fit over the winter months but I'm at that age where I need to decide where I want to be in the future and road and track is what's best for me.
AW: Your old club (Leicester off road) must be proud of your achievements on the bike. Do you still manage to get out with them?
LG: They are such a friendly club and when I have a free Sunday, I always try to get out with them. My first coach Graeme McLay was in LORC and he has got me to where I am today. He taught me how to ride the rollers, how to use tactics to win races, how to train and he is still the only person who really knows how I cope and deal with my races. So its Graeme I have to thank for all this.
AW: What's a typical days training for you, Lucy?
LG; It all depends what races I have coming up. I try to vary my training: keeping repeating my training gets really boring so it can range from intervals, roller, turbo and road rides with standing starts.
AW: What has been your favourite win?
LG; The National Under 16 pursuit championships because I was still Under 14. I remember my Mom and Dan McLay running over and giving me the biggest hug!
AW: So A little bit about Lucy when she's not riding her bike - What music are you listening to at the moment?
LG: I'm a big Rianna fan at the moment but I do like all types of music.
AW: And books?
LG: I don't read that much to be honest, I look at the pictures, does that count? (she laughs)
AW: And what does a night out entail for Lucy?
LG; When I get the chance I like to go out for a meal with my old school friends and then maybe go to the cinema. Pretty relaxed to be honest
AW: and finally, who's got the best tan lines on the start line?
LG: No question about it. Hannah Barnes always has. She must sunbathe in her shorts !!
AW: Thanks Lucy - have a great season!