| | | | | | | | |
| --- | --- | --- | --- | --- | --- | --- | --- |
| | Follow britishcycling.org.uk on | | | | | | |

Dowsett Laps Up Smithfield Glory
Smithfield Nocturne - London, 11 June 2011
Report & Images: Joolze Dymond (Lots more images)
Highlights Videos - check out this impressive presentation of the whole evening's action, split into four videos, with the Women's race in part 1, penny-farthing racing in part 2 and the elite race in parts 3 and 4.

Part 1

Part 2
Part 3

Part 4

Alex Dowsett enjoys his champagne moment
The night time express that is the Smithfield Nocturne left at high speed, driven all the way by Sky's Alex Dowsett. In a remarkable performance that wowed the thousands of spectators that crammed the circuit eager for a glimpse of the quality field, Dowsett turned his love of time trialling to his advantage. Digging deep he escaped early on, going on to lap the field just 22 minutes into the race.
Despite the best efforts of the rest of the field the race was now on only for second place. Attacks came thick and fast, and in the closing stages Rapha Condor Sharp's James McCullum tried hard to get away, but Endura racing's Jack Bauer stuck to his wheel throughout and the crowds were treated to a thrilling sprint as McCullum and Bauer dived for the line, with McCullum just edging it to claimm second.
This was the climax to an action packed day that saw all many of bike related racing ranging from the popular folding bike race, through to the intriguing Penny Farthing racing and fixie skids!
Prior to the men's Elite crit, the UK's best women but on a show for for the assembled crowds, with Hannah Barnes leading Motorpoint team mate Lucy Garner to a 1, 2. Helen Wyman picked up 3rd. Unfortunately Hannah then lost her bike to an opportunist theif who smashed the window of her car to grab it!
Post-Race Interviews
Alex Dowsett - Team Sky: I followed a move on lap one. One of the Orbea guys did a lap and swung off. I went through and next thing I knew I had a gap. I thought one of the Rapha guys, or HTC guys might come across but they didn't! So I just kept going and the gap kept getting bigger, I couldn't believe it really, especially when I saw the back of the bunch! Certain parts of the course made it easier to see how much ground I was making up and I was thinking all the time, right they are going to start coming back at me and then as I said I saw the back of the bunch and that was that! I was in my own little world of hurt out there and after just 4 minutes out there I was thinking I've still got a long way to go so when I caught the race, it was a relief, I felt that's it race done I just have to hang in there now. Yeah it was quite staggering to be honest, I surprised myself, as I didn't think I was on it. Luxemburg was a hard race and I haven't done a great deal since, I guess the rest has done me good and my form is better than I expected! I'm delighted that I did find form here as I look on this as my home race and the support out there was amazing, with loads of family and friends out there cheering me on. I'm so pleased I did well in front of them. This event has to be there with the best, it's become so big and the crowds give the event such great atmosphere it's like being at a Revolution, it's just incredible. This sort of outcome is what happens to you once in a blue moon and I'm so glad it happened for me tonight.
James McCallum - Rapha Condor Sharp: Did I know that Alex was lapping the field? Yeah, I was flapping like a maniac! I tried to go across to him but once he got that gap he was virtually invincible. I know he said it was a time trialists crit but I was on the back of him when he was chasing the break and we trying to make that go away and gain a lap, the guy was cornering like a maniac! I've never seen a tester go round corners like that before! He was just on another level; there was no touching him. Everyone tried but they couldn't make a dent. We like to think that we're quite good at this kind of stuff, seeing that we are a criterium team, but Alex has just embraced being a Pro Team rider. You always knew he was world class but now you're seeing it. He rode an awesome race tonight. There were lots of attacks going off the front all night but it wasn't until 3 laps to go that I went for broke, I was hoping that Jack (Bauer) wasn't the one who was going to come with me, but it was. And that was it. It was nice being back on the podium to be honest; I haven't been up there for a while, especially here. It was disappointing that we couldn't match Alex and contend for the race, as this is the only race that Rapha Condor Sharp haven't won and it's such an awesome event that is supported wholehearted by Rapha. But the display of racing on show tonight just shows you how high the level of racing as gone in the UK, it's awesome, as was Alex!!
Jack Bauer -Endura Racing: I guess personally, yeah I have to be pleased with that ride. I've haven't got crit legs at the moment so I'm happy with that result. To be honest I had no idea I was racing for second, I thought I was going for first. When they called all the high profile riders up at the start, Endura racing were on the last line at the back, so by the time we'd fought our way to the front of that race that was cracking out 50km an hour, Dowsett was long gone. I'd never seen him go off the front, I never seen him take a lap and I never seen him at all to be honest! It was that kind of race that if you don't start from the front you don't know what's been going on, so yeah I thought I was still racing for first throughout that race. I knew when I got away with Jimmy that he'd be hard man to beat. My only hope was to try and drop him on the drag round the back of the course and I tried twice, but I just couldn't shake him and he took me in the kick. This race is amazing, there is nothing else like it out there, racing in the dark all those camera flashes the massive crowds the noise its just awesome. The circuit is fast and flows well I still don't know how that guy got around so fast and took a lap on us as we weren't hanging about out there!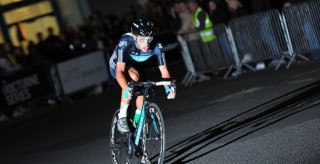 Alex Dowsett went it alone to win the race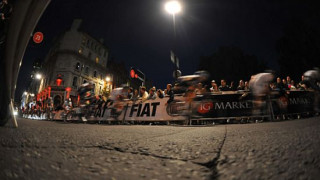 Cracking atmosphere shot from Joolze Dymond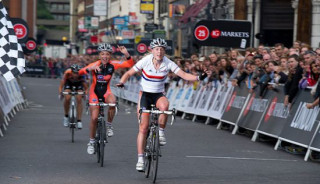 Hannah Barnes won the women's race, but lost her bike to a thief!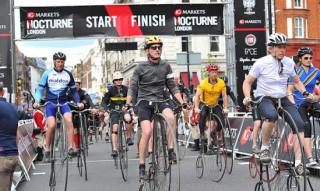 Smithfield isn't just about elite racing!
Results:
Elite Mens Criterium
1. Alex Dowsett, Team Sky
2. James McCallum, Rapha Condor Sharp @ 59 seconds
3. Jack Bauer, Endura Racing, st
4. Graham Briggs, Rapha Condor Sharp, @1.02
5. Dean Downing, Rapha Condor Sharp
6. Ed Clancy, Rapha Condor Sharp
7. 70
8. Tobyn Horton, Motorpoint
9. Ian Wilkinson, Endura Racing
10. Scott Thwaites, Endura Racing
11. Dean Windsor, Rapha Condor Sharp
12. Rafa Rodriguez, Twenty3C-Orbea
13. James Stewart, UK Youth
14. Leigh Howard, HTC High road
15. Steve Lampier, Sigma SportSpecialized
16. Jake Hales, Corley Cycles
17. Stephen Adams, Sigma Sport Specialized
18. Jeronne Janssen, Raleigh
19. Russell Hampton, Sigma Sport Specialized
20. Will Bjergfelt, Motorpoint
21. Wouter Sybrandy, Sigma Sport Specialized
22. Russell Downing, Team Sky
23. Casey Munro, Rapha Condor Sharp
24. Dean Shannon, Twenty3C Orbea
25. Jamie Newall, Corley Cycles
26. Pet Williams, Motorpoint
27. Andrew Copue, Herballife Wheelbase
28. Matt Cronshaw, Raleigh
29. Lewis Atkins, Twenty3C Orbea
30. Cameron Meyer, Garmin Cervelo
Women's Criterium
1. Hannah Barnes, Motorpoint
2. Lucy Garner, Motorpoint
3. Helen Wyman, Horizon Fitness Prendas Ciclismo
4. Anni Simpson, Horizon Fitness Prendas Ciclismo
5. Amy Roberts, For Viored Brookvex
6. Alice Barnes, Motorpoint
7.Nicola Juniper, Condor Cycles
8. Harriet Owen, Motorpoint
9. Hannah Manley, For Viored Brookvex
10. Ella Sadler Andrews, Horizon Fitness Prendas Ciclismo
11. Rohan Battison, For Viored Brookvex
12. Julie Krasniak, For Viored Brookvex
13. Corrine Hall, Corridori
14. Estelle Rogers, Condor Cycles
15. Jo Mcrae, Look Mum no Hands