Follow britishcycling.org.uk on
Boneshakersbikes.com/Trek Winning in Yorkshire

Story posted August 10, Team Press Release

Harrogate based, Boneshakersbikes.com/Trek team has been in good form recently on the road with the team taking a number of wins in regional level British Cycling races in Yorkshire/North East. Matt Williams has been in excellent form in the last month and has won two British Cycling races, the first being the Wakefield Evening Road Race where caught the two leading riders in the last 200m on the tough climb on the Sharleston circuit to take his first win this year and promoted him to a 2nd category rider. The rest of the team is made up of 2nd cat riders, with Jamie Burgan being the only 1st Cat rider in the team.


Williams took his 2nd win this week at the newly formed Crosstrax Evening Circuit Races at Tockwith, near Wetherby. The fast circuit makes for attacking racing and the Boneshakers team were very active with James Thompson leading the race in the early stages and the team had riders in every move until the final selection came with 12 laps remaining of the 25 lap race.

Boneshakers had three riders in the leading seven man break, including Matt Mannakee, Craig Stevenson and Matt Williams. The bunch was being controlled by team Crosstrax but they were unable to bring the break back before the final lap. Williams was first into the final corner and held off his team mate Matt Mannakee to take an impressive win, Stevenson was 6th.

James Thompson had an excellent string of results with 4th in the support race at the Edinburgh Nocturne, 6th in the Derwentside RR (Stanfordham) and he finished off an excellent couple of weeks with a win in the Sportscover Evening Road No 3. The races had been hotly contested by some strong local riders and in this race Thompson attacked at the mid-point in the 50km race where he was joined by Steve Gibson (Peak RT) and Darren Otter (Rutland RC). The trio managed to hold off the bunch and Thompson took the win by a wheel from Otter and Gibson. This weekend, James took 7th in bunch sprint in Tumby RR - Race 1, after the break was caught on the last lap including team mate Craig Stevenson.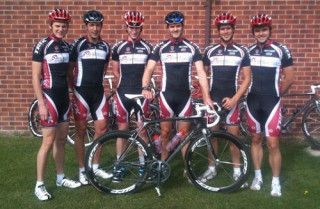 Matt Mannakee has been very a consistent finisher featuring in a number of sprint finishes taking podium places. Otley Town Centre Classic Race saw him take 3rd in the 60 man bunch sprint to finish 6th behind Stuart Reid (Wheelbase). In Sheffrec Evening RR, held on Wigley circuit, Mannakee rode across to the winning break and took 3rd place.

Jamie Burgan, has won two races in the East Midlands and took the second series overall. He has been hampered by the lack of races for 1st category riders, but has ridden the Lincoln GP and East Midland Classic UCI races. Glen Turnbull made the break in Hartlepool Carnival Crit and finished 8th, behind Stuart Wearmouth (MTS Cyclesport)