Follow britishcycling.org.uk on
Elite Circuit Series Moves to Colne on Wednesday

Story posted July 13, 2010

Colne Gets set to welcome its 7th Grand Prix cycle race
The historic market town of Colne in Pendle is getting ready to host its seventh edition of the Elite Circuit Race, the Colne Grand Prix. If you fancy watching some of Britain's elite cyclists battle it out at top speed, then Colne in Lancashire is the place to be on Wednesday, 14 July from 7pm.

The Grand Prix, which is part of British Cycling's National Circuit Race Series, is an annual fixture in the town's events calendar and attracts most of the country's best cyclists. Thousands of spectators flock to Colne to watch them battle it out to the finish line after 60 laps of an 800 metre circuit around the town centre, starting and finishing outside the library in Market Street.

Pendle Council's Regeneration Director Brian Cookson, who is also President of British Cycling, said "It's only a few weeks ago that we saw top male and female cyclists battle it out in the exciting National Road Race Championships in Pendle. If you caught some of the action of that event and enjoyed it, why not come and support some of our local riders in the exhilarating Colne Grand Prix? You never know, you could spot some 2012 Olympic champions of the future!"

Councillor Mike Blomeley, Leader of Pendle Council, said "The Colne Grand Prix is the fastest and most exciting sporting event in Colne. We're delighted to welcome the UK's top racing cyclists for the seventh year since the Grand Prix began. Come along to watch and you'll experience the thrills and spills of street racing as Olympic and World champions battle it out on 60 laps of the 800 metre street circuit."
Local riders taking part in this year's race include 2008 Colne Grand Prix winner Ian Wilkinson (above) from Barnoldswick and Paul Oldham from Trawden. Ian, who became North West Regional Champion in May, is the hot favourite for the race.

Speaking about the race, Ian says "It's always well supported and having won it before, it's going to be my aim to win that race again riding for Endura. It's a big race for me but Burkey (Steven Burke, Olympic Bronze medallist) is from there so I think Motorpoint will want to win it more than me! I am very very much up for this one on the quiet".

This year's Colne Grand Prix is being sponsored by Barnfield Construction. Tim Webber, Barnfield's Managing Director, said "We are proud to be part of this great cycling event. The Barnfield Construction Colne Grand Prix is sure to attract positive interest from all over the North West, which can only be a good thing for Pendle's economy."

Local florists Going Dutch are another of the race's sponsors - they're providing bouquets for the winners. Going Dutch's Janet Boast said "We're delighted as always to support the podium bouquets. Colne Grand Prix is bang in the middle of the Tour de France so yellow sunflowers will do the trick."

Vaughan Jones, Pendle Council's Tourism Manager, said "We're looking forward to welcoming the Grand Prix to Colne once again. It's a fantastic event which attracts thousands of visitors to the town every year, giving our local economy a fantastic boost. Following hot of the heels of the National Road Race Championships, Pendle really does have a dose of cycling fever!"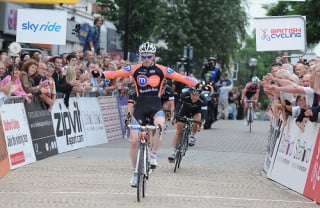 Olympic champion Ed Clancy wins the round in Stafford last week.
Schedule
18:45 - Cycle Sport Pendle - Youth Italian Pursuit
19:00 - Regional B warm-up
19:15 - Regional B Support Race
20:00 - Elite warm-up
20:15 - The Colne Grand Prix
Race Headquarters: Pendle Leisure Centre, Crown Way, Colne, BB8 9NP

So who's racing?
The line up for the Grand Prix at Colne reads like a who's who of the top British riders led by series leader Ian Wilkinson (Endura Racing) who has not finished lower than second so far in the four rounds of the series held so far. The only other winner of a round in the series, Olympic Champion Ed Clancy (Motorpoint Marshals Pasta), is also on the start sheet but the team probably most hungry for a victory will be Rapha Condor Sharp.
Rapha Condor Sharp rider, Dean Windsor who was in form at the last two rounds and says a victory is close for his team.

In the last round of the series in Abergavenny last Friday, they had two riders on the podium but have yet to get one on the top step. Rapha have a strong team entered including former British Circuit Race Champion Dean Downing and backed up by an inform Australian, Dean Windsor. Former British road race champion Kristian House is also on the start sheet as is the leader of the Premier Calendar, Chris Newton.

The Rapha team is packed with possible winners but Endura and Motorpoint Marshals Pasta also have teams packed with riders capable of winning the event. The rectangular circuit is probably one of the least technical of the courses so far and will suit the riders who can put the power down on the road along the start finish straight of Market Street and the same on Craddock Road.

Riders such as Dave Clarke of Pendragon may well find such a circuit to their liking and with a field of nearly 80 riders and plenty of road for them to play with, there may well be a surprise winner among the many entrants.

British Cycling will have a report from the event after the race.

RIDER LIST
Elite Circuit Series
1 Dean Downing Rapha Condor Sharp E
2 Dean Windsor Rapha Condor Sharp E
3 Graham Briggs Rapha Condor Sharp E
4 Chris Newton Rapha Condor Sharp E
5 Kristian House Rapha Condor Sharp E
6 Zak Dempster Rapha Condor Sharp E
7 Matthew Cronshaw Rapha Condor Sharp E
8 Jonathan Tiernan-Locke Rapha Condor Sharp E
9 Ian Bibby Motorpoint Marshalls Pasta E
10 Steven Burke Motorpoint Marshalls Pasta E
11 Ed Clancy Motorpoint Marshalls Pasta E
12 Malcolm Elliott Motorpoint Marshalls Pasta E
13 Johnny McEvoy Motorpoint Marshalls Pasta 1
14 James Sampson Motorpoint Marshalls Pasta 1
15 Peter Williams Motorpoint Marshalls Pasta E
16 Gary Adamson Science in Sport 1
17 Alistair Rutherford Science in Sport 1
18 Tim Lawson Science in Sport 1
19 Ian Field Science in Sport 2
20 Andrew Guy Science in Sport 1
21 Jeroen Janssen Kuota - Road C.C. E
22 Jefte de Bruin Kuota - Road C.C. E
23 Jon Mozley Kuota - Road C.C. E
24 Andy Tinsley Kuota - Road C.C. E
25 Martin Smith Kuota - Road C.C. E
26 Dan Davies Kuota - Road C.C. 1
27 David Macgowan Kuota - Road C.C. 2
28 Matthew Bailey Kuota - Road C.C. J1
29 Dillon Byrne Herbalife / Wheelbase E
30 Jack Pullar Herbalife / Wheelbase 1
31 Richard Bott Herbalife / Wheelbase 2
32 Lewis Craven Herbalife / Wheelbase 2
33 Stuart Reid Herbalife / Wheelbase 2
34 Andrew Hawdon Herbalife / Wheelbase 1
35 Ian Taylor Team Bglobal 2
36 Craig Battersby Team Bglobal 2
37 Mark Dziobon Team Bglobal 2
38 Stephen Leigh Team Bglobal 2
39 Robert Watson Bradford Olympic / Paul Milnes Cycles J2
40 Andrew Marsh Dinnington R.C. 2
41 Tom Moses Glendene C.C. J1
42 Paul Oldham Hope Factory Racing 1
43 Milan Sihelsky Kuota-Spinergy-GSG 2
44 Adam Wood Lotto Interbike Olympia 2
45 Robert Ormrod Manchester Wheelers 2
46 Martin Woffindin Sportcity Velo J2
47 Jordan Hargreaves Team Chevin / Bang & Olufsen J2
48 Karl Freeman Team Corley cycles 2
49 Lewis Balyckyi Teamwallis - CHH J2
50 Andy Coupe Teamwallis CHH 1
51 Ben Kellet VS Cycles J2
52 Robert Crampton Wills Wheels C.C. J1
53 David Lines Endura Racing 1
54 Stephen Adams Sigma Sport - Specialized Cycling Team E
55 Dan Duguid Sigma Sport - Specialized Cycling Team E
56 Tom Last Sigma Sport - Specialized Cycling Team 1
57 Tom Murray Sigma Sport - Specialized Cycling Team E
58 Kit Gilham Sigma Sport - Specialized Cycling Team E
59 Ian Wilkinson Endura Racing E
60 James Gullen Teamwallis CHH 1
61 David Clarke Pendragon le col Colnago E
62 Jack Penrice Maxgear R.T. J2
63 Will Bjergfelt Big Maggies / Wilier / Prendas E
64 Jordon Skinner Dinnington R.C. 2
65 Samuel Pedder Tameside Cycle Sports 2
66 Simon Yates Maxgear R.T. J1
67 Adam Yates Maxgear R.T. J1
68 Tony Gibb Cyclepremier.com - Metaltek E
69 Andrew Magnier Cyclepremier.com - Metaltek E
70 Simon Wilson Cyclepremier.com - Metaltek E
71 Richard Hepworth Cyclepremier.com - Metaltek E
72 Ben Price Cyclepremier.com - Metaltek E
73 Ash Finn Cyclepremier.com - Metaltek E
74 Robert Smail Cyclepremier.com - Metaltek E
75 James MaCallum Endura Racing E
76 James Moss Endura Racing E
77 Evan Oliphant Endura Racing E
78 Tom Barras Raleigh E
79 Steven Lampier Pendragon le col Colnago E

Support Race
1 Jerrod Hartley Cleveleys R.C. 4
2 Martin Spencer High Peak Cycles R.T 4
3 Dan Walker Clayton Velo 3
4 Neil Hendry Dirtwheels Cycles 4
5 Nicholas Armitstead Dirtwheels Cycles 4
6 Adrian Rudd Dirtwheels Cycles 4
7 Matthew Bulmer Dirtwheels Cycles 4
8 Matthew Schofield Dirtwheels Cycles 4
9 Daniel Walmsley Dirtwheels Cycles 4
10 John Hodkinson All Terrain Cycles 4
11 Julian Judge V.C. Lincoln 3
12 Craig Eden Coveryourcar.co.uk R.T. 3
13 James Warren Bill Nickson Cycles 4
14 Sandy Lockett Settle World Wide Wheelers J4
15 James Mather V.C. St. Raphael 3
16 Dan Shoreman Yorkshire Velo 3
17 Steven Mercer Clayton Velo 3
18 Carl Pawson Team Swift Allsports 3
19 Gary Vosse Lune R.C.C. 3
20 Lloyd Kellett Aire Valley R.T. 3
21 Jonathan Farnaby Crosstrax 3
22 Guy Laycock GMP Racing Team 3
23 John Connah GMP Racing Team 4
24 Andy Horner Bury Clarion 3
25 Josh Penrice Sportcity Velo YA
26 Hamish Graham South Dublin C.C. J3
27 Clive Davis Lune R.C.C. 4
28 Hanna Shenton Bradford Olympic / Paul Milnes JW2
29 Tom Dalton Bill Nickson Cycles 4
30 Tom Armstrong Ribble Valley Juniors YA
31 Richard Flynn GMP Racing Team 4
32 Adam Mitchell Bill Nickson Cycles 3
33 Grant Ormerod Teamwallis-CHH 4
34 Luke Boulton Teamwallis-CHH J3
35 Mick Browne Preston C.C. 3
36 Bill Nickson Bill Nickson Cycles 3
37 Ashley Marshall V.S. Cycles J3
38 Luke Dabbs University of Manchester C.C. 4
39 Dennis Lang Clayton Velo 3
40 Johnny Ratcliffe Team JD Cycles Ilkley 4
41 Dave Haygarth Wheelbase / Cannondale 3
42 Gary Hartles Warrington R.C. 4
43 Andrew Mitchell Ellis Briggs R.T. 3
44 Mark Shackelton Ellis Briggs R.T. 3
45 James Claydon Sportcity Velo J3
Related Links
For more information, visit www.pendlecyclefest.com.
Event Website: http://www.cdnw.org/colne_gp.html

Reports
Round 1: Dumfries Bikefest
Round 2: Otley Town Centre Races
Round 3: Stafford Grand Prix
Round 4: Get Connected Wales Circuit races