Follow britishcycling.org.uk on
Tockwith Circuit Race Series

Story posted July 8, 2010; Event promoted by Team Chevin Bang & Olufsen RRT and Railsport Cycling. (1st, 15th & 29th June 2010).

A chance observation on a cycle ride earlier in the year by race organiser, Mike Gill, had resulted in the discovery of a 'little gem' – a purpose built off road circuit in North Yorkshire. Owned by TMS (Tockwith Motorsports) and located between Wetherby and York, with easy access of the A1(M), the Autodrome is a disused airfield converted primarily as a facility for motorsport, karting and driver training.


Over the previous winter, the facility had been expanded to include a 0.8 mile length triangular circuit for training motor racing drivers. "Once I saw the circuit with its flat, smooth, grippy tarmac surface and the width of the circuit, I instantly recognised its potential as a cycle racing circuit for all ages" says Gill.

A site inspection of the circuit and facilities soon followed which resulted in the circuit being booked for a trial series of three events. The owner, Simon Moore, was very helpful and enthusiastic and keen for cyclists to use the circuit. The format of the inaugural series was as follows;
• Youth Race 1 (Youths C, D & E) 15 minutes
• Youth Race 2 (Youths A & B) 30 minutes
• Senior Race 1 (4th Category) 45 minutes
• Senior Race 2 (3rd & 4th category) 45 minutes
Sponsorship of the event was obtained from Chevin Cycles of Otley and MAS Design Consultants Limited. The entry fee was £10 per race for seniors and £5 for youths, with discounts for riders entering the whole series in advance. As of the closing date, 80 entries had been received and the series was destined to be a success.

Week 1 got off to a poor start weather wise, with a wet and drizzly evening but despite, this 111 riders entered. For weeks 2 & 3, sunny weather and word of mouth ensured that the number of entries increased to give a grand total of 371 riders for the three race series – clear indication of the growing popularity of the circuit.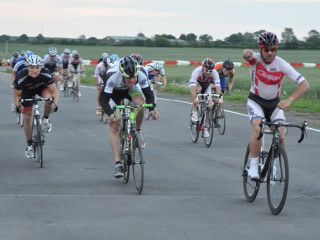 Points were awarded each week corresponding to British Cycling Ranking Points with prizes for the overall winners at the end of the series. The results from each event can be seen by going to the results finder (left menu, Road Results) and using the keyword, Chevin, to search for the results. The overall ranking points are listed below.

Thanks go out to series Organiser Mike Gill, HQ Supervisor Sarah Gill and British Cycling Regional Events Officer, Commissaire and Photo Finish Judge Peter Sutton for making the event a success. Thanks also to John Oldridge, Sam Ward, David Harrison & Marc Help for their valuable contributions every night.

Feedback to the organisers from riders has been very positive with early plans currently being formulated for further races and future events on the circuit. "Our plans are at a very early stage, but we are hoping to run the events again next summer and to expand the category range and the number of events in the series" says Mike Gill. "We are currently approaching local clubs whose riders have participated in the series, to take charge of individual events than can be grouped together to form a larger series".

Budding organisers are asked to contact Series Co-ordinator Mike Gill for further information on Tel (01423) 733201 email msgill248@btinternet.com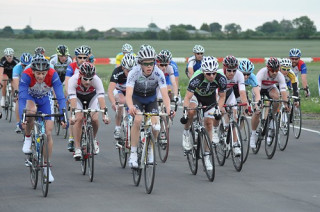 FINAL OVERALL TABLES
SENIOR RACE 1 (4 only, Regional C)
1. Paul Bennett Chevin Bang & Olufsen RT
2. Steve Johnson Private Member
3. George Georgallides University of York CC
4. Carl Martin Malton Wheelers
5. Johnny Wright Wakefield CC Exponential
6. Johnny Ratcliffe Team JD Cycles Ilkley
7.= Ady Rudd Dirtwheels Cycles
7.= Tom Garwell Elliss Briggs RT
9. Paul Lehan Harrogate Nova
10. Giles Dumont Moonglu RT
11. Colin Hawxby Chevin Bang & Olufsen RT
12. Steve Barnes Seacroft Wheelers
13. Lars Koerdt Otley CC
14. Paul Anderson Altura
15.= Chris Smith Manchester Tri Club
15.= Joshua Arnold University of York CC
15.= James Samuel Crest CC
18. Neil Hendry Dirtwheels Cycles
19. Greg Ketteringham Harrogate Nova

Ladies
1. Gaby Shaw Chevin Bang & Olufsen RT
2.= Ailsa Stainthorpe Leeds Mercury CC
2.= Iona Sewell Squadra Donne Bike Food
4. Carol Barry GS Surosa

SENIOR RACE 2 (3/4, Regional B)
1. Jamie Davison Altura
2. Jonathan Farnaby Crosstrax
3. Mike Salkeld Crosstrax
4. Paul Noton Richardsons RT
5. Matthew Bulmer Dirtwheels Cycles
6. Oliver Webster Crosstrax
7. James Farnaby Crosstrax
8. Dan Shoreman Yorkshire Velo
9. Steve Thompson RVO Racing
10. Craig Armitage Chevin Bang & Olufsen RT
11. Luke Rock Gosforth
12. Mark Hepworth Batley CC
12. Oliver Pearce Ferryhill Wheelers
14. Andrew Noble Moonglu RT
14. Steve Johnson Private Member
16. Ashley Marshall VS Cycles
17. Matthew Enticknap Malton Wheelers

YOUTH E BOYS
1. George Southby East Bradford CC
2. Joseph Pidcock Aire Valley RT
3. Thomas Ford Holme Valley Wheelers


YOUTH D BOYS
1. Jack Ford Holmfirth Harriers
2. Robert Southby East Bradford CC
3. Tom Kirkham Dirtwheels Cycles

YOUTH D GIRLS
1. Stella Cross Private Member
2. Felicity Gledhill Holme Valley Wheelers
3. Sunnivah Waterman Holme Valley Wheelers
4. Charlotte Beldon Leeds Bradford Tri Club

YOUTH C BOYS
1. Thomas Pidcock Aire Valley RT
2. Max Vesty Moonglu RT
3. Eugene Cross Private Member
4. Harry White Dinnington RC

YOUTH B BOYS
1. Billy Harding Paul Milnes Bradford Olympic
2. Joey Walker Dinnington RC
3. James Hendry Dirtwheels Cycles
4. Luke Harrison Private Member
5.= Matthew Kirkham Dirtwheels Cycles
5.= Ted Cross Private Member -

YOUTH B GIRLS
1. Abby-Mae Parkinson Aire Valley RT

YOUTH A BOYS
1. Luke Simpson Leeds St Christophers
2.= Sam Day Clifton CC
2.= Daniel Dickinson Dinnington RC
4. Lewis Barry Aire Valley RT
5.= Cameron Reilly Dinnington RC
5.= Jake Womersley Sowerby Brothers RT

YOUTH A GIRLS
1st Jessie Walker Dinnington RC