Women's South East Champs Road Race Championships
Please take time out to back our "Keep Racing on the Roads" campaign to save Road racing by becoming a fan of our dedicated facebook page
Saturday, May 22, 2010;
L-R: Claire Beaumont, Lucy Chittenden and Elise Sherwell
Thirty five riders lined up under a hot Surrey sun for the 2010 edition of the Women's South East Road Race championships on Saturday, 22nd May. Roads were quiet and the pace of the race began at a fairly low tempo as riders had been advised of poor road surfaces on some parts of the course. After two laps, the riders were settled in and Emily Bagnel (Kingston) started the attacking and was joined by Claire Beaumont (Rapha Condor) and Nikki Juniper (Ciclos Uno).

With some five laps to go, it was a testament to the good legs in the chasing peloton that the break wasn't able to escape. Soon after, attacks came thick and fast with a representation from all the main teams including Zappi's, Rapha Condor, Kingston Wheelers and Pearson's. Nikki Juniper (Ciclos Uno) was one of the main drivers of the race along with Maryka Semenna (Kingston Wheelers) and as they tried to force breaks with other teams as did Rapha Condor.

Assistant Rapha Condor DS James Duguid explained "We had two girls riding today, our other London based riders are recovering from injury and Katie Fearnhough is away in Belgium. The girls had to work with each other to force breaks but also if they wanted the race to progress, they needed to be alert and bring back breaks. I'm very pleased the way they were prominently placed and kept alert. Women's racing has moved along, I think thanks to some recent great racing at the Cheshire Classic and Horizon Fitness working hard at the Bedford 2 day."

Into the final laps and the flat course profile meant that the split was not going to happen. The riders realised that a bunch sprint would decide the race and the attack subsided. With one lap to go, Clare Galloway of team Zappi stepped up the pace and strung out the rest once more, wearing down riders legs and reducing the group to around 20 riders who would be left to contest the final sprint.

Into the final bend, there was a kick from Team Zappi and Emma Patterson (London Dynamo) as the sprint wound up from quite a way out. The eventual winner of the South East Champs title was Lucy Chittenham with Pearson's Elise Laverrick claiming second over Rapha Condor's Claire Beaumont.

Claire commented after the race "I couldn't have ridden without teammate Rachel. We worked really well together and covered the attacks, kept out of trouble and thanks to her I was able to hold my position in the bunch and for the sprint. To hear about Kristian's win in Japan the morning before the race was great and motivated us to ride hard this afternoon."

Rapha Condor women's team is in full support of the BC campaign to keep racing on the road. Register your support here. Rapha Condor riders and DS would like to thank today's commissaire for running a safe race and the motorbike out riders for aiding the race.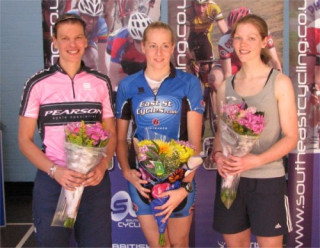 L-R: Elise Sherwell, Lucy Chittenden, Clare Galloway

RESULT (42 miles)
1. Lucy Chittenden East St Cycles 3W 1:59:00
2. Clare Galloway Team Zappis
3. Elise Sherwell Pearson Cycles 3W
4. Nicola Juniper Ciclos Uno 1W
5. Claire Beaumont Rapha Condor CC
6. Maryka Sennema, Kingston Wheelers CC 2W
7. Alison Stringer Team Zappis
8. Claire Leonard Brighton Mitre CC 2W
9. Caroline Goward Team Scott 3W
10. Leona Kadir Sigma Sport 2W
11. Tamina Oliver Private Member
12. Emma Craddock South Downs Bikes 2W
13. Naomi Anderson Team Zappis
14. Emma Patterson London Dynamo 2W
15. Rachel Przybylski Rapha Condor CC 2W
16. Sarah Maidment Private Member
17. Mathilde Pauls Pearson Cycles 3W
18. Sabine Homrighausen Kingston Wheelers CC 4W
19. Kimberley Ashton Caeserean Cycling Club 4W
20. Tamar Vanderhaas Brighton Mitre CC 4W
21. Maria David Dulwich Paragon CC 3W
22. Joanna Le Cocq Velo Sport Jersey 4W
23. Rohan Battison Max Gear RT
24. Vikki Filsell Pearson Cycles 4W
25. Angie Thorp VC Norwich
26. Alexandra Marzec London Phoenix 3W
27. Liz Rice London Phoenix
28. Claire Vallance Team Zappis
29. Emily Bagnall Kingston Wheelers CC 3W.