Two Counties - Norman Southall Memorial RR
Event: 18th April 2010 | Report: Robin Kyte | Images: Andy Whitehouse
A full field of 80 riders left Worfield village hall near Bridgnorth in glorious spring sunshine for 53 hilly miles of racing. It was action from the word go with a break of seven gaining 45 seconds before a reaction from the promoting club's riders Wolverhampton Wheelers brought this down to single figures. Near the end of the first lap Steve Edwards and Olly Kyte lead the bunch up 'Bromley Bank' and it was all square again. However, hostilities soon resumed with several attacks resulting in small groups gaining a small advantage. Andrew Hunt of the Ystwyth C. C. was very active throughout the race and was deservedly awarded the 'most aggressive rider' award for his efforts.
Hunt made it into the winning break that formed on the last lap when six riders pulled clear by a maximum of 45 seconds. The chase by the main field was disrupted by an unfortunate crash in the closing miles that saw more than a dozen riders hit the road. Fortunately there were no serious injuries as the race face the final climb of Bromley Bank with less than one mile to go.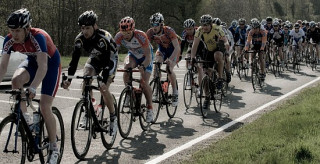 It was Solihull's Conor O'Brien who proved the strongest edging out previous winner Mark Hammond of the Stourbridge Velo. Craig Breeze of Stafford road Club claimed the remaining podium spot from Andrew Hunt in fourth, Don Storey and Matt Bonehill. Kevin Potter of Plan B Racing Team lead the charge for the line by the main field some 25 seconds further back.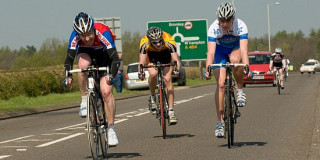 The race was a credit to the memory of Norman Southall who, like many who helped put today's race on, gave so much of his short life to cycling.
Result
1 Conor O'Brien - Solihull C. C. 1hr 58m 40 sec.
2 Mark Hammond - Stourbridge Velo. S.T.
3 Craig Breeze - Stafford R.C. S.T.
4 Andrew Hunt - Ystwyth C. C.
5 Don Storey - Sheffrec C.C.
6 Matt Bonehill - Stafford R.C. @ 6 seconds
7 Kevin Potter - Plan B Racing Team @ 25 seconds
8 Vince Page - Team Echelon Spuik
9 Scott Law - Evesham & District C.C.
10 Richard Nelson - Paramount R.T.