WXCRL Verwood Road Race 2010

Sunday 28th March 2010 | Report: Graham Robins

Andy Bryson wins for DHC
The race was held on a course not used for a couple of years, an undulating twisty route which favoured the brave. Running in the north Dorset lanes around the village of Cranborne, the course first headed north from the HQ in Verwood, then turning towards the Dorset county border before turning back towards the finish line.
The recent rain in the area had pulled a lot of grit down onto the road and a few potholes were soon filled with water. A nice sunny morning with a brisk cold wind greeted the riders as they headed out from the new HQ venue called The Hub. A small section of the course was flooded on the opposite side of the road to the race direction.
Once the race started an attack came immediately from Max Webber of DHCyclesport/Colnago, along with Will Kemp from the Onelife Development Squad, but this did not last too long as they were soon pulled back into the bunch. The speed of the race was quite fast and it wasn't long before some were beginning the feel the pain and gaps very soon appeared.
The main bunch, now back together, rolled around towards the start of the first complete lap when another attack happened. First a couple of riders tried to get away but the moves were well marshalled by the bunch, until a couple more got across to them and then they managed to get a small gap.
The group that managed to get away included two riders from DHC, Andy Bryson and Phillip Peters, Will Kemp Onelife Development Squad, Graeme Lackford of Tor 2000, Simon Fox of Team Synergy and Adam Bright from Revo Racing. These six were working hard together and they soon had a gap of one minute over the bunch. The chasing group were working hard but to no avail as the leaders were still putting time into the bunch.
With two laps to go the six leaders were over 1 min 40 seconds clear and their speed slowed slightly on the last lap as they tried to save their energy for the finish. Will Kemp did drift off the back and began to be caught by the bunch.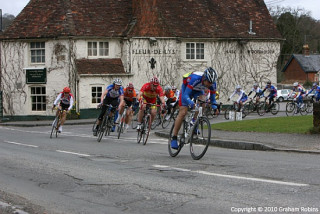 As the remaining five riders climbed out of Cranborne towards the finish line Andy Bryson moved towards the front of the bunch as he said he had "worked out" who was the strongest rider, but Adam Bright had other ideas. The race neared the finish with Andy and Adam sprinting hard with 600 meters to go, the result going Andy's way but he was pushed all the way to the line and couldn't celebrate until he crossed the line. Graeme lead Simon home with Phillip a long way off, having done his bit to help his team mate. Will Kemp was rewarded for a good ride by managing to get off the front of the bunch to take a fine sixth place.
Provisional Result
1 Andy Bryson DHC/ Colnago
2 Adam Bright Revo Racing @ST
3 Graeme Lackford Tor 2000
4 Simon Fox Team Synergy
5 Phillip Peters DHC/Colnago