Winter Racing in London Starts December

Story posted November 9 | Words by Jonathan Bentman for Imperial Racing Team

Winter Circuit Racing in Country's Capital Starting December 5
Are you ready for some winter racing fun? The 2009 road season has finished but for those looking for some on-road circuit racing fun, the Imperial Winter Series kicks off on December 5 at the Hillingdon Cycle Circuit (West London). Lucy Collins has sent us this preview for the 2009/2010 Series.


Something for Everyone at Hillingdon
It's getting colder, wetter by the day. The long dark days of winter are upon us. Time to buy in the comfort food, put another log on the fire and cosy up for a long afternoon of racing DVDs on the flat screen.

Is it heck! No, it's time to get cracking, get some last minute training in for the Imperial Winter Series which starts in just a matter of days. Closed circuit racing is where it's at come winter and judging by the record 300+ riders making up over 1000 individual race entries for last year's series, there's really no better way to beat those winter blues than by getting back on the bike and turning in some handlebar to handlebar action. And this year's series promises more of everything that the regular entrants have come to enjoy. So let's tell you what's new...
Pictures from the last series


Coaching
New for this year, there's the opportunity to get in some coaching on circuit racing before the racing gets underway. Put November 21 (it's a Saturday) in your diary, as Prime Coaching will come to the Hillingdon Circuit for a four-hour (1-5pm) training session on the do's and don'ts and probably a few 'cunning tricks to have up your sleeve' that'll be sure to have you ready in every way for when the action kicks off. No question, circuit racing can be intense and riding in a fast moving peloton around a technically undulating circuit calls for an understanding of racing etiquette. If circuit racing is new to you, this is a must-attend.

4th Cats now race for longer
Yep, it seemed that 30 minutes (plus five laps) wasn't enough, so based on rider feedback we've extended the 4th Cat races to 40 minutes. That should allow for more developments in race strategy and of course means more racing for your money.

All-new 3rd Cat races
Now we're aware it's a tough job making the leap from the 4th Cat race to the E/1/2/3 main event. In the past that's meant a step up from a half hour to a full 60 minute (plus five laps) race, plus the full gamut of Elite and 1st and 2nd Category riders – not to mention established 3rd Cat racers – to contend with. Chances are, unless he or she is really strong, the new 3rd Cat will get murdered in such company.

So this year we've created a new separate championship for the 3rd cats. Sometimes run in conjunction with the 4th cat race, sometimes a standalone race, the 3rd cat championship is based on a 50 minute (plus five laps) race format. So regardless, the 3rd Cats will always be chasing their own line honours. We think its going to be a very exciting series.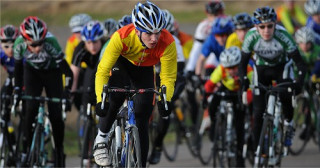 Youth Series
This year we have a six-round Youth series, that begins January 9. The youth (grades A/B/C/D/E) will race for 30 minutes in their own race immediately preceding the adult programme.

Elite/1/2/3 Cats
Business as usual here. Each week, a 60 minute (plus five laps) race. Each week an ultra-competitive super-tough battle of strength and wits. Last year – how do we put this – age won over youth, as 36-year-old Jerone Walters took the title ahead of 26-year-old Chris Moores, while 40-year-old Paul Anderson made sure young Chris felt crowded on the podium. For Chris, it was his second successive runner-up in the series. This year we dare say he'll be back to make good on the job – unless...

We should add that the Imperial Winter Series is recognised as a National B grade event, so for those chasing British Cycling ranking points it's a good call to boost your tally next season.

Online entries
This year we've introduced online entry with discounted race entry, through RiderHQ, to promote easier race morning sign-on for all. We should add that, whilst we've had the same fees for three years, this year the entry fee has had to go up a few bob due to increased track fees and British Cycling race levies. As it is, we've tried to keep the increase to the absolute minimum.

See you there?
So to recap. The series starts December 5 and the series will be made up of 12 rounds all around the purpose built for cycle racing Hillingdon Cycle Circuit. The racing caters for all categories of riders, Elite and 1/2/3/4 plus Youth. There is series prize money (which varies a little depending on entries) plus spot prizes. There's even a wee tea and cakes stand. Oh, and the Winter Series master of ceremonies Doug Collins officiates. It's a cracking series and if you've never tried it before, it really is time you did.

Essential Info:
When: December 5, First race 1pm
Races: 4th Cat, 3rd Cat & Elite/1/2/3
Where: Hillingdon Cycle Circuit (Springfield Rd, Hayes, UB4 0LT)
Further info: www.imperialracingteam.com